Want to support my blog? Clear your cookies, click the banner and shop!

Don't miss these great sex toy sales.
Congratulations to Tommi, Brian, Sandra, dv8, Denise, Hargow, Karen, Kristina, Lexi, Pete, Melanie and Andrea!
16 years ago this month, I met a total stranger for dinner. We had only talked on the phone a few times. I had frog legs (for the first time ever) and can't eve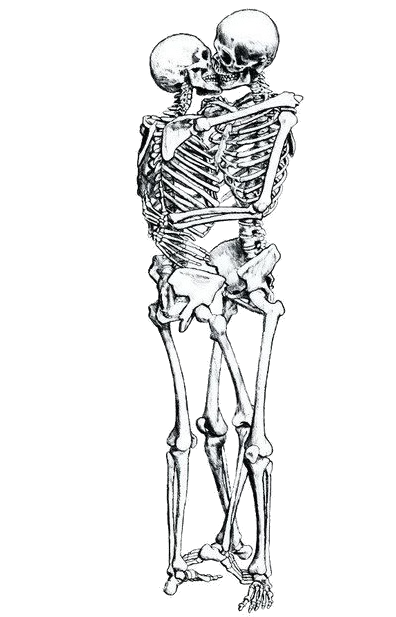 n remember if I liked them, I was so nervous. Little did I know that evening that 16 years later, I would be married to the man I met that night.
It must have been fate that I worked up the nerve to meet up with a total stranger that night. We had both just moved to a new city and didn't know anyone. This was back before internet dating and there used to be these phone lines you could use to meet people. That's how we found each other. He was the only person I ever agreed to meet from that phone line. How amazing that he would end up being THE ONE.
After that initial dinner, we always wanted to be together, going out, spending time at each others' apartments. It wasn't long until we moved in together and the rest as they say, is history. I'm so lucky to have found my life partner. Someone who is strong enough to handle the ups and downs that I bring to the table. He is my rock, my confidant, my everything. I would be lost without him and I thank whatever powers that be for bringing him into my life.
So, enough of the mushy stuff. I want to celebrate my 16th anniversary with dizzyguy by giving away some awesome prizes. Several of my wonderful sponsors have come together to make this giveaway possible and I can't say enough good things about each and every one of them. Whenever you're shopping for adult products, please consider supporting these companies. The more you support them, the more they support me and that lets me bring you more great giveaways and honest reviews.
Now, for what you've all been waiting for…
There will only be one prize per person, you cannot win multiple prizes.  The prizes are open to different countries so make sure that you are entering one that you are eligible for.  You  must be 18+ or legal age to purchase sex toys where you reside.  Winners drawn at random.  Contest ends 12/1/14  All international winners are responsible for any customs fees and taxes.

Unfortunately, all the widgets wouldn't load on this page so, you will have to click the links to go to the individual giveaway widgets for each prize.  Don't ask me why I decided to run this giveaway like this.  All I can say is, it seemed like a good idea at the time.  I won't do it this way ever again. But the good part is that you don't have to enter for a prize you aren't interested in or eligible for.
I'd also like to ask for a small favor.  I am shipping a lot of these prizes myself and have made them open internationally.  So, next time you're shopping for a sex toy please, consider clearing your cookies and clicking through one of my links to make your purchase with one of my wonderful sponsors.  I will make a small commission at no extra cost to you and this will help offset the costs I will incur for shipping the prizes.  Thank you for your support.
First off, we have a $50 gift card from one of my best blog sponsors and one of the coolest sex toy shops around… SheVibe.  They have been very supportive of me and my blog and I can't thank them enough for all that they've done.  Any time I've asked to review something or for a giveaway prize, they've been more than happy to help me out. Their selection is awesome so I'm sure you can find something great to spend that $50 on.  Oh, and their site's all-original artwork is reason enough to visit them and take a look around.
This prize is open to the US, UK, CA and AU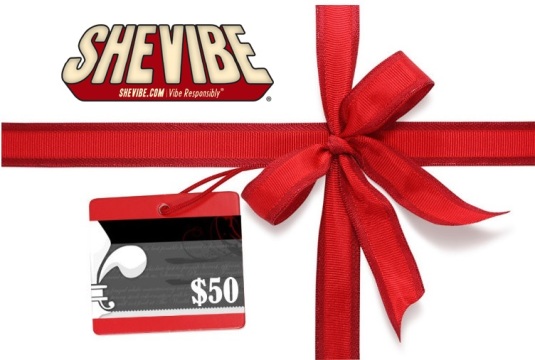 Click here to enter to win the SheVibe $50 gift card.


Next up is Tantus.  Not only one of the best in the silicone sex toy biz but also one of the best companies a  blogger can work with.  I highly recommend their products and if you want some of the best silicone you can stuff in your bits, then this $50 gift card will get you just that.  I really like the Vamp, G-spot vibe and Purr.
This prize is open internationally.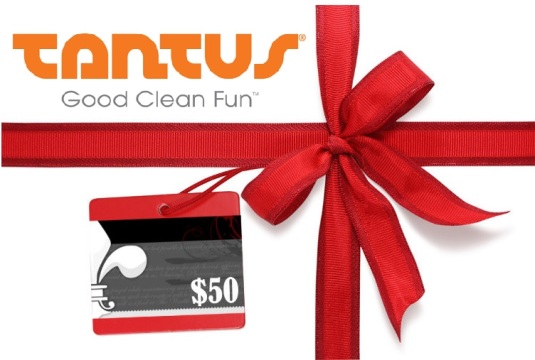 Click here to enter to win the Tantus $50 gift card.


Every time I've asked TabuToys to do a review or giveaway they've been more than happy to hook me up.  I don't work with them often enough, mostly because it's almost all I can handle to keep up with the sponsors I already have but they've been so good to me that I want to pay them back.  So, please support them since they've so generously supported me and use that $50 gift card to get yourself something great.
This prize is open to the US only.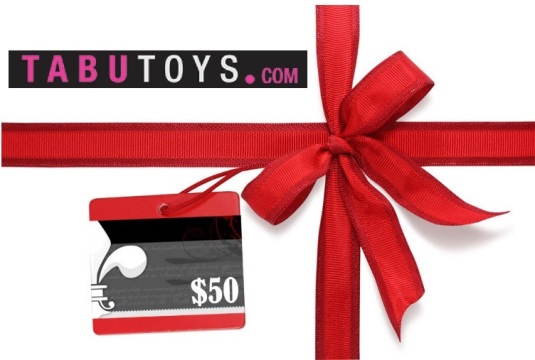 Click here to enter to win the TabuToys $50 gift card.
Lovehoney is another great company to shop with as a customer and work with as a blogger.  They have one of THE best return policies anywhere, which lets you purchase your sex toys risk free.  If you don't like it, you can send it back – even if you've tried it – no questions asked.  Plus they're all over the place with sites in the UK, US and AU.  All my international readers, please support Lovehoney.  They've been good to me and have generously donated this wonderful doubled ended glass dildo and locking storage case.
This prize is open to the US, UK and AU. Lovehoney is responsible for shipping.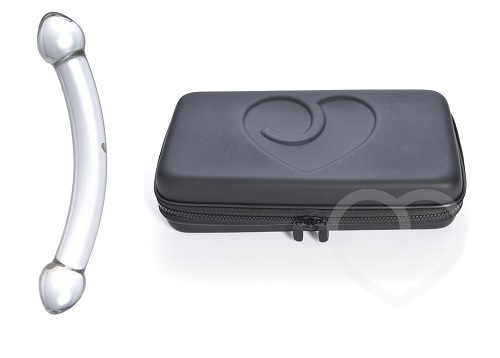 Click here to enter to win the Lovehoney glass dildo and locking case.
Pipedream makes some great body-safe sex toys made of aluminum in their Pure Aluminium line, ceramic in their Ceramix line and glass in their Icicles line.  They've been very supportive of my blog and have donated the Icicles No. 53 for this giveaway.
** I no longer support Pipedream **
This prize is open internationally and I am responsible for shipping.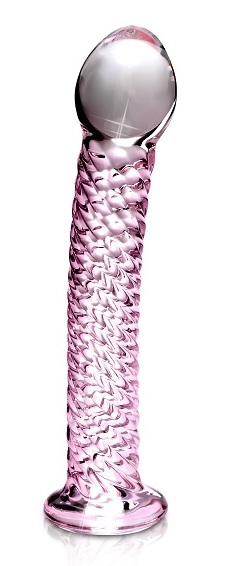 Click here to enter to win the Pipedream Icicles No. 53.


GoodVibes is another one of my great, reliable sponsors.  Every time I've asked to review something or if they'd like to donate to a giveaway, they've been more than happy to help.  I mean, they hooked me up with the epic Fun Factory Stronic Eins and I can't thank them enough for bringing that kind of awesome into my life.  They have been around since 1977 so, they know their stuff when it comes to adult products and they also offer a wide selection of Feminist porn on demand.  They have generously donated the Rippler Mini and Please Cream lube, which by the way, is one of my newest lube obsessions.
This prize is open to the US and CA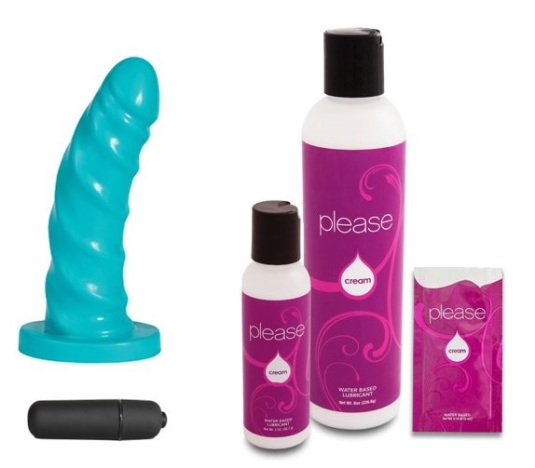 Click here to enter to win the GoodVibes Rippler Mini and Please Cream Lube.
LELO, you know 'em and so many love 'em.  And for good reason.  They make the legendary, widely beloved Mona 2.  It's one of my all time favorite vibes and there's no shortage of sex toy reviewers that love it too.  Well, one of you lucky people are going to get one.  A huge thank you to LELO for donating not only one of the best vibes they make but one of the best G-spot vibes available, period.
This prize is open internationally and I am responsible for shipping.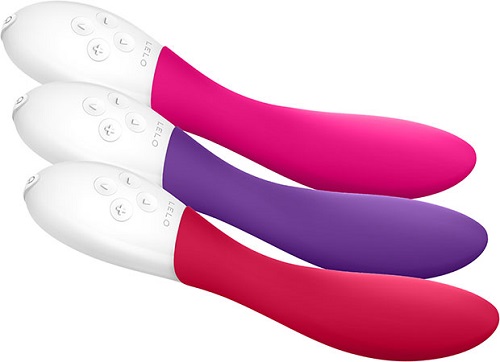 Click here to enter to win the LELO Mona 2.
This next prize is something very, very special.  I am thrilled to be able to offer one of these as a prize because I love mine so much.  The Structured Orchid from Idée du Désir is a beautiful erotic sculpture.  It is handcrafted with love and pride and was an instant favorite from the first time I used it.  I targets my G-spot perfectly and the ergonomic finger holes make it a joy to use.  I can't thank the artist of Idée du Désir enough for donating one of his masterpieces to my giveaway and whoever wins this prize is very lucky indeed.
This prize is open internationally and I am responsible for shipping.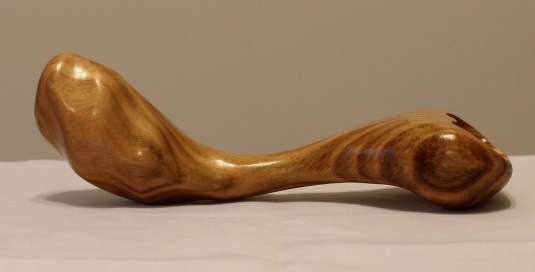 Click here to enter to win the Idée du Désir Structured Orchid.
Filthy Dirty is one of my newest blog sponsors.  Their collection of products is carefully curated for those with discerning tastes, keeping your health and well-being in mind.  Their Body-Safe Promise policy is a huge reason why I wanted to work with them.  They have generously donated a large Sugar Sack and $25 gift card.
This prize is open to the US and CA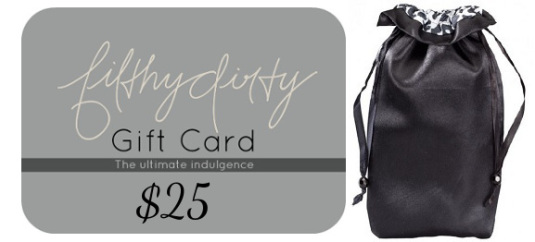 Click here to enter to win the Filthy Dirty $25 gift card and Sugar Sack.
A little more about Filthy Dirty:
Filthy Dirty proudly, and exclusively, stocks products with thoughtful design, premium grade materials or ingredients, attractive aesthetics and quality packaging. The aim is to inspire you to have a more connected, creative and luxurious sex life.  Your well-being is important to us, which is why we have a no phthalates or parabens policy with our stock. We call it the Filthy Dirty Body Safe Promise. Our products reach sensitive places, and that's the very reason we only carry items of the very best quality meeting strict safety standards.  Our founder, and the entire Filthy Dirty team, believes sexual fulfillment is just as basic of a need as air, food, shelter and water. Allow Filthy Dirty's research to introduce you to the foremost sexual wellness items available.


The next sponsor is one that I had not heard of until now and I'd like to introduce them to you. Lovense creates Bluetooth sex toys. Their set of toys, Max and Nora, enable:
1. Local, wireless control via your smartphone or computer
2. Long distance control for your lover to play from afar
3. Long distance sex (toys interact with each other, based on movements)
When Lovense heard I was planning my big 16th anniversary giveaway, they generously offered to donate a Max and Nora set as a prize and I appreciate the hell out of that. They are really interested in getting some feedback so please complete the survey entry option. It's just a couple of questions and will earn you the most entries. 
This Prize is open internationally and Lovense is responsible for shipping.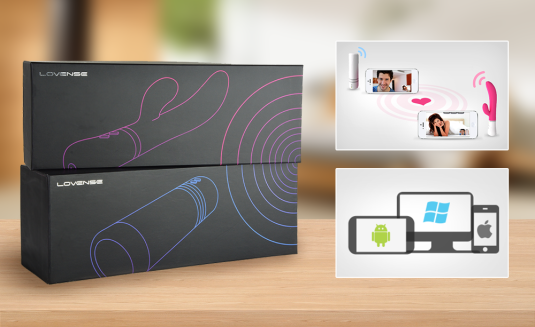 Click here to enter to win the Lovense Max and Nora.
BMS Factory is one of the best manufacturers I've had the pleasure of working with as a blogger.   They also happen to make some of the best vibrators out there.  They're the manufacturer behind such well known brands as Leaf, Swan and Jopen Vanity in the US, plus many more.  They're also responsible for the PowerBullet motor that goes into their strongest vibrators and I can tell you first hand, those motors have some serious horsepower.  BMS Factory makes one of my favorite wand vibrators, the PalmPower (you can read my review here), and they've kindly donated one of these powerhouse vibrators as a prize!  Caution, this vibe is not for the faint of heart…. or, er… clitoris… whatever.  It's powerful.
This prize is open internationally and I am responsible for shipping.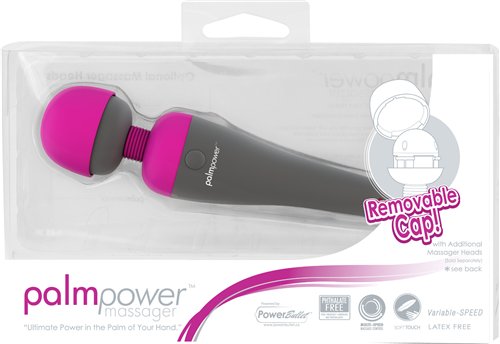 Click here to enter to win the BMS Factory PlamPower Wand.
Uberlube is kind of like a fine wine of silicone lubes.  Not all silicone-based lube is created equal and Uberlube certainly sets themselves apart with their impeccable quality.  The lube is delightfully slippery, yet still allows for feeling some natural friction and it's guaranteed to last as long as you do.  I'm thrilled that they wanted to donate some of their luxurious lube as a prize in my big giveaway.
This prize is open internationally and I am responsible for shipping.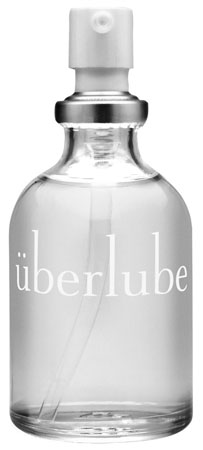 Click here to enter to win the Uberlube lube.

Like this? Want more of it? Subscribe!
| | | |
| --- | --- | --- |
| Get new posts sent to your inbox! | | |
| Get my sporadic newsletter filled with exlclusive deals, the latest sales and secret bonus giveaway codes. | | |