Want to support my blog? Clear your cookies, click the banner and shop!

Don't miss these great sex toy sales.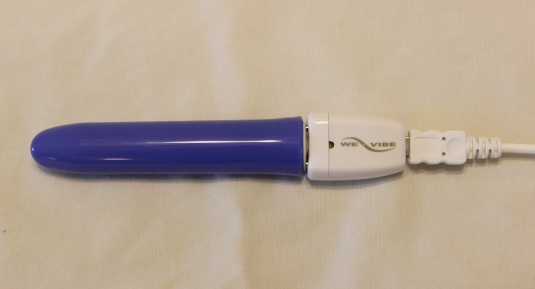 I always say, "if it ain't broke, don't fix it" because more often than not, if a company tries to improve upon something that's already great, they usually just screw it up. But every now and then, there's an exception and the new We-Vibe Tango is one of them. I didn't think there was much room for improvement on the original Tango but We-Vibe gave it a few slight tweaks, while preserving everything that was already awesome.
So many reviewers love the Tango and for good reason. It's small but mighty with a deep satisfying, rumbly vibration. It's without a doubt, the best bullet vibe out there. The only common complaint about the original Tango was the fiddly charging base. I don't have the original Tango but I do have the now discontinued Salsa, which has the same round, fiddly charger and it was really the only thing I disliked about it. We-Vibe totally fixed all the problems with the original charger by making it square, instead of round and I think the magnets are stronger so, it attaches securely. Problem solved.
We-Vibe could have stopped there and would have achieved perfection but they added another little feature that the original Tango lacked. There is now a low battery indicator light on the base that flashes when it needs to be recharged.
The colors are also different than the original. I like the blue but I'm not all that excited about the pink.
Some have said that the new Tango is more powerful than the original but I can't really tell a difference between it and my Salsa. That's OK though because as it is, it has plenty of rumble and power to satisfy those who need strong vibration.
The new Tango and my old Salsa are two of my favorite vibes. They're both so simple, yet effective. I don't get much out of the patterns but I'm not much of a pattern gal anyway. The four levels of steady vibration are perfect though and it stays pretty rumbly from low to high. The Tango is a great vibe to use in conjunction with a G-spot toy for dual stimulation because it's small enough that it doesn't get in the way. This also makes it great to use while having sex.
The Tango is also great to use with other toys that have a bullet cavity, like Tantus' vibrators or their new Perfect Plug Plus. It also fits in Fuze's toys with bullet cavities, like the Ultra. And now you can get the Tango with its own accessories.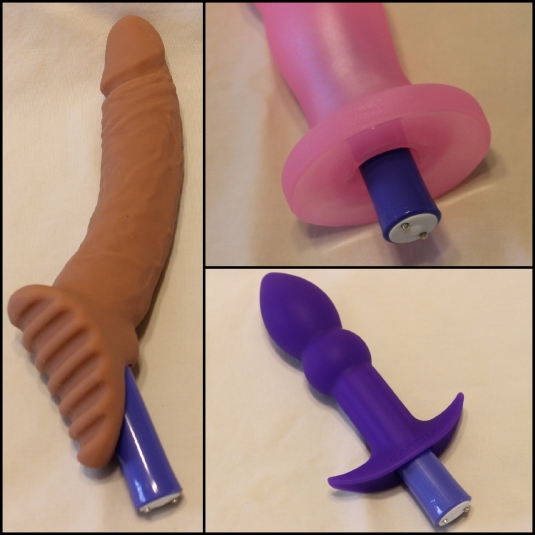 In addition to the four levels of steady vibration there are four patterns of pulsation and escalation. There is a single button on the base and you press and hold to turn it on. Press and hold to turn it off or cycle through all of the functions. The Tango doesn't have a travel lock and that's about the only thing I think We-Vibe could add to make this vibe even better than it already is.
This vibe is USB rechargeable but it doesn't come with an A/C wall adapter so, if you need one, you can get it here. It takes 90 minutes to fully charge and during charging the light on the charging base stays on. It goes off when charging is complete. A full charge is supposed to supply you with 2 hours of run time. I'm not really sure about that since I never run it down completely in one session.
Since the Tango is water-proof and made of nonporous, body-safe ABS plastic, it's easy to clean with soap and water, a toy cleaner or a 10% bleach solution to sanitize. We-Vibe says to use water-based lube with the Tango but I don't see why you couldn't use silicone-based or hybrid lube. I guess they're concerned about the silicone at the base but I haven't had any problems using silicone-based lube.
It is nicely packaged and the box can be used for storage but it also comes with a pouch and you get a one year warranty.
The We-Vibe Tango is a great little, power-packed vibrator. What more can I say? It's versatile and affordable so, if you're on the fence about getting one, I say do it… now. I don't think you'll be disappointed.

We-Vibe provided the Tango in exchange for an unbiased review.
Like this? Want more of it? Subscribe!
| | | |
| --- | --- | --- |
| Get new posts sent to your inbox! | | |
| Get my sporadic newsletter filled with exlclusive deals, the latest sales and secret bonus giveaway codes. | | |