Want to support my blog? Clear your cookies, click the banner and shop!

Don't miss these great sex toy sales.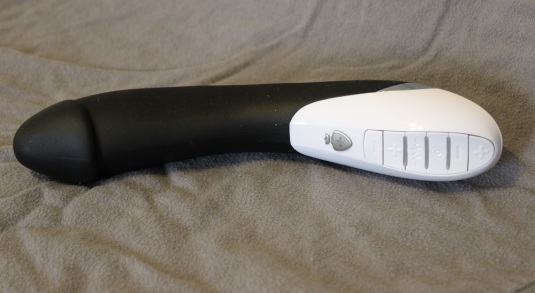 I woke up one morning with a vague sense that my life was missing something. But what was it? The feeling plagued me all day until I found myself perusing SheVibe's newest products and like a bolt of lighting, it hit me… what I really needed was to zap my vag. And serendipitously, there it was – MyStim's new line of e-stim vibrators. The Tickling Truman specifically calling out to me; promising that it could make my vag zapping dreams come true. I had to have one. So I begged and pleaded with SheVibe to send me one for review and they graciously made my dream a reality.
Was zapping my vag everything I thought it would be? Well, I'm not really sure what I thought it was going to feel like, since I was totally new to e-stim and nothing quite prepares you for feeling it the first time. It most certainly provides a kind of sensation that no other type of sex toy can. It's like having something strange and alien up in your bits. It almost feels alive, in a tingly, prickly, muscle spasm inducing kind of way. My immediate impression was that e-stim must be an acquired taste and I wasn't sure if my palate was sophisticated enough to fully appreciate it.  When I asked dizzyguy to feel the e-stim in his hand, he immediately recoiled and I asked if he'd like to have that anywhere near his genitals.  He answered with a resounding, "fuck no". So, the sensation is definitely not for everyone.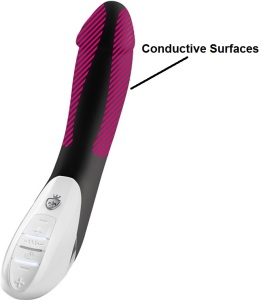 It's not painful at all but I haven't quite warmed up to the prickly sensation that all but one of the e-stim modes provides. After much experimentation and combinations of e-stim and vibration, I did land on one that I found pleasurable. There is an e-stim mode that's a pulsating sensation and it involuntarily contracts and relaxes my muscles. It's sort of like it's forcing me to do kegels but my body is doing it with no effort on my part. I can let go of the Truman's handle and watch it wiggle back and forth as my muscles spasm around it – very odd indeed but not unpleasant.
The first time I used the Tickling Truman without any clitoral stimulation, since I was less worried about reaching orgasm and really just wanted to get familiar with the toy. When I was ready to have an orgasm I quit using it and stimulated my clit with the Eroscillator. There was a lingering tingly sensation and everything felt more sensitive. When I did reach orgasm it was as strong as fuck. It's as if the prior e-stim stimulated my nerves in a way that it made my orgasm better.
The next time I put it on the pulse e-stim mode with the vibration turned off plus a vibe on my clit and the orgasm I had was weird but… in a good way. I still don't quite know what to think of the sensation but having the involuntary muscle contractions during my orgasm certainly added a new layer of sensation.
The Tickling Truman's girth is challenging for me and my eyes may have been bigger than my vagina. Even without any e-stim or vibration turned on, thrusting with it is a little overwhelming because of the size (5.5" long and 1.7" in diameter) and the very pronounced coronal ridge, plus this vibe it totally rigid and has zero give. I think it might have been more comfortable for me if that ridge were more subtly rounded. It makes me wonder if I would enjoy the Electric Eric model more, since it's smaller and more contoured. So, the size means I need a lot of lube and I don't thrust with it. I just stick it in there and push down on the handle so the head puts pressure on my g-spot. This works surprisingly well.
The vibration seems like a secondary feature to me. The e-stim really is the star of the show and I think this toy would have been pretty cool with that alone. I don't really use the vibration but it's there if you want it. It's fairly strong and there are two motors. I feel one right at the opening of my vagina and the other feels closer to the head. I'd really like to feel the vibration concentrated more in the head where it could stimulate my G-spot better but it's not quite there. I look at it this way, if you don't like the e-stim you still have a pretty decent vibrator, albeit an expensive one.
There are 8 vibration modes with 5 levels of intensity and 5 e-stim modes with 10 intensity levels plus a kegel training mode. I'm surprised that the e-stim goes up to level 10 intensity because level 4/5 feels like it's as high as I want to go.
The vibration modes:
Vibration 1 – both motors vibrate together
Vibration 2 – only the tip vibrates
Vibration 3 – only the shaft vibrates
Vibration 4 – the tip and shaft alternate slowly
Vibration 5 – the tip and the shaft alternate quickly
Vibration 6 – the tip and shaft alternate very fast
Vibration 7 –  the vibration in the tip escalates and stops while the vibration in the shaft slows down
Vibration – 8 the vibration in the shaft vibrates in long intervals while the tip vibrates in fast bursts
The e-stim modes:
e-stim 1 – a constant prickly feeling
e-stim 2 – tingling feeling alternates in waves between gentle and intense
e-stim 3 – constant pulsating
e-stim 5 – pulsating alternates in waves between gentle and intense
mode 6 – kegel training program
The first 5 e-stim modes stimulate the nerve endings but the kegel training program excites the muscle fibers in the base of the pelvis.
I won't get into how the buttons work because all of that is explained very well in the manual. Vibration and e-stim are independently controlled and if there's one thing I'd change about the operation, I wish you could go directly to the e-stim mode that you like. To get to my favorite mode, I have to scroll through the other modes. Since you're not supposed to operate the e-stim outside of your vag, that means I have to feel those other modes that I'm not as fond of. Maybe if there was memory for the settings that you prefer, it would take care of that issue.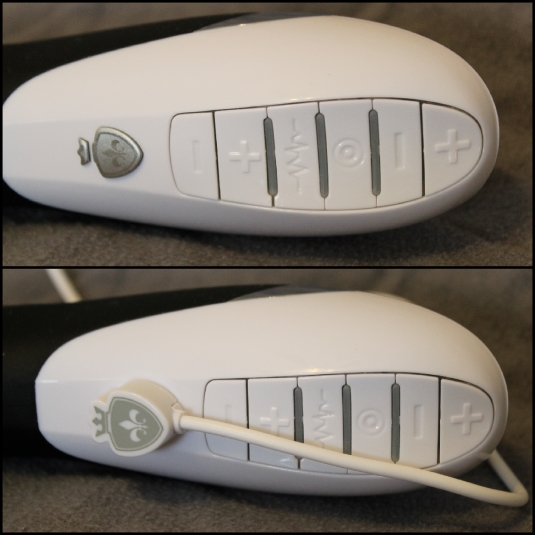 This e-stim vibe is USB rechargeable but it does not include an A/C wall adapter so if you need one, you can get it here. There isn't any kind of low battery indicator on the vibe itself but when you connect the magnetic charging cable, it glows red then turns green when charging is complete.
The silicone feels OK. It's not the nicest I've ever felt but it's not super draggy either. One thing I do have to bitch about is the seam. There's no way a toy this expensive should have a seam like this. It's like they took lessons from Jimmyjane. It makes me wonder, if they couldn't be bothered to make this toy seamless then should I really trust them to zap my vag?
The Tickling Truman is fully waterproof1 and easy to clean. Good ol' soap and water works fine or, you could use a toy cleaner. To sanitize it, you can use a 10% bleach solution. Since it is made of silicone, your safest bet is to use water-based lube (and MyStim specifies it) but I and many other reviewers are finding that with today's high quality silicone toys and silicone-based lube, it can be OK to mix them but always do a spot test first.
The packaging is really nice and you could store the toy away in the box itself but it does come with a great hard-sided case and this vibe is protected by a two year warranty.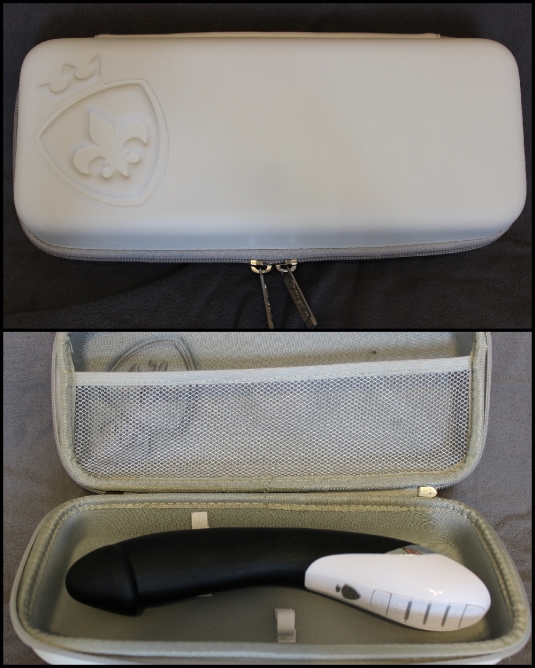 The  MyStim Tickling Truman is one of those toys that I wasn't sure if I liked it the first time I used it. Even after a few tries, I still wasn't quite sure how I felt about it. Honestly, I still have mixed feelings. I do really enjoy the pulse e-stim mode but the other prickly/tingly modes are a bit much for me. Then again, some people really like that sensation. My ambiguous feelings aside, I do think it's a very well made (except the ugly seam) and innovative sex toy.
I probably wouldn't recommend this vibe to beginners because of the price combined with the fact that it produces such unique sensations. If a beginner tried the e-stim and didn't like it that might scare them off from sex toys altogether. But if you're the really adventurous type or you have a lot of experience with sex toys and you're bored with everything else, then I don't think you'll be disappointed by the Tickling Truman. You might be shocked by how much you like it (Shocked? See what I did there?).

SheVibe provided the MyStim Tickling Truman in exchange for an unbiased review.
Being water-proof is more about easy cleaning than using it in the water, which I assume you aren't supposed to do since the manual says to make sure the vibe is dry before you use it. And I guess that kind of makes sense because, duh… e-stim. ↩
Like this? Want more of it? Subscribe!
| | | |
| --- | --- | --- |
| Get new posts sent to your inbox! | | |
| Get my sporadic newsletter filled with exlclusive deals, the latest sales and secret bonus giveaway codes. | | |