Want to support my blog? Clear your cookies, click the banner and shop!

Don't miss these great sex toy sales.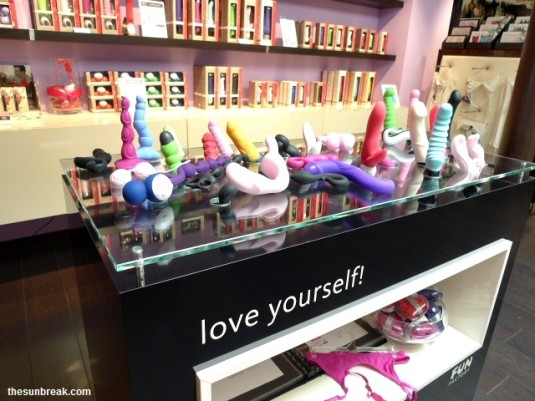 Feel lost trying to choose a sex toy? That's understandable. There's a dizzying selection to choose from. The first thing you should consider is what kind of stimulation you like. Do you like clitoral, vaginal or anal stimulation? Once you've got that figured out, the most important thing to consider is the material that the toy is made out of. I've talked a lot about safe sex toy materials on this blog and I only review or promote toys that are made of safe materials.
What you want to look for are toys made of pure silicone (no blends or sil-a-gel stuff), stainless steel, hard plastic, glass (preferably borosilicate), ceramic and properly sealed wood.
You'll want to avoid anything that's made of PVC, jelly, rubber, cyber-skin, etc. These materials are porous, meaning they can harbor bacteria and they most likely contain phthalates.
TPR and TPE are materials that I don't generally recommend but I have made exceptions for a few products. They don't contain phthalates but they're generally porous. There are medical grades of these materials that are nonporous but you can't always know for sure if that's what the company is using.
So, you know what materials to look for, now what? Well, do you want something soft and squishy or rock hard? For soft, squishy toys made of safe, nonporous materials, your only real option is pure silicone. Silicone comes in a range of firmness from very plush and pliable to considerably rigid. You'll want to buy your silicone toys from reputable companies so you know you're actually getting pure silicone and that safe pigments have been used.
If you want a rock hard toy then you have many more options – glass, stainless steel, hard plastic, ceramic and properly sealed wood. I have reviewed toys made of all these materials and they're all nonporous and easy to clean. If you're on a budget, many inexpensive toys can be found made of plastic. The other hard materials can get a bit more expensive but you can also find lower priced glass pieces, just be sure that it's borosilicate glass because it has the strength that makes it safe to use.
Next, you'll have to decide if you want vibration or not. If you want vibration, do you want something that can be used vaginally as well as on the clitoris? I tend not to recommend rabbit vibes because due to variances in anatomy, it can be very difficult to find one that fits your body properly. For dual stimulation I think it's best to use two different toys. You could either use a dildo or vibrator vaginally while you use a vibe on your clit at the same time. I have the best orgasms this way.
Maybe you're interested in an anal toy. As always, choose a safe material. If it's going in the butt, it's especially important that it's made of nonporous material so it can be properly sanitized. Not every sex toy is meant to go in the butt. In fact, it can be quite dangerous to use some toys anally. Fortunately there are many toys that are designed specifically to be safe for anal use. These toys have a flared base that prevents them from getting pulled into the rectum, where you can't reach it.
So, you've got your toy but now what? What do you do with it? Sometimes it can be confusing and you might not know all the ways a toy can be used. Well, if you're fortunate enough to have a sex positive boutique nearby, the folks that work there can explain how the toys are meant to be used. But what if you want someone to demonstrate how you or, you and a partner, can use sex toys? For that you might employ the services of an escort, like those at Peachy Escorts. They can show you all the ways you can use your sex toys either solo or with your partner. Perhaps you're interested in pegging but you're intimidated and you're not sure how to use a harness. An escort could help you by demonstrating how it's done. There are also some educational videos out there if hiring an escort is a little too wild for you but there's nothing like getting some hands-on experience.
So, buying sex toys isn't all that complicated. Just decide what kind of stimulation you want, choose a safe nonporous material and if you need it, get some instructions or a demonstration either from classes at sex positive boutiques, from videos or, the services of an escort.
I have been compensated for writing this post and it contains affiliate links.
Like this? Want more of it? Subscribe!
| | | |
| --- | --- | --- |
| Get new posts sent to your inbox! | | |
| Get my sporadic newsletter filled with exlclusive deals, the latest sales and secret bonus giveaway codes. | | |