Want to support my blog? Clear your cookies, click the banner and shop!

Don't miss these great sex toy sales.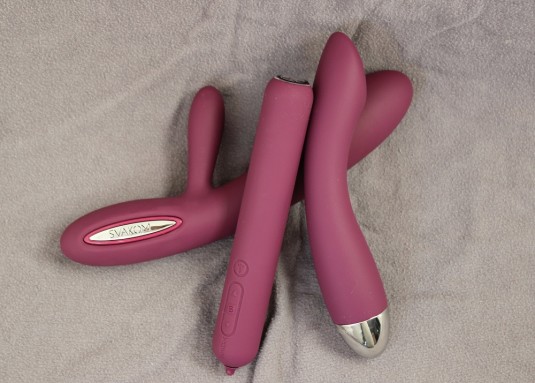 Sitting here, I just realized why it's taken me so long to write reviews for these toys. It has been impossible for my mind to formulate interesting things to say about any of them because quite frankly, I'm bored. These three vibrators from Svakom don't deserve my praise nor my wrath… only my, meh.
I'll admit, I was geeked to get the Gaga because who doesn't want to make videos of their vagina? Well, maybe not everyone but I really wanted to. Then, after you make the first video, it kind of loses its appeal. The Lester and Lisa are just OK. It's that dreaded, "I don't love them or hate them" scenario, which makes it hard for me to write about them. They just didn't do much for me and I think they're kind of expensive for what they ultimately are.
First off, the Gaga. I was thrilled to get this thing because I wanted to make a vagcam video in the worst way. But like I said, once you've done that, you're pretty much finished with this toy. And it costs a whole hell of a lot of money to get like, one thrill out of it.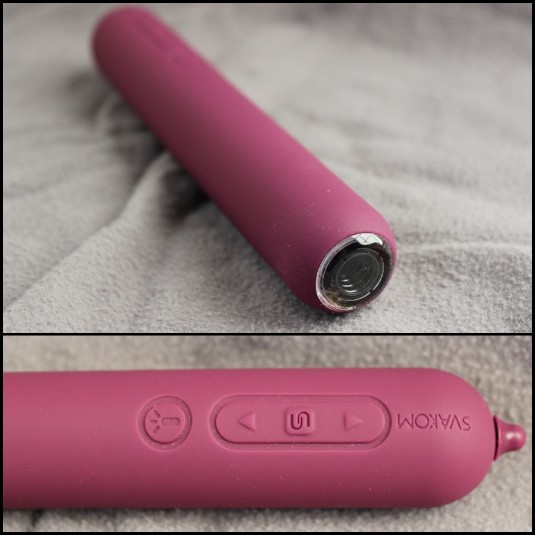 As a camera, it's marginal and don't expect the best video quality. As a sex toy, it's boring. The only way I can see someone being interested in using this more than once is if they have a fetish for making vagcam videos. But really, how many times can you look inside your vag and still be fascinated by it? I did some kegels during my video and it was pretty cool to see the internal contractions but I really have no interest in doing it again.
If you do want to get this thing for making vagcam videos, you'll want to get a clear speculum as well otherwise, all you're gonna see is a pink blur. These are relatively inexpensive but it kind of sucks that you have to buy something else separately to make the vagcam experience work.
You have to be connected to your computer to use Gaga's camera, which is awkward but it would probably be necessary anyway because you really have to point it exactly right to get any kind of decent video out of it. It comes with a program that allows you to capture your video and save it to file. When you save it to file, it doesn't add the file extension, which is strange so, you have to do that yourself.
The vibration is weak and buzzy so, it was of no use to me as a vibrator. If you're sensitive and you like surface level vibration then you might like it but you can spend a lot less money for a vibe that feels like this. Granted, it won't have a camera in it but do you really need that?
Also, this might be obvious to some but others may not realize that the Gaga is not safe for anal use. It doesn't have a flared base to prevent it from getting lost in the rectum.
So, if I quickly got bored with the Gaga, with all its promise of endlessly entertaining vagina vids, then there wasn't much hope for the Lester and Lisa. They seem well made and I have no complaints about quality. They both have features that set them apart but they just don't excite me. Both are too weak and buzzy for my tastes and the Lester doesn't fit me properly, which is just something that often happens with rabbit vibes. The shape of the Lisa kind of reminds me of the LELO Gigi but that's where the similarities end. It's a bit small, which was a con for me but might be a pro for others.
The Lester has a heating feature and I guess that's kind of interesting but not enough to really hold my attention. I found the buttons to be infuriating both by their location and operation. I kept accidentally hitting a button and changing settings all the time. Plus the way they operate is just a little strange compared to most other vibes I've tried. You have to double click the buttons to change modes.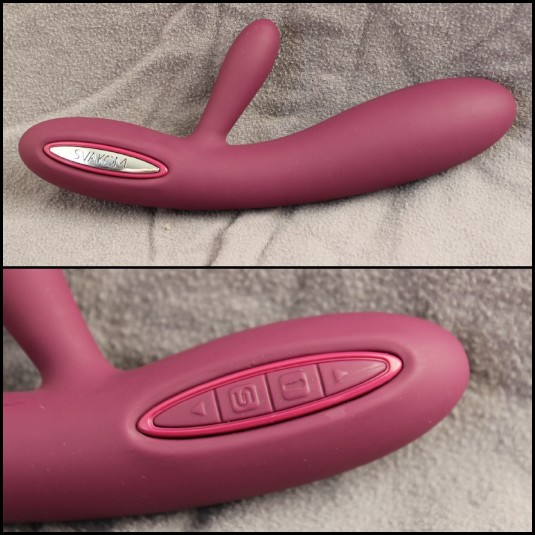 You can use the heating feature with or without vibration and I'd say it takes about 20 seconds to warm all the way up and it's a very subtle warmth. I get more warmth out of my ceramic dildos filled with warm water.
The Lester didn't fit me quite right but the clitoral arm does reach up higher than most other rabbit vibes I've tried.1  Since this vibe didn't fit me very well, maybe I would have enjoyed the Leslie more.  It looks like the same vibe without the clit arm.
You can't control the dual motors independently but there are modes where one or the other is on. The vibration in the shaft feels fair to middling and it's the most powerful vibration of these three Svakom vibes. The motor in the clitoral arm is pretty buzzy and my clit didn't much care for it. Plus, on top of all the other issues, the name "Lester" kind of creeps me out. I really don't want anything going into my vagina that's named, "Lester".
The Lisa does have a somewhat interesting touch sense technology but I don't really see the advantage of it in practice. To me, it's more novelty than anything else. Maybe if you're masturbating with it and someone knocked on the door, you could pull it out of your vag with lightening speed and it would stop vibrating… as long as you don't touch the shaft of it. Other than that, what's it really good for? It doesn't work very well on the clit in the touch sense mode but you can switch modes and use it like a regular vibrator.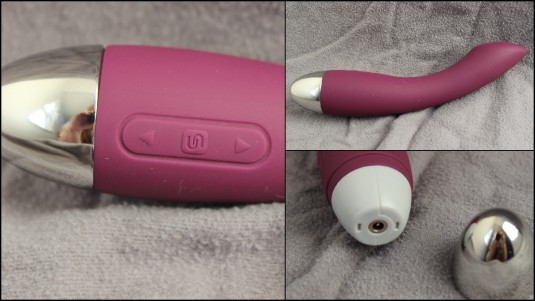 This vibe is just too small for me.2 I can't get good G-spot stimulation out of it because of its demure size and the vibration isn't strong enough either. I do think the shape is nice. It just needs to have more meat on its bones. But maybe the size is appealing to you and you don't need strong vibration. In that case, this vibe might work out for you but again, I have a hard time justifying the cost.
The instructions for all of these vibes are sparse and poorly translated with adorable lines like:
As long as her sensitive part touches your body slightly, the pleasant sensation will shake your nerve instantly.
There is at least one thing that I do like about these vibrators and that's the silicone3 It feels really nice and silky with nearly nonexistent drag. The Gaga, Lester and Lisa are all very nicely packaged and come with storage pouches.
Unfortunately, none of these three Svakom vibes made much of an impression on me. Perhaps they're just not right for me or maybe, despite all the bells and whistles, they really are just mediocre. But there's nothing really glaringly wrong with them either. Just some things that annoyed me a little and the vibration wasn't strong or rumbly enough. Maybe someone who doesn't need powerful vibration would be happy with them but for the price, I expected a lot more. Can you tell I was bored with these toys? I feel like even this review is boring to read because I was so uninspired that I just couldn't muster the will to be entertaining. It's like they sucked the enthusiasm right out of me.

Eldorado Trading Company provided the Svakom Gaga, Lester and Lisa in exchange for an unbiased review.
Shaft is 4.75" from tip to clit arm – Clit arm rises 2.25" above shaft – Shaft is 1.55" in diameter ↩
Shaft is 4.5" from tip to buttons – 1.19" in diameter at the thickest point ↩
Svakom says they are using "medical silica gel". I'm pretty sure they mean, silicone and it's just a little wacky translation. ↩
Like this? Want more of it? Subscribe!
| | | |
| --- | --- | --- |
| Get new posts sent to your inbox! | | |
| Get my sporadic newsletter filled with exlclusive deals, the latest sales and secret bonus giveaway codes. | | |