Want to support my blog? Clear your cookies, click the banner and shop!

Don't miss these great sex toy sales.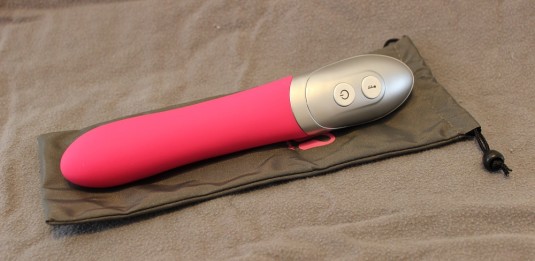 I'll admit it, I pretty much prejudged the Ava Natural Flow Vibrator by Intimate Melody. I wasn't expecting to like it much and I'm not sure why I felt that way before even trying it. Maybe because it's not made by one of the brands that I've come to know and love. I think I'm officially a sex toy snob. Sorry folks, I'll try to keep that in check. So, how do I feel now that I've tried it? Well, it wasn't as terrible as I expected it to be. I know that's not much of an endorsement but let me explain.
The Ava is a pretty basic vibrator with one special feature added – heat. Take away the heating and it's much like some Pipedream and Cal Ex vibes I've tried. The vibration reminds me of some of those. This is no powerhouse vibrator. I'd say on a scale of 1 to 5 with 5 being the strongest vibration, the Ava comes in at about a 3. So like I said, not terrible but not mind-blowing either.
The vibration is a bit on the buzzy side but not so much that it's numbing. I preferred the middle of the 3 intensity levels. The lowest level is really quite weak and the highest level is the most buzzy. The biggest surprise to me was how much my clit liked the vibration and it easily gave me orgasms that way. I wasn't expecting it and that's probably why I have a higher opinion of this vibe than I thought I would. But as an internal vibrator, it really didn't do much for me.
Intimate Melody claims that the Ava is great for G-spot stimulation and I have to say, that is absolutely not true. The shape is nowhere near optimized for G-spot stimulation. In fact, my clit enjoyed this vibe way more than my vagina because, the shape is so boring. It's pretty much completely straight and has no pronounced head so, my G-spot didn't even know it was there. If Intimate Melody wants to make a G-spot vibe, it either needs to be curved, have a defined head or both. The good news is, if you hate G-spot stimulation, and some people do, the shape of this vibe will probably work for you.
So, what about the heat? Well, it does take a while to get to a level that I noticed. I'd say probably a couple of minutes. I did like how the heat felt internally and it felt great on my clit also. I just think most people are going to want it to warm up faster than it does. You can turn on the heat without the vibration and let it warm up before you use it.
I do really like the silicone this vibe is made from. It feels like some more expensive brands. It's silky soft with no drag to speak of. It doesn't attract lint very much either. So, Intimate Melody did a really great job on the silicone.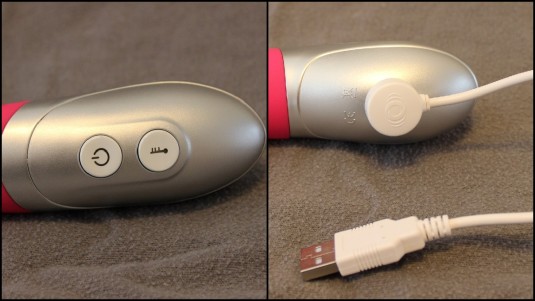 And, that's about it folks. It's a pretty average vibrator with heat that takes awhile to get warm. I thought I'd hate this vibe but as it turns out, this isn't one that I need to throw under the bus. It's nothing spectacular either but it does have some good reviews on Amazon (take that for what it's worth). I think Intimate Melody is on the right track with the Ava. They just need to change the shape if they want to make a G-spotting vibe. The heating feature could work faster and this vibe could stand to have a deeper more powerful motor but they can definitely keep the silicone. On the five-star rating system that I have on my Toy Chest page, I give this one 3 stars.
Details:
Waterproof
USB rechargeable
Silicone and ABS construction
Insertable length: 5"
Diameter at thickest point: 1.43"
Comes with a really nice storage bag.
3 levels of steady vibration and 4 patterns
Heating to 104°F
Heating run time: 90 minutes
Vibration run time: 4 hours
6 month warranty
Colors: ivory, pink, purple and rose
Instructions are poorly translated.
Water-based lube is recommended.
For care and cleaning of silicone vibrators go here.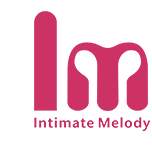 Intimate Melody provided the Ava in exchange for an unbiased review.
Like this? Want more of it? Subscribe!
| | | |
| --- | --- | --- |
| Get new posts sent to your inbox! | | |
| Get my sporadic newsletter filled with exlclusive deals, the latest sales and secret bonus giveaway codes. | | |