Want to support my blog? Clear your cookies, click the banner and shop!

Don't miss these great sex toy sales.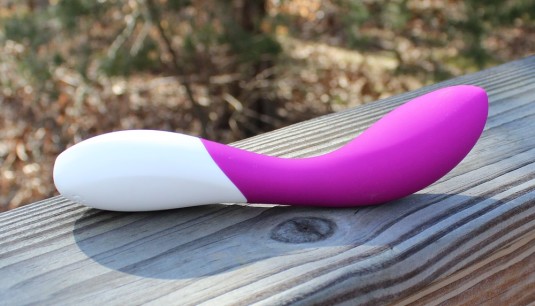 If the MONA 2 was just too powerful for you and you've always dreamed of slowly being fingered by a robot then the new MONA Wave was made just for you. The hype leading up to the release of this vibe was huge. Excitement amongst reviewers was palpable. Everyone had high hopes that it would be the greatest thing ever. But when you have such high expectations, there's the chance for monumental disappointments. LELO earnestly tried to improve upon their already epic G-spot vibe by throwing some technology at it. And I'm sure it sounded like a good idea at the time.
I mean, what LELO tried to do here was promising. They attempted to simulate the classic "come hither" motion that is so well known as a G-spot stimulation technique. And the MONA Wave, sort of does that… sort of. It approximates the "come hither" motion but it's in no hurry to do so. Seriously, the motion is painfully slow and it operates at one fixed speed. That's just not going to get the job done for most folks with a G-spot. I think the wave motion really was a novel and inspired idea in theory, it just missed the mark in its execution.
There definitely needs to be a range of speed for the wave motion but I also think there needs to be more of a curl (a bit more like this), if they really want to stimulate the G-spot. Maybe, instead of trying to retrofit an existing vibe with new technology, they would have been better off creating an entirely new vibrator with a different shape that would better complement the wave motion.
Probably worse than the disappointingly slow wave motion is the fact that the MONA Wave's vibration is weaker than MONA 2. No kidding. Why in the world would LELO do that? I should be able to say that if the wave motion doesn't impress you then at least you still have the awesomeness that is MONA, but I can't. So, even though the MONA Wave is the latest and (arguably) greatest from LELO, I simply can't recommend it over the MONA 2. If you don't like the wave motion, there are modes where it's off and then the Mona Wave operates like a weakling imposter of the MONA 2. But if that's the way you end up using it most of the time then you're much better off getting the MONA 2, which is more powerful and costs less.
So, the wave motion isn't that great and it's not as powerful as its predecessor. Could there possibly be anything else for me to complain about? As a matter of fact, yes. The noise – it's so fucking loud. Imagine a generic robot movement sound effect from a 1980s sci-fi movie. Yep, that's what it sounds like. I found it distracting and my vagina didn't muffle it. It might be a little difficult to be discreet with this one.
Make sure you have your speakers turned on when you play this video.
Now, let's talk about how I use most G-spot toys. I like to push town pretty hard on the handle to force the head of the toy firmly into my G-spot, that way I get maximum stimulation. When I tried that with the wave motion on, it sounded like the motor was straining. If I continued to use it that way, it wouldn't surprise me if the motor eventually gave out.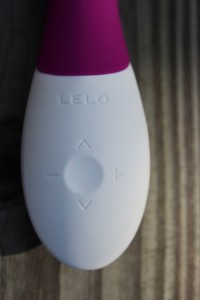 Is there anything I like about the MONA Wave? Well, yeah… the silicone is great – typical from LELO. It's silky soft with minimum drag and it's not a lint magnet. LELO also, moved away from their plastic handles and covered this one with the same silky silicone. You'd imagine this would eliminate the seam, that exists on the MONA 2, where the silicone shaft meets the plastic handle, but it doesn't quite. There is still a seam where the colored silicone shaft meets the white silicone handle. But it's better than it was.
You care for the MONA Wave like any other silicone vibrator.  For more on that go here.  Water-based lube is recommended.
The takeaway here (as if I haven't already made it clear)? Get the MONA 2 instead of the MONA Wave. I seriously think it's a better choice. If you are intrigued by the wave motion and just have to have it, I can honestly say it is a pretty nice vibrator and if I'd never felt the MONA 2, I might not be as critical. Just know that the MONA Wave doesn't quite live up to the infamous reputation of its predecessor. This is not the same vibe with a cult following that is loved far and wide by reviewers everywhere. In fact, most of the MONA Wave reviews I've read slant toward the negative with mostly the same complaints but as always, we're all different and some people do really like it. That said, if I was helping my best friend choose a vibrator, I'd definitely tell her to get the MONA 2.
Details:
10 Vibration Patterns with Adjustable Speeds
100% Waterproof
1-Year Warranty, 10-Year Quality Guarantee
Insertable Length: 110mm/ 4.3in.
Diameter at widest point: 1.43in.
Materials: Body-safe silicone/ABS
Battery: Li-Ion 500mA 3.7V
Charging: 2h at 5.0V
User Time: 2 Hours
Standby Time: 90 days
Frequency: 100Hz
Max. Sound level: <50dB
Interface: 5-button interface
LELO provided the MONA Wave in exchange for an unbiased review.
Like this? Want more of it? Subscribe!
| | | |
| --- | --- | --- |
| Get new posts sent to your inbox! | | |
| Get my sporadic newsletter filled with exlclusive deals, the latest sales and secret bonus giveaway codes. | | |