Want to support my blog? Clear your cookies, click the banner and shop!

Don't miss these great sex toy sales.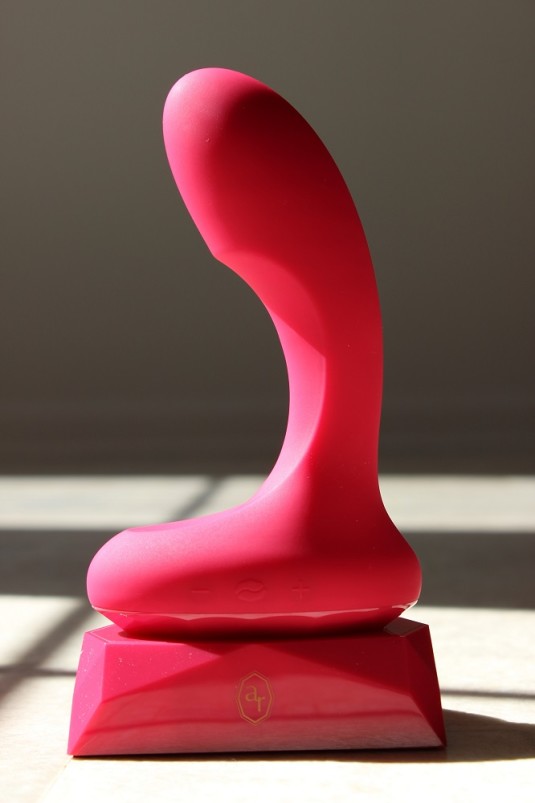 Incredible, extraordinary, fantastic and wonderful – the Rosa Rouge is all of those things and more. It rocks my world, blows my mind, curls my toes and all that other stuff. To call the Rosa Rouge powerful is an understatement. This thing gave my G-spot some serious feels like it's never had before and I don't think it will ever be the same. In fact, it may have ruined all other vibes for me 1. The Rosa Rouge is no mere sex toy, this is a pleasure power tool.
First thing's first, the Rosa Rouge is meant to be a dual stimulator with a motor in the shaft and one in the base that is supposed to stimulate the clit. It doesn't work for me that way but neither do most dual stimulator vibrators. That's OK though, I love it anyway but I think it could be made even better.
Everything about the Rosa Rouge2 is designed perfectly, except for how I have to use it. Since I can't use it as a dual stimulator, that base both gets in my way and is difficult to hold onto at the same time. This might not be a problem for you if you can use it as intended but I'd really like to see L'amourose make a vibrator that is exactly like the Rosa Rouge but with a handle instead of that broad, short base. I'd even want them to keep the dual motors because with both motors running, the Rosa Rouge resonates beautifully. So my perfect vibe would be the Rosa Rouge turned into a typical G-spot vibe instead of a dual stimulator.
Even though I have trouble using it as intended, I still think it's an absolutely incredible vibe. The power this thing has is phenomenal. With it turned up on high, I feel like I'm going to insta-squirt. I don't but I feel that intense gotta-pee sensation that comes from powerful G-spot stimulation. And I mean, it is intense. I even get some G-spot stim without the vibration turned on at all due to the design of the shaft. That edge that's sculpted into it scrapes at my G-spot – in a good way.
I use the Rosa Rouge like I use most G-spot vibes… pushing down on the handle, jamming the head up into my G-spot, while using a clit vibe at the same time. There is a slight amount of flex when I do this. That base makes it a little difficult to get another vibe (like the We-Vibe Touch) to fit but I can manage. The awkward configuration is so worth it though because the orgasms I get from it are nothing short of spectacular. I'm talking about arching my back so hard, I pull a muscle. Yep, that happened.
OK, back to this base (I know I'm being picky). Since it's so short, it's not hard to get lube all over it and that makes holding onto it even harder than it already is plus, it makes finding and pressing the buttons almost impossible. The buttons are nearly indiscernible to my fingers. I can't tell when I'm on one or which one it is. I know L'amourose wanted to make the Rosa Rouge all sexy and streamlined but I wouldn't mind if they'd made the buttons more prominent. Maybe when they make that version of the Rosa Rouge with a handle that I want them to make, they'll give me better buttons… hint.
All of this awesomeness, a couple small complaints and I haven't even gotten through all of the features. Besides two strong rumbly motors, the Rosa Rouge is also heated, and that's what separates it from the Rosa. The heating is nice. Probably, the best heated vibe I've tried so far. I don't think it takes too long to warm up and it is noticeable. I do like the way it feels on my clit and in my vagina. But ya know what? I could live without it. I've mentioned before how I'm just not a bells and whistles kind of girl and that's most likely why I think I'd enjoy the Rosa just as much as the Rosa Rouge. But maybe heated vibrators are your thing. In that case, the Rosa Rouge is the vibe for you.
The manual explains how the buttons work very well so, I'm not going to go into all that but I'll touch on the functions. This vibe has 9 functions: both motors running, one or the other running, or each vibrating in various patterns of pulses and escalation. Here again, these are features I don't really need. Give me steady, variable vibration and I'm a happy girl. But I guess it is nice that you can run one motor with the other one off. Running together though, they create that wonderful resonating effect that I love so much and of course the overall vibration feels much more powerful.
The silicone is a soft silky dream and doesn't collect a ton of lint. The Rosa Rouge is waterproof which makes it easy to clean and extends your playtime into the bath or shower. For more on how to care for and clean silicone vibrators go here. Water-based lube is recommended.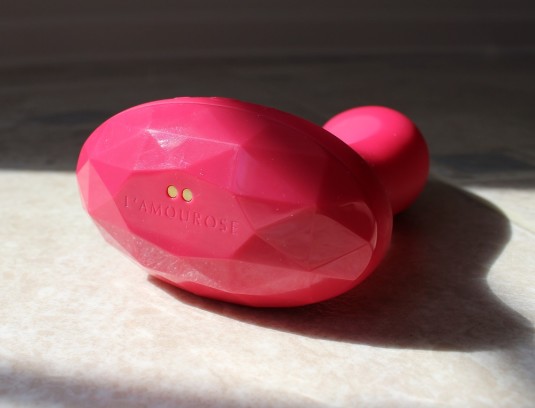 The Rosa Rouge proudly sits atop a regal charging base and flashes to let you know it is charging. It stops flashing when it reaches a full charge. This vibe is beautifully packaged and comes with a storage pouch, as anything at this price point should. There is an 18 month warranty and lifetime guarantee that gives you 50% off a new vibe.
L'amourose, you have one hell of a vibrator here. This vibe is like a finely tuned sports car and makes other vibrators look like sad old hoopties. There is no doubt, the Rosa Rouge is a luxury vibe with a price tag to match. I don't know that I ever would have spent that much to get one, myself. And I think if the heating function isn't important to you, going for the Rosa instead is a no-brainer. Even still, the price is more than what some folks can spend on a vibrator. I know that the saying "you get what you pay for" is true 99% of the time and most of my favorite toys are in the luxury category. I'm lucky to get such wonderful toys just for writing about them. I wish these vibes were priced lower so more people could experience them but then, there is a certain level of quality you're getting here. If your budget can handle dropping over $200 for a sex toy then I can say with confidence, I don't think you'll be disappointed in the Rosa Rouge or the Rosa3.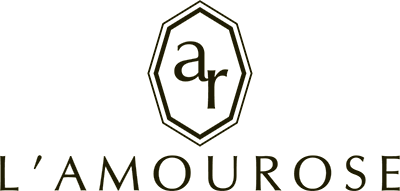 L'amourose provided the Rosa Rouge in exchange for an unbiased review.
Like this? Want more of it? Subscribe!
| | | |
| --- | --- | --- |
| Get new posts sent to your inbox! | | |
| Get my sporadic newsletter filled with exlclusive deals, the latest sales and secret bonus giveaway codes. | | |