Want to support my blog? Clear your cookies, click the banner and shop!

Don't miss these great sex toy sales.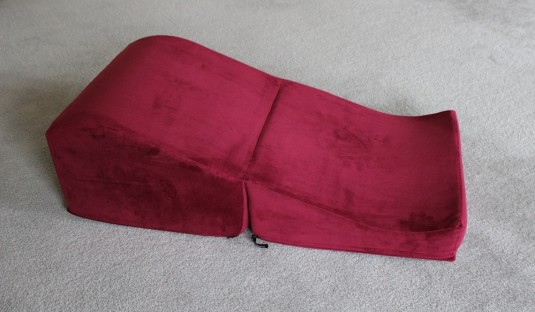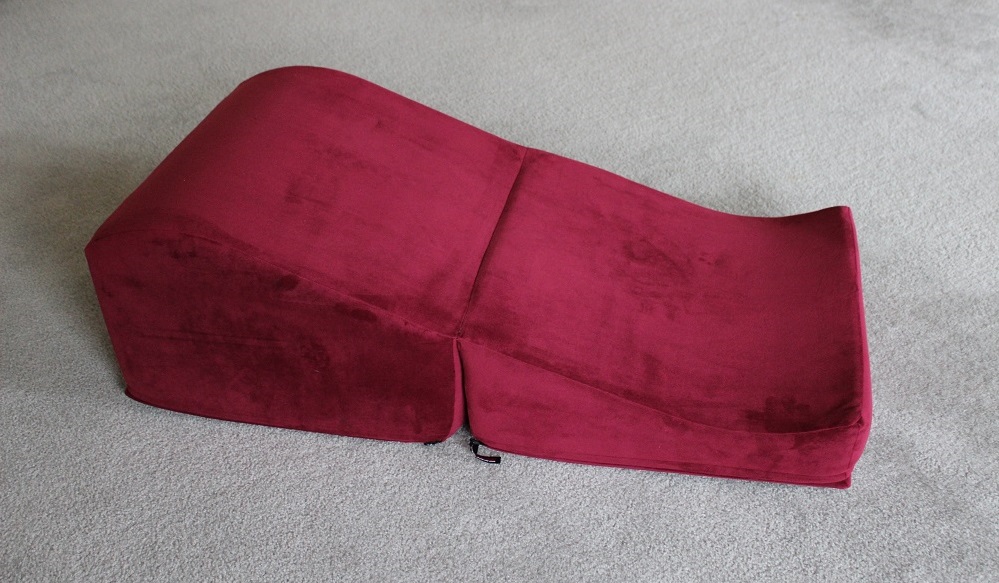 Can geometry be sexy? With Liberator bedroom adventure gear, it can be. These sex positioning cushions are so much better than pillows in several ways and they can put a new angle on your amorous activities.
The first thing I bought when I started exploring the world of sex toys was the Liberator Wedge. It continues to be one of the best and most often used sexual accessories I've purchased. Dizzyguy and I use it every time we have sex. Every. Single. Time. Why do I love the Wedge so much? Because it introduced me to a whole new kind of stimulation that I'd never felt before. In missionary position with the Wedge under my butt, it lifts me up at just the right height and angle for dizzyguy to penetrate me deeply and hit my AFE Zone1 (I never even knew that this was a thing) and I absolutely fucking love it. It also makes things easier for him because he can kneel in a comfortable position while thrusting. It's become our favorite way to have sex.
So yeah, I love the Wedge and totally recommend it. But this review isn't about the Wedge, it's about the Liberator Flip Ramp. When I bought the Wedge I got it as part of the Wedge/Ramp combo. Truthfully, we don't use the Ramp that much for many of the same reasons that the Flip Ramp isn't perfect for us. I absolutely think the Flip Ramp is a great product and it's very well made, as are all the Liberator products I've tried. And I do think that some people will love it. Whether or not it works for you will depend on several factors, most importantly… how the two of you measure up.
For most of the positions we tried using the Flip Ramp, our bits just didn't line up right. It would either position me too high or low for things to work really well. Success all depends on the height differences between you. I am 5'8" and dizzyguy is 5'11" but it's not only overall height that matters. The measurement from your knees to your genitals is pretty important and for the standing positions, even the height of your bed will make a difference.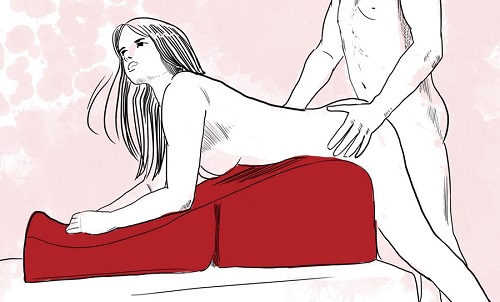 The best position for us is doggy with me bent over the Flip Ramp. This position allows me to just completely relax and concentrate more on the sensations since I'm not holding myself up with my arms. I like it because it's lazy sex, at least for me. Dizzyguy is pretty much in the same position – kneeling behind me. While it lets me relax, it could also be very helpful for those with disabilities, who may not have the strength to hold certain positions.

Missionary on the incline didn't work for us because it lifted me up too high. If dizzyguy was a bit taller, it would probably be perfect. Missionary on the decline wasn't good for deep penetration and I get cranky without it. Maybe you live in fear of bruising your cervix and deep penetration isn't your thing. In that case, you might enjoy this position. It can also be useful during oral sex; raising the genitals up and generally making everything more accessible, which can take some strain off of the giver.
So, you're probably thinking: These sex cushions aren't exactly cheap and how are they any better than just using pillows? It's all about the angles. Regular pillows are just not going to create the same angles as the Liberator sex positioning cushions. They're also a lot firmer than pillows and are made for things to get messy with their washable outer covers and water-resistant inner liners. Quite simply, the Flip Ramp is built for sex – pillows, not so much.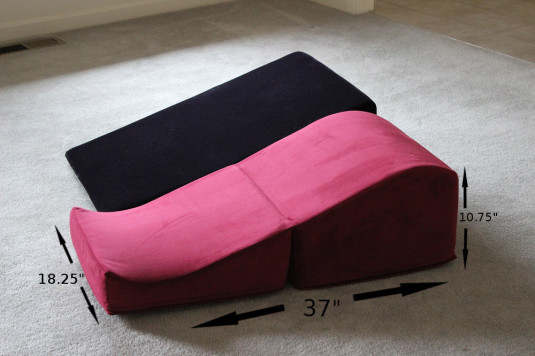 The Flip Ramp is just a few inches longer than the Ramp and it has a bit of contouring that doesn't seem to make a big difference. I would recommend the Flip Ramp over the Ramp simply because it folds and takes up less space. The microfiber cover is soft and comfortable and it doesn't get too hot. It does pick up quite a bit of cat hair and lint but it can be machine washed and I hang mine to dry.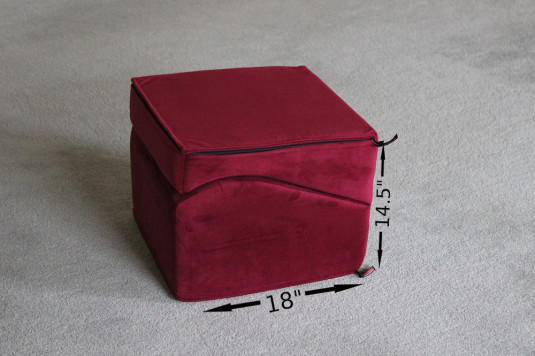 You might be surprised when your package arrives and think there's no way they could fit those big cushions into that box. But Liberator does something kind of cool to cut down on the size of the packaging. They vacuum pack the Flip Ramp cushions into compression bags and when you take them out and rip open the plastic, they magically grow to their perfect shape and size. I love unpacking Liberator cushions and I wish I would have remembered to record the unpacking of my Flip Ramp so I could share it with you but… I didn't because I suck. Seriously though, you'll get a kick out of how they seem to come to life.
The outer shipping container that your Flip Ramp arrives in will be discreet but the product packaging itself is not. It actually says "Bedroom Adventure Gear" in big letters on the sides of the box. So, just keep that in mind when you're unpacking it and discarding the packaging.
It's true, I don't love the Flip Ramp like I love my Wedge but it might be just perfect for some of you. Unfortunately, I have no way of telling you if your measurements will be compatible for all the positions but I am pretty confident that most folks will find fun ways to use it. If you're using pillows, just stop it now and get one of these cushions. I think you'll find that they work a lot better and you might even find erogenous zones that you didn't even know you had.
Through the end of the month save 15% on the Flip Ramp, Wedge and Wedge/Ramp Combo at PeepShow Toys with code: SAVE15 plus get FREE 3 day shipping on orders over $100

PeepShow Toys provided the Liberator Flip Ramp in exchange for an unbiased review.
Illustrations from Liberator.

Some call this the A-spot but I refuse to because there is but one spot – the G-spot. ↩
Like this? Want more of it? Subscribe!
| | | |
| --- | --- | --- |
| Get new posts sent to your inbox! | | |
| Get my sporadic newsletter filled with exlclusive deals, the latest sales and secret bonus giveaway codes. | | |