Want to support my blog? Clear your cookies, click the banner and shop!

Don't miss these great sex toy sales.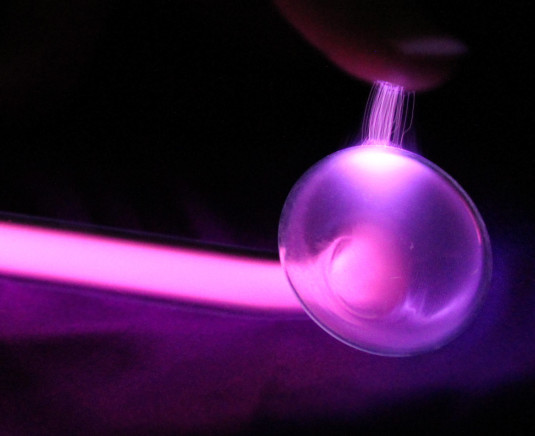 It looks and sounds kind of scary but in reality, the KinkLab Neon Wand is nothing to fear. Sure, the idea of zapping sensitive areas of the body with electricity arcing from a glass electrode might make some folks a bit nervous. But I am here to tell you that the Neon Wand is actually pretty tame and doesn't produce stimulation stronger than a mild to moderate pinching/prickly sensation when turned all the way up on high. In fact, those who are into giving and receiving serious pain might be disappointed by it.
The first thing I did was test out all the electrodes on my forearm, slowly adjusting to full power. At no point was it so painful that I felt I had to stop. The sensation varies from feeling nothing at all on low to sort of warm tickling sensation about midway and a sharp prickly feeling turned all the way up. I am very fair-skinned and all of that testing left what looked and felt like a mild sunburn that lasted the entire evening but I think this is because I was repeatedly going over the same area. The manual warns you not to use it on one area for longer than 10 seconds.
Next, I got a little braver and tried the electrodes on my nipples; first through my shirt and then directly to them. I was able to tolerate every electrode on high for brief periods of time. I'm a sissy when it comes to pain so, I think if I can handle the kind of stimulation that the Neon Wand produces then most people can. Although, we are all different and have varying thresholds of pain. Still, with the wide range of settings and selection of electrodes, I think most people can find a combination that suits them.
The next time I brought out the Neon Wand, I jokingly asked dizzyguy where he wanted it. I didn't expect him to want to try it but I was shocked (Heh, see what I did there?) when he jumped up, pulled down his pants and presented his ass cheeks to me. I tried every electrode on his ass, swirling around each cheek, slowly turning up the intensity. None of the electrodes proved to be too much for him to handle, even with the power turned all the way up. He agreed that the most intense electrode on full power just felt like a static-y, prickly sensation. But what he really liked was afterward. He said it made everything extra sensitive and went a little crazy as I lightly ran my nails all over his backside.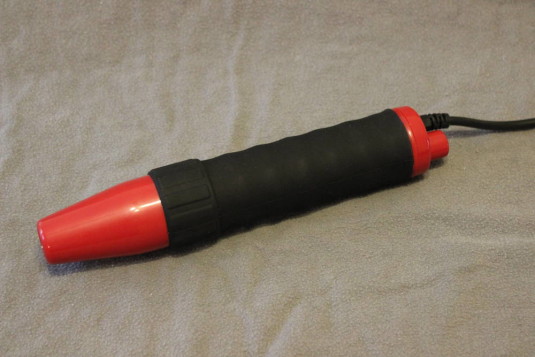 All that was left was to try out the Neon Wand on my most sensitive of areas. I'd be lying if I said I wasn't a little apprehensive but having tested it out on my arm and nipples, I figured I could handle it with the power turned low. I was kind of surprised that I was able to tolerate all the electrodes turned up on high, on all areas of my vulva, including my clit. Now I do have to say, this is not a sensation that is going to get me off. Actually, what felt the best was running the electrodes over my inner thighs.
There might be people out there who can have orgasms from this kind of stimulation but I'm not one of them. I found the sensation interesting but not necessarily in an overly pleasurable way. I think this sort of thing is really meant for those who are into light BDSM. Dizzyguy and I aren't exactly kinky but we like experimenting. That's why I thought it would be fun to try the Neon Wand – and it has been. I haven't let him have control of it on me yet but that will probably change now that I've thoroughly tested it on myself.
I have been told by others that I need to get the Power Tripper attachment for the Neon Wand. It turns your entire body into an electrode and you can stimulate your partner with electricity from your finger tips or, anywhere else. It does sound like fun and I will probably get it eventually.
Four glass electrodes are included and I've listed them from least to most intense:
The Mushroom Tube electrode produces the mildest stimulation, spreading the sensation over a broader area.
The Comb Electrode feels a little pricklier than the mushroom tip but is still pretty mild.
The Tongue Tube feels mild on the broad side but gets more intense when using the point.
The 90° Probe produces the most intense, pinching sensation. It's not more than I can handle but I don't enjoy keeping it on sensitive areas for very long when the intensity is turned all the way up.
Click images to see them in larger glorious detail.
I also have some NSFW photos of the Neon Wand in use.  You can see them here and here.
Like a neon sign, the Neon Wand's glass electrodes have electrified gas that glows within and you have two color choices – red and purple.  You can get the handset in white or red and black.
The controls couldn't be simpler. It's one dial that you turn clockwise to turn it on and increase intensity and counterclockwise to decrease intensity and turn it off.  The cord is about 7′ long.
The manual states that the electrodes can be cleaned with at least 75% alcohol. The manual doesn't specify how to clean the handset but I would simply wipe it with a barely damp cloth (unplugged of course) or, if I felt it needed more, maybe an antibacterial wipe. Make sure it is completely dry before using it again.
The Neon Wand should not be used on people who have pacemakers or those who are pregnant. All jewelry should be removed. Keep the Neon Wand well away from water and do not use with wet hands. Turn the device off when changing electrodes.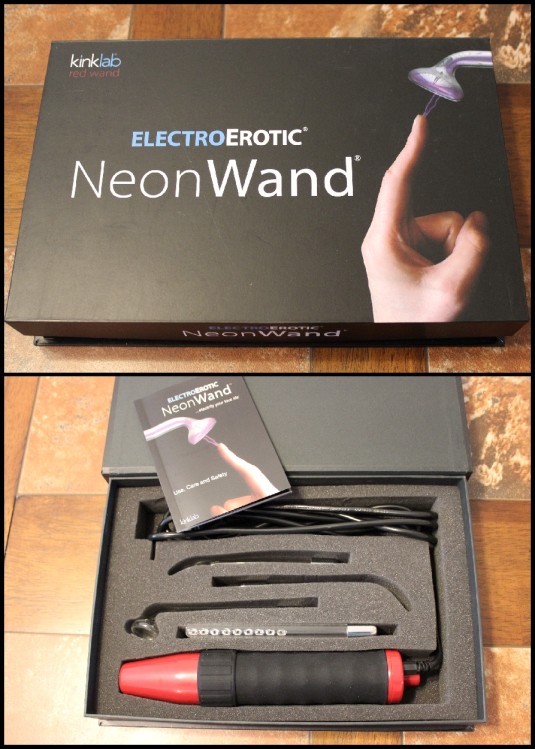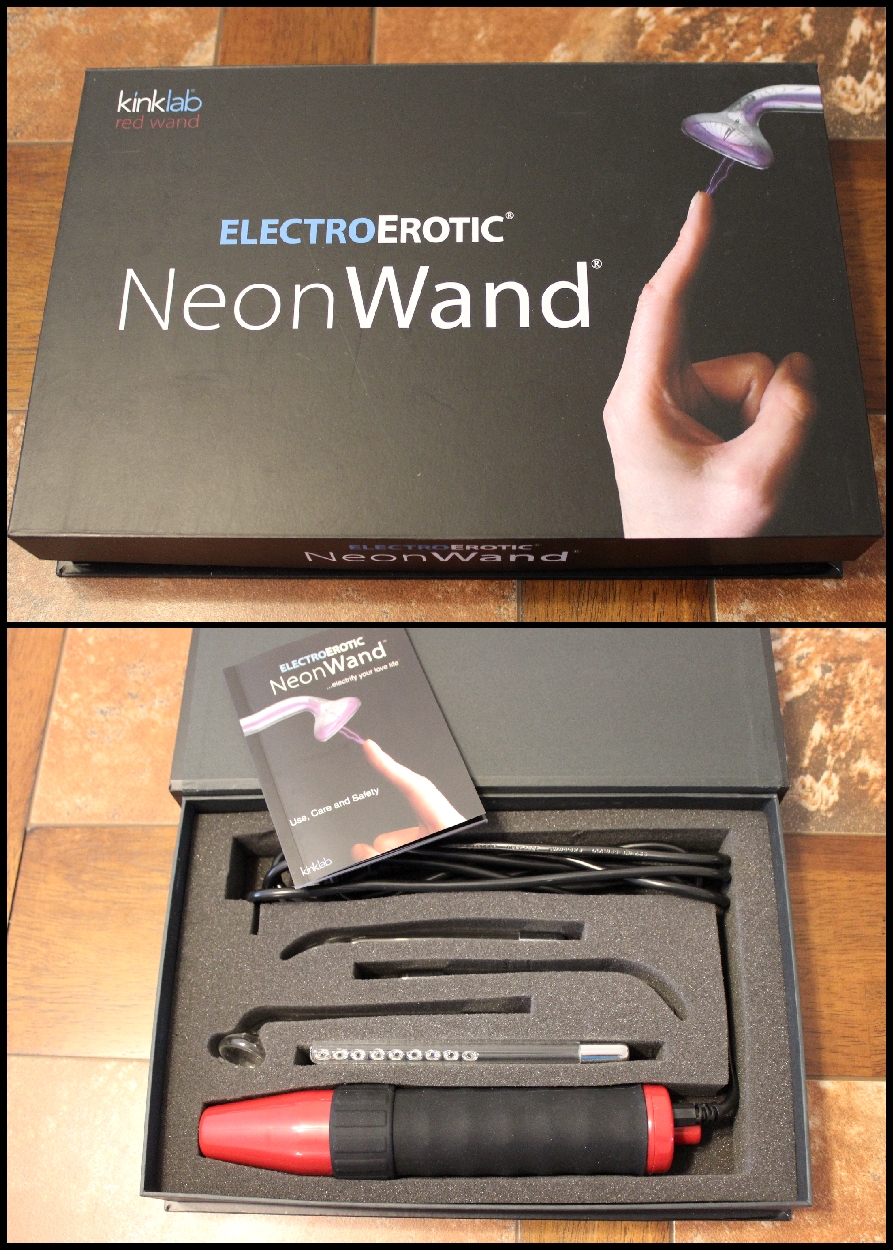 If you're feeling a little daring and electro-sex stimulation sounds exciting to you then I think you'll enjoy the Neon Wand. I'm not sure it's intense enough to please those who are into playing with more severe pain but it could be used to tease your partner and prepare them for what's coming next.
There are additional electrodes and accessories1 that can be purchased separately and the prices are very reasonable.  You can also buy replacements for the included electrodes.2 And of course, there's the Power Tripper attachment that I'm really intrigued by. In all, I think the Neon Wand can add some adventurous fun to your playtime and it will literally makes sparks fly in the bedroom.
Convinced?  Want to get your own?  Please consider purchasing it from The Stockroom.  They sponsored this review and I'll make a small commission at no extra cost to you.

The Stockroom provided the KinkLab Neon Wand in exchange for an unbiased review.
Like this? Want more of it? Subscribe!
| | | |
| --- | --- | --- |
| Get new posts sent to your inbox! | | |
| Get my sporadic newsletter filled with exlclusive deals, the latest sales and secret bonus giveaway codes. | | |