Want to support my blog? Clear your cookies, click the banner and shop!

Don't miss these great sex toy sales.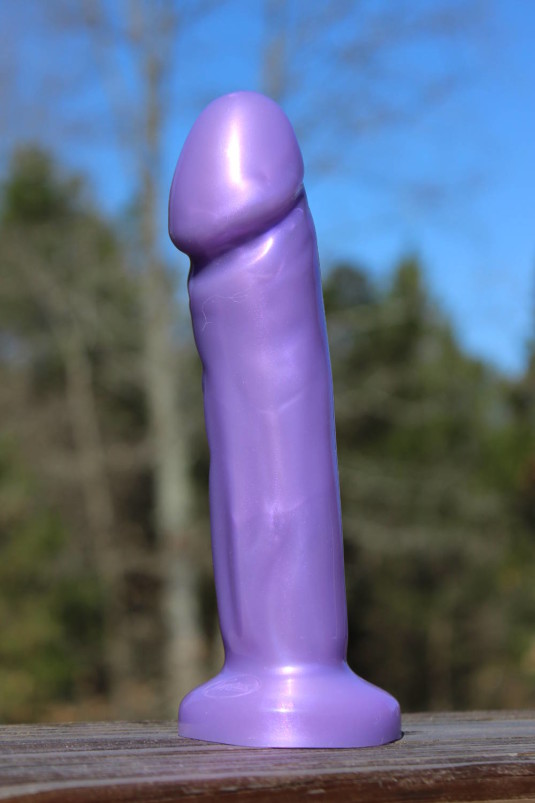 This is one workhorse of a dildo. Nothing overly fancy. No bells and whistles. No G-spot curve. Just a straight-shooting, no-nonsense dildo with an unassuming coronal ridge and a satisfying girth – the kind that's made for thrusting with wild abandon. It's perfect for just about anyone who can handle the girth, which is large but not size-queen-large. Tantus' The Vamp is a dildo's dildo. It's unpretentious and takes its job very seriously. It wants to fill you up and penetrate you like there's no tomorrow.
I think the The Vamp would be appealing to a wide range of people. It doesn't have crazy texture or a severe G-spot curve to get hooked on your pubic bone (as happens to some people). The coronal ridge is pretty much the only thing you feel besides the girth of it. This dildo doesn't give me much in the way of G-spot stimulation but that ridge does just graze it a bit. So, if you hate G-spot stimulation, and I know some people do, then that's a bonus. It's the perfect dildo for thrusting while stimulating my clit with a vibrator. When I reach orgasm, I keep thrusting with it and contracting around its girth feels fabulous. It seems to prolong the orgasm.
I would definitely recommend The Vamp to a beginner, as long as the size1 wasn't a problem. It's approachable. Not too realistic, just a stylized interpretation of the phallus. The silicone is quite firm with a bit of flex (which I love) and it has a glossy finish that can produce some drag so, a generous amount of water-based lube is recommended. Especially if you tend to be dry, like me.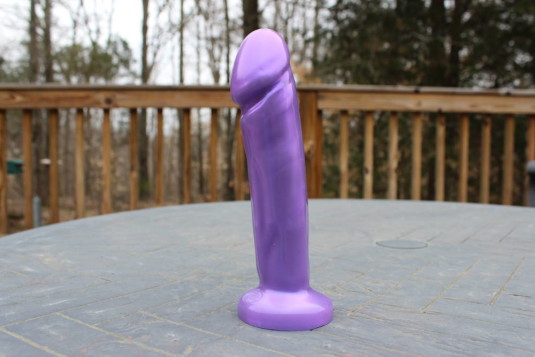 Water-based lube is your safest option because some silicone-based lubes can damage some silicone sex toys. But this is not a hard and fast rule and the risk of damage all depends on the quality of the silicone toy and the lube. I have successfully used silicone-based lube with my Tantus toys. A quality silicone-based lube like Sliquid Silver is probably safe. You always want to spot test on the base whenever you're going to experiment with silicone-based lube. If you want a safer option but need more staying power than water-based lube, hybrid lubes are a great choice. Sliquid Silk is one of my favorites. You probably still want to spot test because hybrid lubes contain a small amount of silicone.
It's an easy sex toy to care for. Soap and water is usually all you need but if you're sharing it or using it anally and vaginally, you'll want to sanitize it. This can be accomplished with a 10% bleach solution. Some people even boil their silicone dildos. I don't but there's nothing wrong with doing so. I've just heard that you want to keep the dildo from touching the surfaces of the pot.
The Vamp will never give you an infection, as long as it's cleaned properly, because it's made from some of the finest silicone available so, it doesn't harbor bacteria like cheap materials can. It's money well spent for that reason alone but you're also buying something that will give you many years of enjoyment when properly cared for. Tantus toys are built to last.
The Vamp is harness compatible and anal safe, because of its round flared base. Like I said, it's a workhorse.  It can do it all and do it well.
You get two color choices – cream or purple haze. But here's the cool part. The Vamp is in Tantus' Grab Bag selection. What's a Grab Bag, you ask? Tantus has a selection of toys that are made with silicone that's left over when they're done making other toys. They used to just dispose of it but then they had a brilliant idea. Why not reuse that leftover silicone to make toys and offer them at deeply discounted prices? So they did.
This means you can get a Grab Bag Vamp for just $24.99 when the regular ones are $48.14. That's a hell of a deal. There is just one caveat, you don't get to choose what color it's going to be. It could be anything. It could even be a mixture of different colors. Sometimes they turn out beautiful and are highly prized by dildo collectors. And sometimes they just turn out… meh. But if you don't mind getting a color you're less than thrilled with then the Grab Bag Vamp is a great way to get a quality, body-safe sex toy without breaking the bank. I often recommend Tantus' Grab Bag to people who want well made, body-safe toys but don't have much to spend.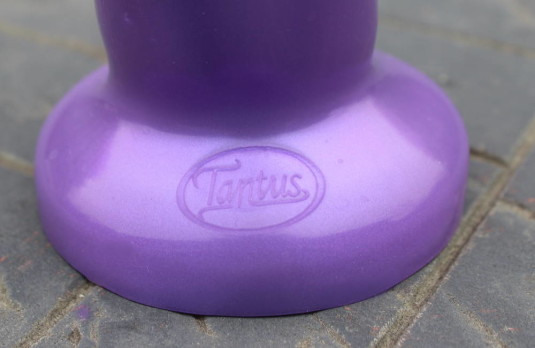 So yeah, The Vamp is great. It's a toy box staple. I think it has what it takes to satisfy a wide range of people and it's not intimidating; making it a good choice for those who are just starting to experiment with sex toys. But really, everything Tantus makes is pretty damn great and you can't really go wrong with any of their toys. And I'm not just saying that because I'm affiliated with them. They are one of the most respected and trustworthy sex toy manufacturers out there. So, what are you waiting for? Go! Shop! Now!

Tantus provided The Vamp in exchange for an unbiased review.
6.75″ insertable and 1.75″ in diameter at the largest point. ↩
Like this? Want more of it? Subscribe!
| | | |
| --- | --- | --- |
| Get new posts sent to your inbox! | | |
| Get my sporadic newsletter filled with exlclusive deals, the latest sales and secret bonus giveaway codes. | | |