Want to support my blog? Clear your cookies, click the banner and shop!

Don't miss these great sex toy sales.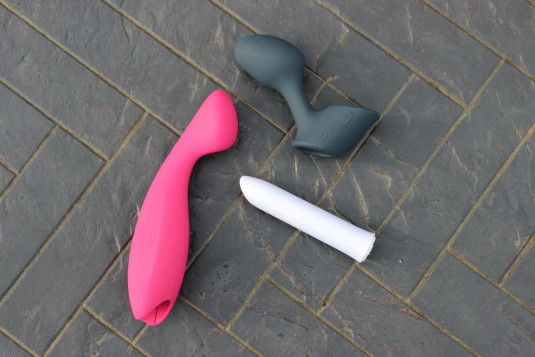 I've never wanted to ever give anything but praise to We-Vibe because they make two of my favorite vibrators – the Touch and Tango. I think their quality is superb and it's like they really listen to what their customers are saying. I love this company so much for giving me the clit vibe of my dreams. The Touch has NEVER let me down and the Tango makes a splendid backup for when my Touch is dead or when I use another toy with a bullet cavity.
As much as I love this company, I just can't sugar coat the fact that I wasn't blown away by the Glow and Dusk. I really wanted to like them but there's just no chemistry between the three of us. Our escapades together lack that certain something special that makes me really love a sex toy.
It's been widely known that the We-Vibe Tango pairs up marvelously with toys that have a bullet cavity, like Tantus' vibrating dildos. I suppose We-Vibe finally caught on to the fact that people love sticking the Tango inside other toys so, the Glow and Dusk were born. When I saw them, I thought it was a great idea. I still do… but I guess it's just the shape and size of these toys that don't work out so well for us.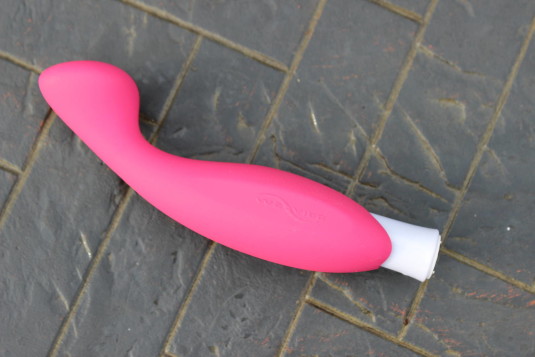 First, the Glow. Main problem? It's just too small1. When I first saw pictures of it I got all excited because it resembles the LELO ELLA, which I love. But when I actually got it in my hands I was surprised by how dainty it is. Undeterred by the size, I went into testing it with an open mind. This is We-Vibe, I thought, and everything they do is pure magic. I inserted the Tango into the Glow, lubed it up, stuck it in my vag, started thrusting with it – and was completely underwhelmed. It's like, nothing about it stimulated me in the least. My G-spot didn't even know it was there. I was sick with disappointment and immediately felt the dread of having to write a negative review, which was the last thing I wanted to do with a We-Vibe product.
But, it is what it is. The Glow just doesn't do it for me. You win some and you lose some. On the bright side, I got the Glow as part of the Pleasure Mates Collection so I now have a pretty pearly white Tango in my possession – all is not lost. Interestingly, while my vagina thought the Glow was as boring as watching paint dry, my clit loved it. Go figure. The vibrations from the Tango travel through the Glow nicely into the head and with the head on my clit, orgasms happen. And it was much easier to hold onto than just the Tango on its own.
As much as I like it for clitoral stimulation I can't really give it a glowing review because for me, it failed at its intended purpose. I'm sure there are some people out there that will like it, mostly those who are looking for something smaller. I have no complaints whatsoever about the quality of the Glow or Dusk. I think if We-Vibe made a larger version of the Glow, with more girth, a larger head and bit more length, they'd have a winner.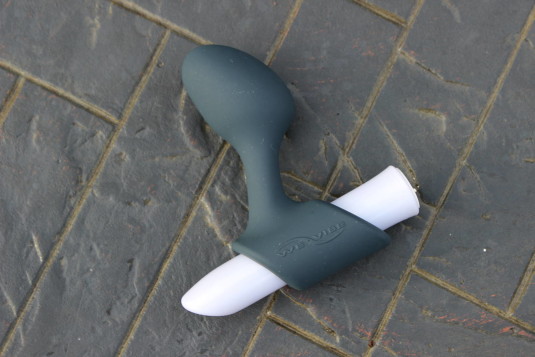 So, what about the Dusk2?  The first thing I tried was to achieve this alleged "hands-free" orgasm I've been hearing about. Supposedly, if you put the Tango in the Dusk and put the Dusk in your vagina, you can just sit there and lazily have orgasms auto-magically. I don't doubt that this can work for some folks because, when I had it inserted, the Tango did rest on my clit, and if I could get off by just sticking a vibe on my clit and leaving it there then it probably would have worked. But for whatever reason, that's not my clit's jam. It likes to be rubbed with a vibrator. There has to be that mechanical motion combined with the vibration to make the magic happen.
But that's not really what the Dusk was made for anyway. How is it as a butt plug? Well, for some reason, I just have not felt compelled to stick things in my ass lately. I knew I had to finish this review but for the life of me… I just did not want to put the Dusk in my ass. I guess my interest in butt play waxes and wanes. So, I told dizzyguy about my dilemma and he graciously stepped up to save the day. His verdict? Big thumbs down.
I put the Dusk with the tango in it, into his ass and proceeded to give him a blow job but the Dusk kept popping out. This is a problem I know all too well. Many a butt plug has been projected from my ass during the course of sexy activities. Some plugs do manage to stay inserted better than others but for dizzyguy, the Dusk wanted out of his butt in the worst way. He tried keeping it in while we had sex and I could tell it was distracting for him, as he clenched and tried to keep it from escaping. And toward the big finish, it did finally launch itself from his ass. So it would seem that dizzyguy had about as much luck with the Dusk as I did with the Glow. The only clear winner here is the Tango that I got as part of the set.
Since the Glow and Dusk are made of silicone, they are body-safe and water-based lube is recommended.  You can clean the Glow, Dusk and Tango with soap and water or a 10% bleach solution to sanitize.  The Pleasure Mates Collection comes nicely packaged and a single pouch to hold everything is included.  You can also buy the Glow and Dusk separately but the Tango is not included.  You get a one year warranty on these We-Vibe products.
It is with a heavy heart that I have to write anything less than a stellar review for a We-Vibe product but not all sex toys are going to be right for all people. The Glow and Dusk were just wrong for the both of us. That's not to say that they wouldn't work for someone else. I think if you need a smaller toy for insertion, the Glow might work for you. And if your ass is really good at keeping butt plugs in place, maybe the Dusk would be right for you. Unfortunately, I just can't say if either one of them will be a perfect fit. All I really can say is that neither were perfect for us. Incompatibilities aside, I do think these are quality products and I'd expect nothing less from We-Vibe.

We-Vibe provided the Tango Pleasure Mates Collection in exchange for an unbiased review.
Like this? Want more of it? Subscribe!
| | | |
| --- | --- | --- |
| Get new posts sent to your inbox! | | |
| Get my sporadic newsletter filled with exlclusive deals, the latest sales and secret bonus giveaway codes. | | |