Want to support my blog? Clear your cookies, click the banner and shop!

Don't miss these great sex toy sales.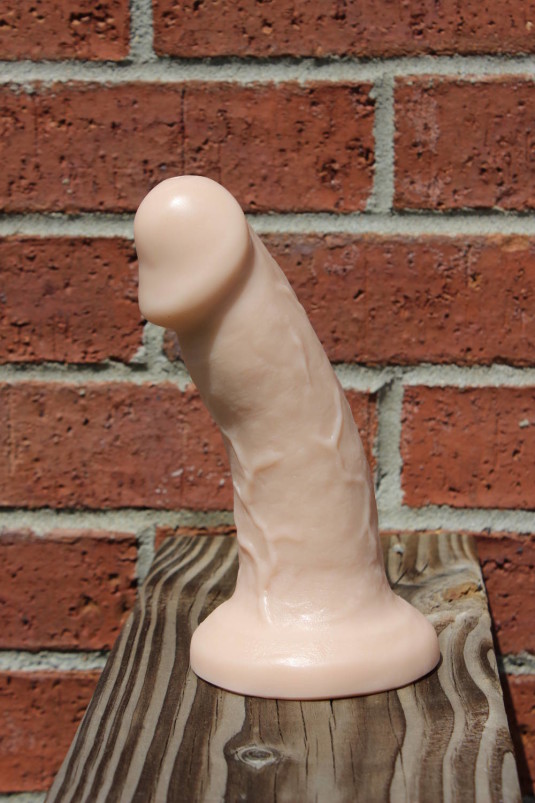 There I sat, staring at it, doubts and apprehension swirling around my head. Without my saying a word, dizzyguy proclaims, "that thing looks big"… as though I hadn't noticed. Had I bitten off more than I could chew? What if I couldn't handle the size? How would I review it then? No, I asked for this. It had to happen one way or another. Still, there was one thing giving me a glimmer of hope. VixSkin is a magical material. It's some of the squishiest silicone one can stick in their holes. I prayed to the dildo gods that the VixSkin silicone would allow my vag to accommodate Buck's girth.
So, I started out with a smaller dildo to warm up and get everything relaxed and ready to accept the fatness that is Buck. When I felt ready to take on my challenge, much to my surprise and relief, it slid right in. It went in so easily that the warmup probably wasn't even necessary. It's like the VixSkin material molded itself into the shape and size my vag required, filling me up but without any discomfort whatsoever. There wasn't even a hint of hesitation upon penetration. It effortlessly popped right in and just felt, right. Turns out, I had nothing to fear. Buck looks much more formidable than it really is.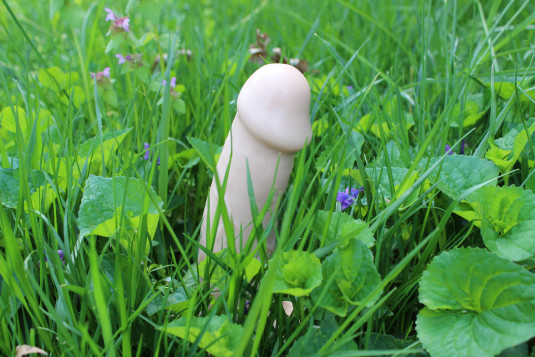 Once I got over the initial shock of how my vag eagerly accepted Buck's girth, it didn't take me long to start fucking myself silly with it. It is a very tight fit, which makes thrusting a bit more work than usual but it feels pretty damn great. VixSkin dildos feel more natural, and dare I say real, than any other dildo I've shoved in my vag.
They're ridiculously squishy (in the best way possible) with a sturdy inner core that gives them all the backbone they need to deliver a good strong fucking. They really couldn't be more perfect. Every vag (and ass for that matter) deserves to be shagged by a VixSkin dildo. And Buck delivers in a spectacular fashion if you're looking for some girth. If Buck is too big for you, the Mustang is an equally glorious dildo that sports a more manageable girth. But keep in mind, the VixSkin material is so squishy that you might be able to handle more girth than you think.
I adore how Buck fills me up so completely. I pair it up with a vibe on my clit and when the orgasm comes, clenching around that large squishy mass feels incredible. I really can't recommend the VixSkin Buck enough. No, a mere recommendation isn't sufficient. I implore you to treat yo' self to a big fat fucking with the Buck. You deserve it and your vag and/or ass will thank you.
So, just how big is the mighty Buck? It's 6.5" long, 1.75" in diameter at the head and increases to 2" near the base. It has a large mushroom head, which is my favorite kind. It actually reminds me a lot of dizzyguy's penis, with just a bit more girth. The veins are really prominent but I don't notice them much in use. The only thing I do notice is how full I am.
Now I have two VixSkin dildos – the Mustang and Buck – and I love them equally. I can easily recommend either one. Go for the Buck if you crave a lot of girth. Go for the Mustang if you want a little less. They are both wonderful and I can't imagine anyone being disappointed with their purchase. They are a bit pricey but you simply can not get this sensation of realness from any other silicone dildo. VixSkin silicone is something special and special things usually cost more. You are making an investment in your pleasure though, because with proper care, these dildos will last you a lifetime. That's why Vixen backs them up with a lifetime warranty.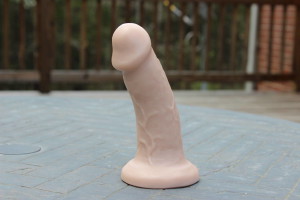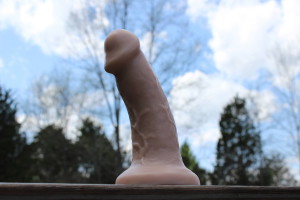 Buck is a very photogenic dildo.  Click to enlarge.
Buck is a rather realistic dildo and only comes in flesh tone colors. So, I know that's going to put some people off. I'm not thrilled with the colors either. It doesn't squick me out or anything but Vixen is capable of producing some beautifully colored dildos. I wonder why they don't do it more often.
You care for the VixSkin Buck like any other silicone dildo. For more on that go here. Water-based lube is recommended.
You don't get a storage pouch with VixSkin dildos but they do come in transparent tubes that are good for storage or display, if you're compelled to show off your dildos. And with a dildo as handsome as Buck, you'll probably want to leave it on display so you can admire it at all times.
There's simply nothing else that feels like a VixSkin dildo and the Buck is a perfect choice if you're looking for something larger. I was kind of apprehensive about the size at first but that's before I tried it. The material really is very forgiving. Much different from say, a glass dildo of the same girth. My vagina takes it like a champ and loves every minute of it.
If you take nothing else away from this review, know this: you need, and I mean need, some VixSkin in your life. Your life will never be complete without it. Drop what you're doing and order a VixSkin dildo right now. I don't care which one you get, just get one. I even suggest paying for express shipping so you can get that fantastic dildo in your holes even faster.


PeepShow Toys provided the VixSkin Buck in exchange for an unbiased review.
Like this? Want more of it? Subscribe!
| | | |
| --- | --- | --- |
| Get new posts sent to your inbox! | | |
| Get my sporadic newsletter filled with exlclusive deals, the latest sales and secret bonus giveaway codes. | | |