Want to support my blog? Clear your cookies, click the banner and shop!

Don't miss these great sex toy sales.
Meet Alan, he's related to Gary and he's a pretty nice guy. There was quite the negative outpouring when Tantus released these dual density O2 toys. A lot of people just did not like the names. They said that toys shouldn't be named after people or, they just didn't like those particular names. It's not like Tantus doesn't' already have other toys with the names of people1. But for some reason, Alan and Gary didn't sit well with a lot of folks. I found the outrage a little strange but hey, to each their own, I guess.
I'm not sure where the inspiration for Gary came from but Alan is a tribute to a real person – not molded from them, just named after them. When the Gary was launched I joked that I used to work with a guy I hated named Gary but I wouldn't hold it against this dildo. And that's true, Gary was an asshole but it doesn't give me negative feels about the dildo.
Maybe they were given people names because they're both extremely realistic dildos. Well actually Alan is a vibrating dildo with a cavity in the base to insert a bullet vibe. It is very realistically detailed and only comes in 3 flesh tone colors, which will squick some people out but maybe there are folks who prefer their dildos to look and feel as realistic as possible. Tantus did a great job of that with its appearance combined with the feel of the dual density O2 silicone.
What is Tantus' O2 silicone? It starts with a firm, sturdy core of silicone covered in a plush, squishy outer layer of silicone. It creates a feeling that's a little closer to real than Tantus' standard firm silicone. They do make some O2 dildos that are stylized and not penis clones and then they also make some that look like they should be attached to someone. It's all a matter of personal preference. I don't mind either way, which is great because that expands the options available to me.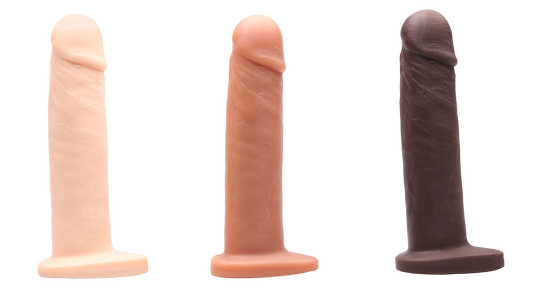 I prefer dildos in vibrant non-flesh-tone colors but the flesh tones don't creep me out either. In other words, I'm just not that picky. I understand some folks are and that's fine. So, if you don't like dildos that very realistically look like penises then don't get the Alan. I'd recommend something like the Cush, Flurry or, Duchess if you wanted an O2 toy.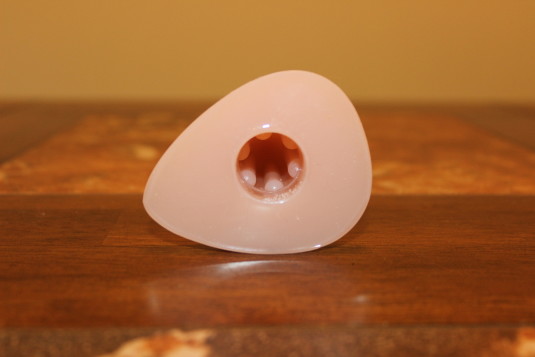 I love that Tantus gave the Alan their new triangular base. Why triangular? Well, with many dildos that have a perfectly round base, they can twist one way or the other while I'm thrusting and then I don't get maximum stimulation against my G-spot. With the triangle base, it's easy to point the dildo in the right direction. I've heard the bases work well in harnesses too but sadly, I can't yet vouch for this.
So, Alan isn't just a dildo… it's a vibrating dildo, which means you can stick a bullet vibe up into the base and enjoy it that way and I do sometimes. It comes with a basic bullet but as I always say, the We-Vibe Tango is like magic for Tantus' vibrating dildos. If you don't have one, I highly recommend it.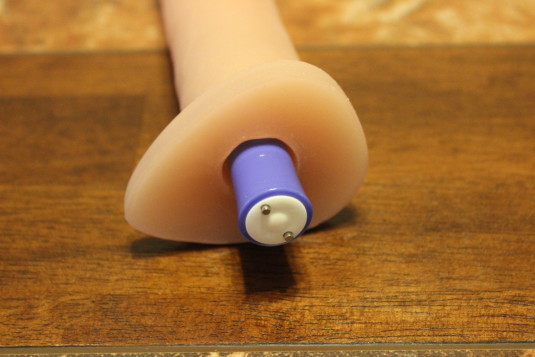 Alan also comes with the suction cup that fits up into the base, which is usually a separate purchase. I don't often use my dildos suctioned to anything but the suction seems pretty strong, though the dildo does droop quite a bit.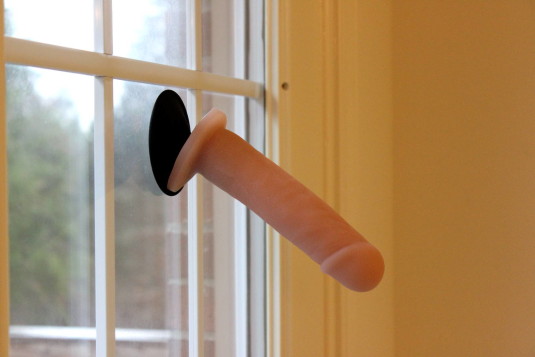 OK so, how does Alan feel? Pretty much like a standard thrusting dildo. By that I mean, there are no crazy textures to upset your vag (if your vag is like mine) and there isn't a really big prominent head or curve to target the G-spot. I prefer a shit ton of G-spot stim from my dildos so, I don't want to say I'm bored with Alan but it's just not my favorite kind of dildo. That said, some folks just wanna thrust with reckless abandon and don't like fiddling with their G-spot. For them, the Alan will be perfect.
Alan is an average size2 that isn't going to impress size/girth fanatics but it'll be a good ride for most people. It's like, average penis sized. It doesn't stretch me out and it's slim enough that thrusting is smooth and easy. Even though I do adore very intense G-spot stim, sometimes it is nice to leisurely thrust a dildo while stimulating my clit with a vibe. This combo can bring me to orgasm but they're usually not like the blended kind I get with G-spotting toys.
Alan is easy to care for, as are all Tantus' dildos. Soap and water is usually all you'll need. You can sanitize them by boiling for a few minutes (remove the bullet vibe first) or washing in a mild 10% bleach solution. Some folks say that you can put them in the dishwasher and technically you can but it's not something I'd do. However, if you do then don't use detergent. Water-based lube is recommended and is your safest choice. Hybrid lubes like Sliquid Silk are usually OK. Some silicone-based lubes can be used with no problem but keep in mind that not all are compatible with silicone toys.
The Tantus Alan is a nice dildo and I don't care about the name. Those that do can rename it whatever they want. If you're searching for something that looks and feels realistic, that pretty much leaves your G-spot alone, then I think you'll like Alan. You can always add the bullet vibe when you want to shake things up a bit.
PeepShow Toys has been a huge supporter of my blog, providing many products for review and they're committed to selling only body-safe toys. If you want to purchase the Tantus Alan or some other toy, please consider buying it from them. You'll get a 10% discount with code: DIZZY and free shipping on orders $75+

PeepShow Toys provided the Tantus Alan in exchange for an unbiased review.
Like this? Want more of it? Subscribe!
| | | |
| --- | --- | --- |
| Get new posts sent to your inbox! | | |
| Get my sporadic newsletter filled with exlclusive deals, the latest sales and secret bonus giveaway codes. | | |