Want to support my blog? Clear your cookies, click the banner and shop!

Don't miss these great sex toy sales.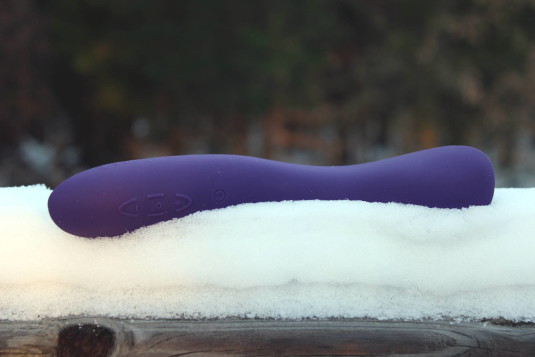 Is the We-Vibe Rave really a Tango for your G-spot? Well, I'd say it's more like a Touch for the G-spot, which means it still kicks ass. This is We-Vibe's first venture into solo use insertable vibrators and I am more than impressed. The Rave is everything you'd expect from We-Vibe – quality built, strong rumbly vibration, silky soft silicone.
Yet, it lacks one thing and I'm perplexed as to why they cut this corner. The Rave is splash-proof, not waterproof. Which means, you can get it wet enough to clean it but don't submerge it. Cost savings is the only reason I can think of that they did it this way. Even still, the Rave isn't exactly inexpensive. I don't know how much waterproofing would drive up the price but I really wish they hadn't skimped on this. However, that's the only real complaint I have about the Rave. I love everything else about it.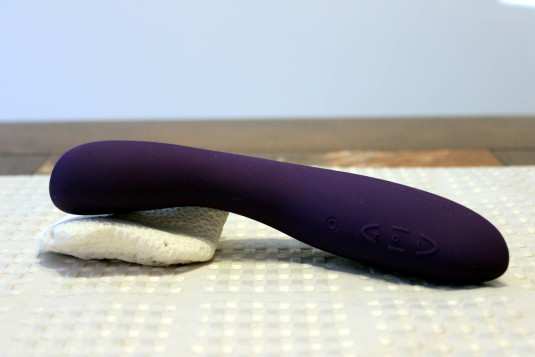 The first time I tried it was on my clit and it felt incredible. I forgot all about the fact that I could also stick it in my vag. Once I got my fill of clitoral orgasms, I did try it internally and it rattled my G-spot in the best way. The vibration is strong and rumbly. If you're familiar with the Touch and Tango, the vibrations feel a lot like those. It has more than enough power to stand up to some dual stimulation with another vibe on my clit, which is heavenly I might add. May I just suggest the Touch on your clit and the Rave in your vag? That combo leaves me quivering.
The Rave also has a feature that sets it apart from any other vibrator I've seen. Its shape is asymmetrical. Why would they do this? I really wasn't sure at first. Then I started playing around with it in my vag and stumbled upon a brand new sensation. By twisting the handle side to side, the Rave stimulated my G-spot in a way that my other G-spotting toys do not. That's where the asymmetry comes in. With a small movement of your wrist, you can produce a rather unique kind of sensation. My G-spot definitely took notice. With the vibration going combined with the twisting motion and a vibe on my clit, I easily had some pretty epic blended orgasms. I wholeheartedly approve and so does my G-spot. We-Vibe took a chance and did something out of the box and it worked.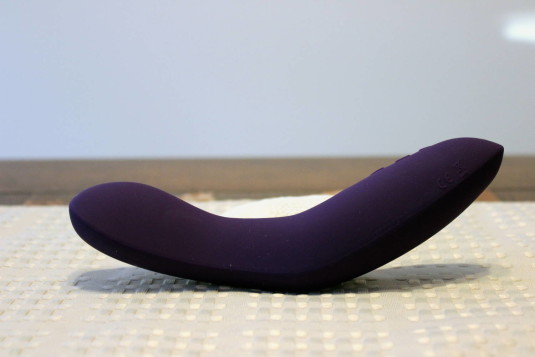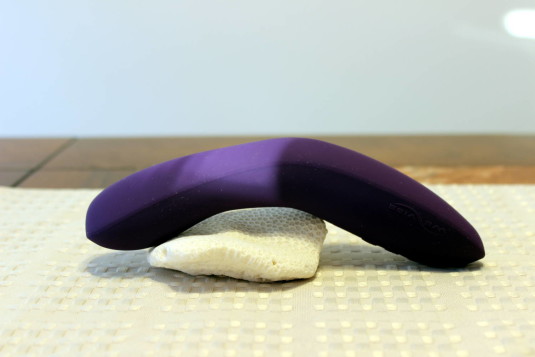 The company that owns We-Vibe recently purchased Laid – a company known for its stone dildos and they have one that is asymmetrical (the D.2), a bit like the Rave. So, I'm wondering if that's where the inspiration came from. Whatever it was that inspired the idea, it was a good one.
The Rave has about 4.75" of insertable length until you reach the charging port. Unlike other We-Vibe products that are charged through a magnetic connection, the Rave has a port that you plug into. Though not perfectly round, the thickest part at the head measures about 4.5" around.
This vibe has 9 patterns and steady vibration. Intensity is incrementally adjustable for all modes. Press and hold the (+) or (-) buttons to adjust intensity. The middle button turns it on/off and cycles through the patterns.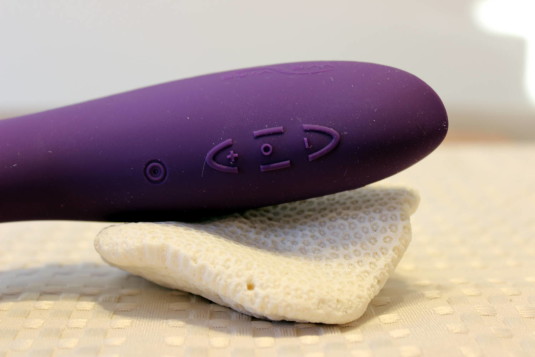 The manual suggests that you use We-Vibe's cleaner and lube but that's not totally necessary. You can simply use soap and water to clean it (or a commercial cleaner) and any water-based lube will work with this vibe.
The Rave is also Bluetooth enabled and it can be controlled via smart phone with the We-Connect app. I didn't test this feature for a number of reasons, not least of which was my frustration with the OhMiBod Nex 2. That's not to say that the Rave's Bluetooth capability would be as quirky. It's just difficult for me to test these features since I don't have a smart phone.
We-Vibe is one of my favorite companies for many reasons. They make quality products – two of my most beloved clit vibes and now one of my favorite G-spot vibes. I can't say I love everything they make since, I wasn't a huge fan of the Pleasure Mates Collection but that's OK. Not every toy is made for every body. But in my opinion, they created a masterpiece with the Rave. At least as far as my G-spot and clit are concerned. And let's face it, that's all that really matters. I do wish it was waterproof but that's not a huge deal for me, since I hardly ever use toys in the bath. If you feel the same way about that then I can definitely say that the We-Vibe Rave is an awesome G-spotter, with a special twist and it's totally worth it.

We-Vibe provided the Rave in exchange for an unbiased review.
Like this? Want more of it? Subscribe!
| | | |
| --- | --- | --- |
| Get new posts sent to your inbox! | | |
| Get my sporadic newsletter filled with exlclusive deals, the latest sales and secret bonus giveaway codes. | | |