Want to support my blog? Clear your cookies, click the banner and shop!

Don't miss these great sex toy sales.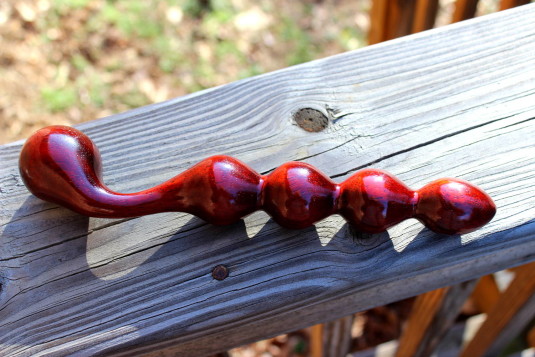 It just seems like I can never get enough wood in my vagina (euphemism only partially intended). I now have three dildos from NobEssence and I adore each and every one of them. It would be really difficult for me to rank them, I'm not sure I can pick a favorite. My newest one is the Allure and it's a G-spot's best friend.
I can't say enough good things about NobEssence's sensual sculptures (it doesn't feel right calling them sex toys). Each piece is handmade to perfection. Seriously, it can't be easy to do. Yet, I find no flaws in any of the pieces I have. At this time, theirs are about the only wooden dildos I will recommend.
Wooden sex toys found elsewhere can be sketchy (especially on Etsy). They could be using toxic or porous finishes and trust me… your vag wants none of that. The finish that NobEssence uses (they call it Lubrosity) is non-toxic, nonporous and waterproof. That means it's not going to get your vag all infected if you wash the dildo thoroughly after each use.
I keep wanting to say that the Allure is like a G-spot shoehorn but that's not exactly accurate, even if that's what it reminds me of. It hooks into place perfectly, in just the right spot and with short, rhythmic tugs on the handle, it pulls at my G-spot just the way I like it. The nice long handle allows me to leverage all the pressure that I want against my G-spot. Speaking of that bumpy handle… you can obviously stick it your vag but it isn't really my thing. It might be yours though.
So, when I combine the wonderful G-spot pulling that the Allure produces along with a vibe on my clit… well, it's just heavenly really. The blended orgasms are fantastic and though I have not squirted with the Allure, it feels like it's possible. My ability to squirt can be finicky but just feeling as though it could happen is a marvelous sensation.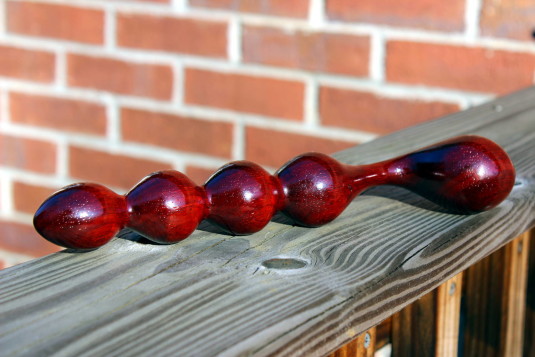 Even though they're lovingly handmade, the NobEssence dildos I own seem as though they're precision engineered to hit my G-spot, the Allure is no exception. It's hard to do but if you pressed me to rank them, I'd say I like the Seduction best with the Fling and Allure at nearly a tie. When I started this sex toy reviewing thing, I never thought I'd own 3 of these wooden beauties but here we are. I truly am a lucky gal.
They're so beautiful and so functional. You get the firmness of other hard materials but without all the weight so, that might make these wooden dildos easier for some folks to use. The finish is flawless and a little lube goes a long way. You can also use any kind of lube you prefer. Soap and water easily cleans this dildo. If you want more thorough sanitation you can wipe it down with a very mild 10% bleach solution, making sure to rinse it very well.
You do want to handle the Allure, and all NobEssence dildos, with care. Any kind of damage to the finish effectively ruins the toy. So do your best not to drop it or, scratch it – take your rings off when cleaning it and store it in a way that it is protected. That's pretty easy to do since all NobEssence dildos come in a custom box.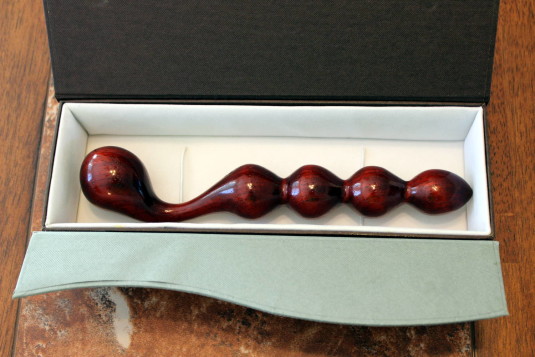 Since these lovely sensual sculptures are made by hand, there will be slight differences in size, though NobEssence states that sizes can vary up to 1/4" from the nominal size in width and length1. NobEssence toys are covered by warranty for 30 days against manufacturer defects.
Bottom line? You simply must get some wood into your vagina. Using NobEssence dildos is such a luxurious experience and they're so gorgeous you'll be tempted to leave them out on display. It's true, they are a bit pricey but what expertly handcrafted products aren't? It takes a lot of skill and labor to produce these beauties and I think they're worth every penny.
There are several reasons why you should buy your NobEssence dildo from PeepShow Toys. First, they're decent folks who promise to never sell you toxic or porous sex toys. Plus, I can also get you a 10% discount with code: DIZZY and all orders over $70 ship for free. Lastly, by purchasing a NobEssence toy or, anything else from PeepShow Toys, you help support my blog and I hope you like it enough to consider doing so.

PeepShow Toys provided the NobEssence Allure in exchange for an unbiased review.
Mine measures about 10.5" end to end and the bulbous head is 1.67" in diameter. ↩
Like this? Want more of it? Subscribe!
| | | |
| --- | --- | --- |
| Get new posts sent to your inbox! | | |
| Get my sporadic newsletter filled with exlclusive deals, the latest sales and secret bonus giveaway codes. | | |