Want to support my blog? Clear your cookies, click the banner and shop!

Don't miss these great sex toy sales.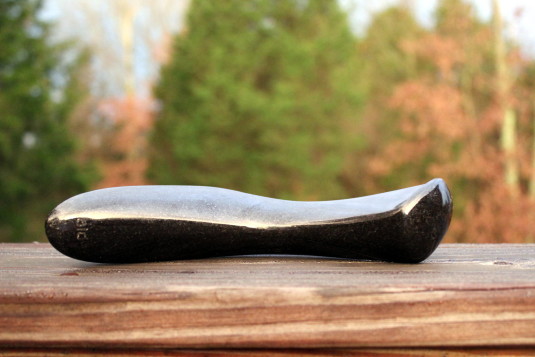 I was an aspiring rock hound when I was young. Actually, I've always been fascinated by the natural world in general. I remember digging up rocks and being enchanted by the fish scale and sea shell fossils. It boggled my little mind that where I sat, was once under water.
Later, as a teen, I went through a phase where I believed in the metaphysical properties of minerals and crystals. I'm not sure I believe in any of that stuff anymore but I can still appreciate the beauty of a quartz crystal.
So, it's no surprise that I'd be drawn to the Laid D.2 dildo. It's carved out of solid Absolute Black Granite, which is more commonly used to make counter tops than dildos. The D.2 has a unique design. Its shape is asymmetrical, very much like that of the We-Vibe Rave. And that's probably no coincidence since the company that owns We-Vibe, now owns Laid. In any case, the D.2 was around before the Rave so, Laid had the asymmetrical idea first.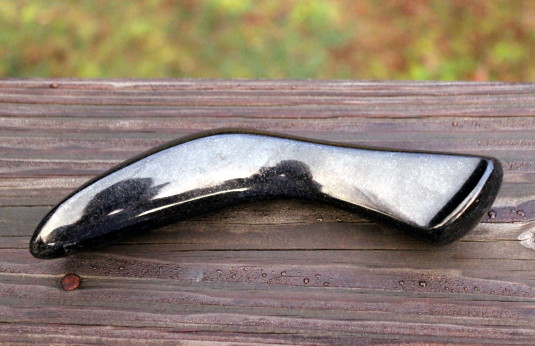 You might be wondering why they'd make an asymmetrical dildo. I know I did… until I used it. With a slight turn of my wrist from side to side, the D.2 creates different sensations against my G-spot. Pretty much just like the We-Vibe Rave does. Except with the D.2, it's more intense because we're talking about solid granite here. Plus there's a sort of edge on one side of the head that the Rave doesn't have. The Rave's head is rounded while, the D.2 is more angular. I'd once heard it referred to as a G-spot chisel. That sounds more severe than it really is though.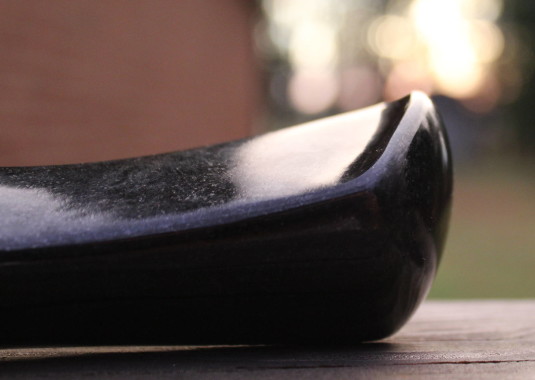 Since this dildo is so unique, I do use it a bit differently than your standard dick-shaped dildo. I like to push down on the D.2's handle and put a lot of pressure on my G-spot while I twist my wrist side to side. This just isn't a thrusting dildo for me but everyone masturbates in their own way so, you might like to use it differently than I do. There is no right or wrong way to jerk off.
When I combine that twisty motion with a vibe on my clit it's well… it's really damn hard to describe the sensation but I know I like it. Yes, I realize I'm a reviewer and I should be able to articulate how this thing feels but, I'm at a loss. I don't want to say it scrapes my G-spot because that sounds horrifying and doesn't really explain the sensation. You'll just have to trust me when I say that it feels different from pretty much every other dildo out there.
It does however, produce some very satisfying blended orgasms and I don't have to exert myself getting there. It's a lot harder to thrust a dildo than it is to twist one. My thrusting arm gets tired pretty quick so, I appreciate that the D.2 let's me be a lazier masturbator. Or is it masturbater? Spell check doesn't recognize either spelling. What else do you call one who masturbates – a wanker?
As you'd expect, being carved of solid granite, the D.2 has some weight to it. I'm not sure if it's enough to cause problems for some folks but I thought I'd mention it. The surface is perfectly smooth with a glossy shine. Just like glass dildos, a little lube goes a long way with the D.2. And the nice thing is, you can use any kind of lube you like. Cleaning is easy. Soap and water will work but make sure you don't use anything abrasive.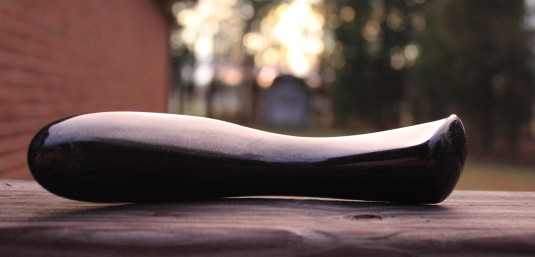 The Laid D.2 is obviously, not a cheap sex toy but I wouldn't expect it to be, considering the material it's made of and the kind of labor that must go into making it. I would say that the D.2 is a collector's piece. If you own a fuck-ton of sex toys and you're at the point where you need something unusual to get you excited, I think you'll enjoy the D.2. I'm not saying it's inappropriate for beginners at all, as long as the price point isn't a limiting factor. I just think a beginner might want to start out with more affordable toys and work up to this one when they've gotten bored with everything else. The Laid D.2 is beautiful, original and produces some unique sensations. And who knows, I might be grounding my chakras or something every time I stick it in my vag.
If you want the D.2 (or anything else) you can save 10% at PeepShow Toys with code: DIZZY and get free shipping on orders $70+

PeepShow Toys provided the Laid D.2 in exchange for an unbiased review.
Like this? Want more of it? Subscribe!
| | | |
| --- | --- | --- |
| Get new posts sent to your inbox! | | |
| Get my sporadic newsletter filled with exlclusive deals, the latest sales and secret bonus giveaway codes. | | |