Want to support my blog? Clear your cookies, click the banner and shop!

Don't miss these great sex toy sales.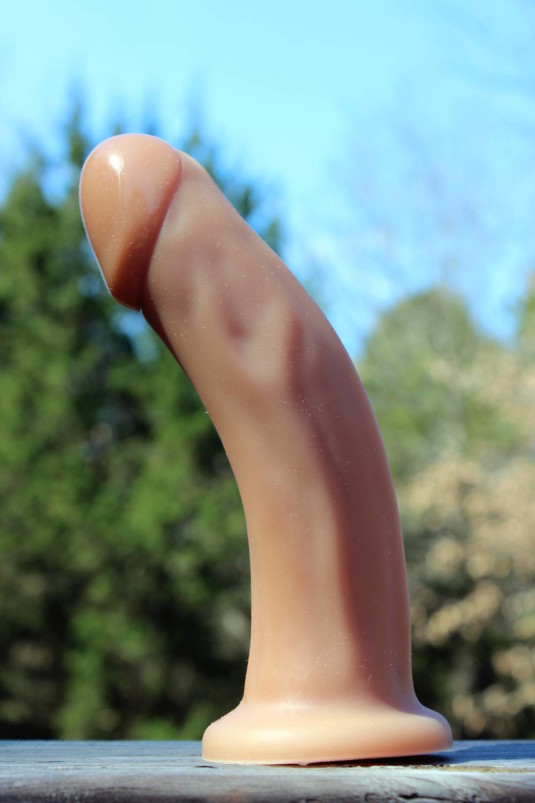 Yearning for satisfaction? I think the Tantus Adam O2 can deliver. It's like, the perfect dick-shaped dildo and it's made of Tantus' dual density O2 silicone, which makes it feel more real. I was surprised by just how much I love this dildo because I usually prefer more rigid dildos with a strong G-spot curve. But the Adam O2 fills me up and stimulates my G-spot in a more subtle way.
The Adam O2 is what I'd call a semi-realistic dildo. It's dick-shaped with a hint of veins but it's not nearly as realistic as Tantus' newer ultra-realistic O2 toys, like the Sam and Gary. I know some folks are squicked out by dildos that look like amputated penises but the Adam O2 isn't that kind of dildo, in my opinion. It does only come in three flesh-tone colors, which I'm just kind of "meh" about. I'd love to see this dildo in bright, saturated colors. But most of Tantus' O2 toys only come in flesh-tones. A few exceptions are the Cush, Flurry and Duchess – all of which are awesome, by the way.
This dildo fills me up a lot more than I expected. It feels bigger than 1.6″ in diameter to me. If you like length, the Adam O2 isn't shabby there either at 7″ long. Size queens would probably consider this an average sized dildo but I think for most folks, the girth will be pretty satisfying. I feel a bit stretched but not like my vag is gonna burst at the seams. I don't have to warm up for this dildo but I do have to take it slow as I'm starting out.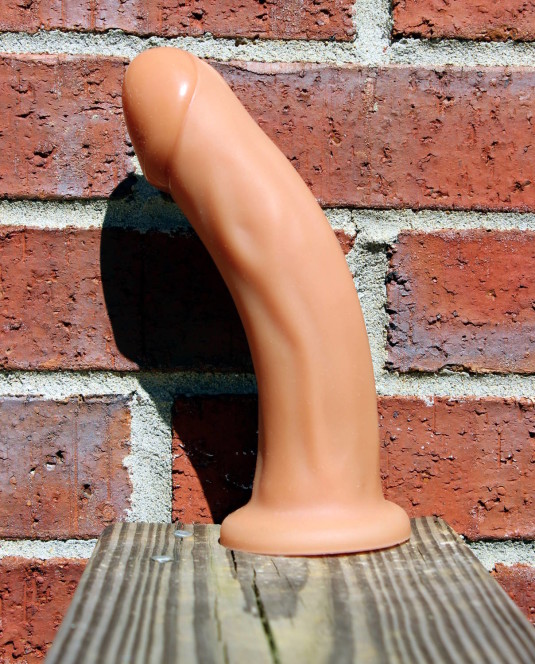 Like all Tantus products, the Adam O2 is of impeccable quality. The dual density construction consists of a firm inner core surround by a softer, squisher outer layer of silicone. This gives it a somewhat more realistic feel but I do have to say that Vixen's Vixskin dual density silicone feels more real to me. Then again, it seems like there is some variation of how the O2 silicone feels from one dildo to the next. Either way, the O2 silicone rocks. I can't imagine anyone being disappointed in this dildo, as long as this is the type of dildo you're looking for. It's a completely different kind of stimulation than say… the njoy Pure Wand so, don't expect that level of G-spot stimulation. Where the Adam O2 really excels is in filling you up and it's definitely a great dildo for thrusting.
It's simple to keep this dildo clean. Soap and water will usually do the trick but if you're sharing, you'll want to sanitize it. This can be accomplished by boiling for a couple of minutes or washing it in a 10% bleach solution. It's probably a good idea to stick with water-based lube but I have successfully used high quality silicone-based lube with Tantus' products. If you want to try it, spot test on the base first and look for any damage to the surface of the toy.
The Adam O2 is not extreme in any way but it's really good at what it does. If you don't like intense G-spot stimulation then I think you'll like this dildo. It has a slight curve and the head rubs my G-spot in a gentle way. And I have to say, it's quite nice to have a variety of toys that can produce a range of sensations. Some days I might want squirt inducing G-spot stim and then other times, I like something that feels less intense. When I use the Adam O2 in tandem with a clit vibe, I do have blended orgasms and it feels great clenching around its girth.
I have nothing negative to say about the Adam O2 – seriously, nothing. If you forced me to complain about it, the only thing I could say is that I'd like different color choices. But if this is the kind of dildo you're looking for, I think you'll be very happy with it. It's a dildo that you'll love fucking yourself with and it's certainly a welcome addition to my arsenal.

Tantus provided the Adam O2 in exchange for an unbiased review.
Like this? Want more of it? Subscribe!
| | | |
| --- | --- | --- |
| Get new posts sent to your inbox! | | |
| Get my sporadic newsletter filled with exlclusive deals, the latest sales and secret bonus giveaway codes. | | |