Want to support my blog? Clear your cookies, click the banner and shop!

Don't miss these great sex toy sales.
Riding on the success of dizzyguy's first review ever, he has now thoroughly tested and reviewed the Njoy Pfun prostate massager. Enjoy!
***
When you receive this item, the packaging will be the first thing to tip you off that this is a Cadillac sex toy. Nice box with form-fitting padding and soft material that you can store anywhere without drawing too much attention.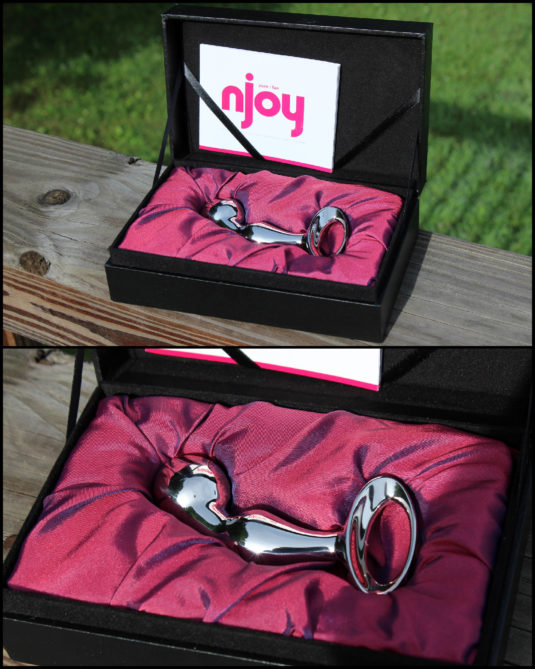 Removing the Pfun, the first thing that intrigued me was how heavy this toy is. It's 310 grams (11oz) of stainless steel that could probably double as a weapon. Very smooth sleek surface that looks like a piece of art. The shape and size of this is very different from my Aneros Helix. It's longer, heavier and the angle is a lot more pronounced. The head is the same size as the medium Njoy Pure Plug that I use on a regular basis so, I was sure the fit was going to be good. The 1.25 inch diameter should accommodate beginners and it's also filling enough for regular users.
The first time I used the Njoy Pfun was more to get the feel of it and not to go for the hands free orgasm. Insertion was very easy and comfortable when used with lube. Since it is stainless steel you can use either water-based or silicone-based lube without damaging the toy. Of course, I recommend Wet Platinum (our favorite go-to silicone-based lube). My mistake was using too much, which made it very difficult to keep it in. I've found there are many positions that work well. Laying on your back, side and on all fours provide for different feelings and keep the toy comfortably in place. The position that worked best for me was sitting directly on it. Removal and clean-up was easy.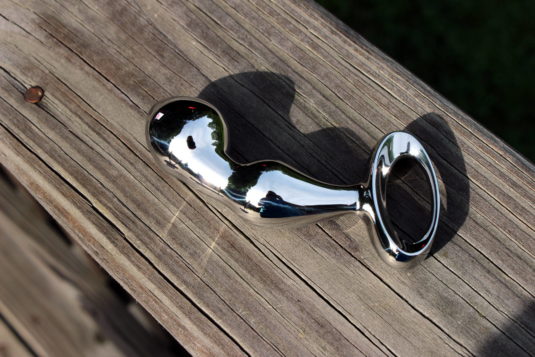 I've used the Njoy Pfun on multiple occasions so I could really give it an honest rating. After several attempts, I was able to achieve the coveted hands free orgasm. This was not an easy undertaking and took some time. I put on some porn and started the squeezing process. The stimulation is very different from the Aneros Helix that I'm used to. The Pfun produces a very deep feeling that resonates all the way through my abs. When the orgasm did happen, it was very intense and continued longer than normal. To say I was whooped afterward is an understatement. There was a level of relaxation that compares to a good physical workout, except for the fact that your ass is buzzing and very sensitive.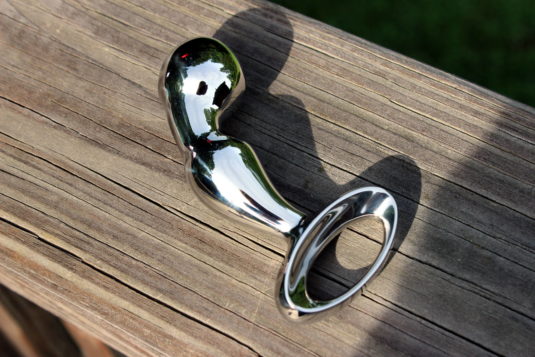 I would say that the Njoy Pfun is best suited for someone who has used prostate toys and butt plugs on a regular basis. The weight of the toy can make it difficult to keep in place. This stimulator requires a lot of usage if you want to make the most of it. This will absolutely become a regular staple in my masturbation sessions.
The price tag at first seems like a lot but this is quality. You get what you pay for! They say that there are only two things that will survive a nuclear war, Keith Richards and cockroaches. The Njoy Pfun makes three.
Use code DIZZY for 10% off your entire order at PeepShow Toys!

PeepShow Toys provided the Njoy Pfun in exchange for an unbiased review.
Like this? Want more of it? Subscribe!
| | | |
| --- | --- | --- |
| Get new posts sent to your inbox! | | |
| Get my sporadic newsletter filled with exlclusive deals, the latest sales and secret bonus giveaway codes. | | |