Want to support my blog? Clear your cookies, click the banner and shop!

Don't miss these great sex toy sales.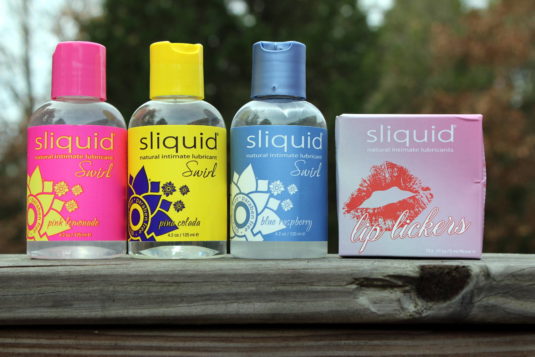 My mouth is a lot like my vagina – dry as the Mojave desert. I've preached from the rooftop about the benefits of using lube for vaginal and anal sex but never really mentioned how awesome lube is for blowjobs. That's probably because I never actually tried it before. My mouth is so dry most of the time that I can't give a good, sloppy, wet, prolonged blowjob. I suspect it has a lot to do with my meds. So, I had an epiphany. Why not use some lube to take my BJs to the next level?
Well, if I was going to put lube in my mouth, it wasn't going to be just any lube. In much the same way that I am picky about the lube that goes into my vagina, I wanted a lube that I could trust if it was going into my mouth. And I thought, why shouldn't it be a lube that tastes good too?
A lot of flavored lubes out there are loaded with the ingredients that I warn against and it was no question that I was going to go to my favorite lube company for my BJ lube – Sliquid. They have a pretty wide selection of flavors that seem more sophisticated than a lot of other flavored lubes on the market.
The first Sliquid Swirl lube that I ever tried was the Blue Raspberry and I LOVED IT! The taste is not overwhelming or sickly sweet. It's subtle and has more scent than taste. The first time I gave dizzyguy a BJ with the Sliquid Swirl, it was clearly one of the best decisions I've ever made. Needless to say, he loved it as much as I did.
So, since I enjoyed using the Blue Raspberry so much, I really wanted to try more of the Sliquid Swirl flavors. I asked them if I could review some additional flavors and they sent out a bottle of the Pink Lemonade and Pina Colada, as well as a couple of Lip Lickers Lube Cubes so I could sample some of the other flavors.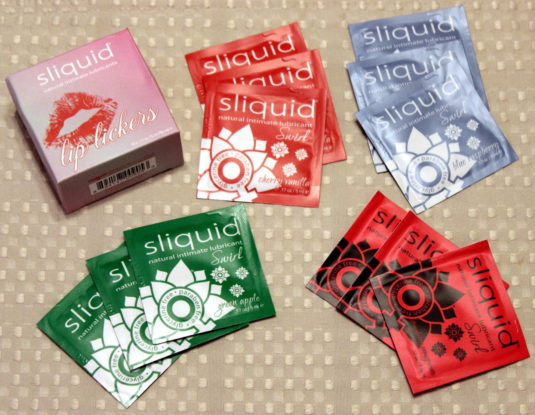 In all, I've tried the Blue Raspberry, Pink Lemonade, Pina Colada, Green Apple, Cherry Vanilla and Strawberry Pomegranate. I can honestly say, I didn't hate any one of them, though I certainly liked some more than others. Since reviewing these Sliquid Swirl samples, I've noticed that they have a couple of new ones I've yet to try (not included in the Lip Lickers Lube Cube): Blackberry Fig and Tangerine Peach.
It's kind of hard to list the flavors from best to meh. Like I said, none of them made me want to vomit or anything. I just knew that I wouldn't be a big fan of a couple of flavors but that's all personal taste. Some folks would probably really like the flavors that I like least.
But I'll give it shot at ranking them by my preference:
Pink Lemonade
Blue Raspberry
Green Apple
Strawberry Pomegranate
Pina Colada
Cherry Vanilla
Even though I didn't hate any of them, I would probably never use the Cherry Vanilla again. I just didn't like the vanilla flavor but maybe you will. It's worth a try to get the Lip Lickers Lube Cube so you can decide which flavors you like best before buying a full bottle.
I guess it's pretty obvious why using a flavored lube would improve the quality of my blowjobs. One of the perks for me is, it tastes good (duh) and when dizzguy comes in my mouth, the flavor of the lube kind of mitigates the taste of the semen, which I've never been a big fan of. Another thing I should mention is that dizzyguy drinks a lot of smoothies with pineapple and mango and I think that also contributes to the improved taste of his semen.
Quite simply, I can just give a much better blowjob and dizzyguy certainly approves. My mouth and hand can slide easily up and down his penis and I can keep going for a longer period of time, leading to more happy endings.
I've been mentioning here on the blog and on Twitter about how my libido has tanked and it's been that way for a very long time. It's something I continue to struggle with and of course, it puts a strain on our sex life. So, I decided that even at times I didn't feel like having sex, I could at least give dizzyguy some pleasure and release with a good BJ. That means I'm actually giving blowjobs leading to ejaculation more often than ever before. I guess if life gives you lemons… make lemonade – or rather, use some Sliquid Swirl Pink Lemonade!
Want some Sliquid Swirl or any other Sliquid lube? You can save 10% with code: DIZZY

Sliquid provided the Sliquid Swirl lubes in exchange for an unbiased review.
Like this? Want more of it? Subscribe!
| | | |
| --- | --- | --- |
| Get new posts sent to your inbox! | | |
| Get my sporadic newsletter filled with exlclusive deals, the latest sales and secret bonus giveaway codes. | | |