Want to support my blog? Clear your cookies, click the banner and shop!

Don't miss these great sex toy sales.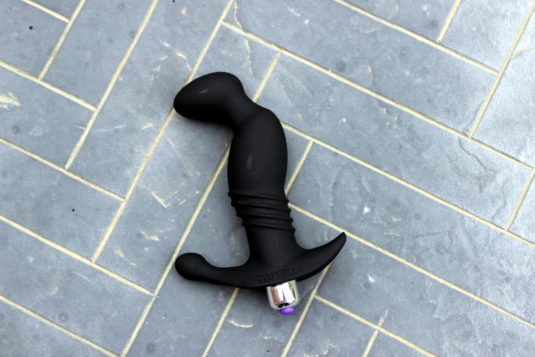 Hello all, I'm back! With summer being here I've been spending a lot more time outside taking care of outdoor projects but realized it's been awhile since I've taken care of indoor projects. So I'm diving in prostate first with the Tantus Prostate Play.
There were two things that attracted me to this product. One is that it's constructed of silicone and that will always get my seal of approval and two, the serious curve of the tip! Of the several prostate toys that I own I have yet to experience this kind of curve. So in the name of science (and pleasure), let the insertion begin.
The Prostate Play is made of Tantus' own unique formula of 100% ultra-premium silicone. It has 4" insertable length and the diameter is 1.1". Also included is a 3 speed removable waterproof bullet vibe, powered by one 1.5v n type battery. These stats were taken straight from Tantus' web site so, with all the technical description out of the way, on to my review.
One of the first things to stand out was how soft and flexible the toy is. It's very smooth and has no seams. There are 4 ridges that wrap all the way around the base which helps to prevent slipping out during usage. The two tabs along the bottom are also very soft and flexible with a small bulbous end that sits against the perineum. This is a welcome change from some of the other prostate toys that use a hard plastic that actually digs into the skin (Aneros, I'm looking at you). The bullet vibe can be inserted into a hole in the base that holds it very snug. A small amount of lube added to the vibe will make insertion and removal much easier.
Since this is made of silicone, a good water-based lube is recommended and as with any anal toy, I feel there can never be enough lube!
Insertion wasn't as easy as I anticipated. The size wasn't the problem but the very pronounced angle of the tip took a little getting used to. Once I figured out the best angle of attack, things proceeded very smoothly. I found that when I reached the ridges at the bottom it was the time to slow things down and take my time. This was the part that became uncomfortable. It started to feel more like a dragging sensation even with plenty of lube.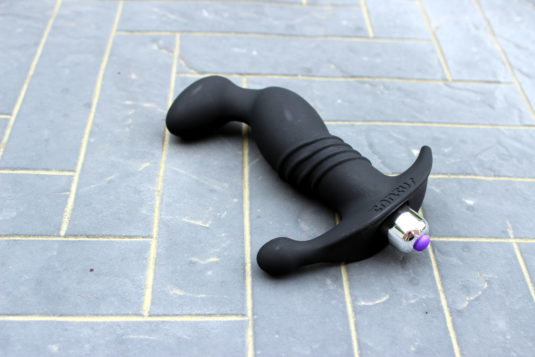 Once fully inserted, the tabs fit very comfortably between the ass checks and there was no movement or slippage so, this can double as a butt plug. Walking or sitting, everything stayed in place!
This toy definitely hits the prostate. It didn't take any squeezing or lying in different positions to start to feel contact. It was IMMEDIATE! Once I did start my squeezing routine I was leaking quick. This toy differs from other prostate massagers in that it provides pressure on my prostate at all times. It's not a light touch but full on pressure in between squeezing. So much so, that when trying to relax the sphincter and catch my breath between squeezes, I involuntarily start clenching. This is probably the most leaking that I've experienced with a prostate toy.
Now onto the vibe. This is a 3 speed bullet vibe that fits snugly into the base. I've inserted it before and after the toy was in place so pick your poison. The end of the vibe sticks out 1/2" so, sitting directly on it can cause some additional pressure but didn't mess with the button.
The speed settings are low continuous, high continuous and high intermittent (tap tap). This vibe is definitely more of a buzz than a rumble. The problem I found is that the vibrations didn't translate very well to the tip. It was all confined to the base. That in itself created what I would consider the biggest surprise. The vibrations are so intense at the base that when I did try to relax in between deep squeezes, that's when the real pleasure hit. This stimulated all the nerve endings in my asshole through the perineum and clear to my balls.
I've not been able to achieve the hands-free prostate orgasm yet but this toy combined with stroking produces a very strong orgasm not to mention a money shot that is porn worthy. When cumming it feels like the toy is shooting out of your ass but everything stays tightly in place.
Clean-up is simple and can be accomplished with just an antibacterial soap. As with many silicone toys, it becomes a lint magnet. So be careful where you store it. Ziplock bags might not be fancy but they work.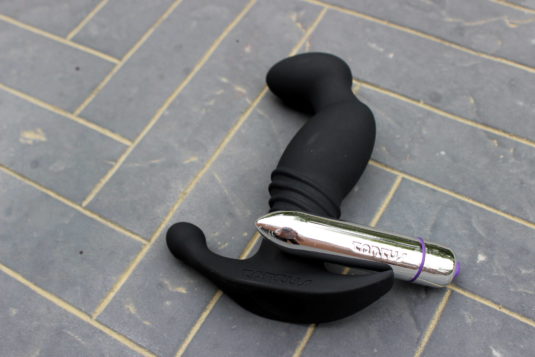 The Tantus Prostate Play isn't the most expensive or the cheapest prostate toy out there. It's middle of the road. I would not recommend this to a beginner but if you have prostate toy experience, this will give you a different sensation than the others. I would like to see a stronger vibrator as a possible upgrade in the future.
After speaking with dizzygirl she mentioned that there are different bullet vibes that can be used but for this review, I stayed with the original equipment.
Hey, dizzygirl here. The bullet vibes that come with Tantus' toys tend to be on the weaker, buzzier side. That's fine if that's what you like but I never miss a chance to recommend getting the We-Vibe Tango as a replacement. It fits in every Tantus toy I've tried and delivers a much stronger and rumblier vibration. I'll definitely have to get dizzyguy to try the Prostate Play with the Tango inserted. I'm sure he'll have an entirely different experience.

Tantus provided the Prostate Play in exchange for an unbiased review.
Like this? Want more of it? Subscribe!
| | | |
| --- | --- | --- |
| Get new posts sent to your inbox! | | |
| Get my sporadic newsletter filled with exlclusive deals, the latest sales and secret bonus giveaway codes. | | |