Want to support my blog? Clear your cookies, click the banner and shop!

Don't miss these great sex toy sales.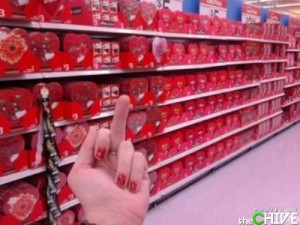 The hugely annoying over-commercialized day that so many love to hate is coming – Valentine's Day. What should you get that special someone? Well, chocolates and flowers are pretty standard fare but what if they're the more adventurous type? What if a new sex toy would quicken their pulse more than a bunch of flowers and pink heart covered crap?
First of all, make sure your partner has an interest in sex toys. I can't think of anything more shocking than opening a gift and seeing a vibrator inside when it's something that I've never even expressed an interest in before.
If you're unsure, you can always go with some tamer sexy accessories like:
But if you know they'd love to receive a sex toy then I have some suggestions. Get an idea of what they're looking for – clit vibe, G-spotting dildo, anal toy. If they already have a favorite toy but it's made of jelly or TPR then consider replacing it with a similar toy made of body-safe materials.
And of course, if you're flying solo this Valentine's Day then many of my suggestions would be a great way to treat yourself.
You want my specific recommendations to help you find the good toys and where to buy 'em? I can do that.

First, clit vibes:
Actually most vibrators made for insertion can also be used on the clit but here I'm talking about the small vibes that are meant for stimulating the clit.

How about G-spotting vibrators?

Due to variances in anatomy, it's difficult to recommend a dual stimulator or, rabbit vibe but these are a couple that I like:

Maybe they're interested in a Wand massager?

How about a non-vibrating insertable – like a G-spotting dildo?

They don't like much G-spot stimulation?

How about an anal toy?
Then there are toys that are in a category all their own:
Fun Factory Stronic Eins – Get it at: SheVibe, Good Vibes, Fun Factory, Lovehoney, PeepShow Toys, Vibrant
Fun Factory Stronic G* – Get it at: SheVibe, Good Vibes, PeepShow Toys, Fun Factory, Lovehoney, Betty's Toy Box
Eroscillator Top Deluxe – Get it at: SheVibe

Don't forget the lube. Your partner's experience with any toy, and with you for that matter, will be greatly enhanced with some lube.
If you want to save your beloved from having to wash the sheets after sexy time activities then I highly recommend the Liberator Throe* – Get it at: SheVibe, Good Vibes
Speaking of Liberator, if you want to switch up positions, I can't recommend the Wedge* enough. Dizzyguy and I use it all the time – Get it at: SheVibe, PeepShow Toys, Good Vibes, Vibrant
If none of these suggestions help and you still can't decide, you can never go wrong with a gift card. Then your significant other can choose whatever tickles their fancy.
You can get them from: SheVibe, Good Vibes, Tantus, Lovehoney, PeepShow Toys, Vibrant
While I am not properly equipped to personally vouch for penis or prostate toys, these are some that dizzyguy has ejoyed.
Don't forget that you can get exclusive discounts at some of my affiliated retailers:
*These are toys/products that I do own and love but have not written reviews for.
Like this? Want more of it? Subscribe!
| | | |
| --- | --- | --- |
| Get new posts sent to your inbox! | | |
| Get my sporadic newsletter filled with exlclusive deals, the latest sales and secret bonus giveaway codes. | | |