Want to support my blog? Clear your cookies, click the banner and shop!

Don't miss these great sex toy sales.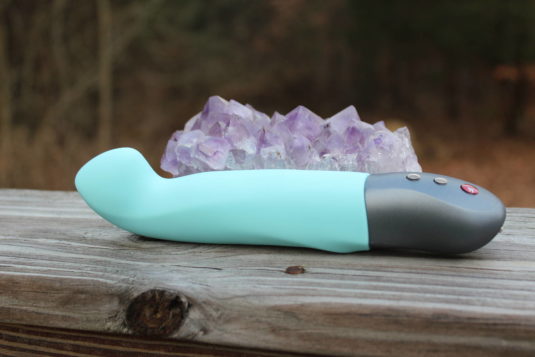 Nope, it's not your imagination. I'm actually writing a new review. I didn't know if I would ever be inspired enough to come out of retirement but then… there it was – the sex toy that might end my hiatus.
When I first saw it, my pulse quickened. I knew right away that there was a pretty good chance that I'd love it. And that's exactly what I needed to kick me in the ass. I needed a sex toy that I could get good and excited about.
The first time I tested this toy, I paired it with my trusty L2 on my clit while this toy jostled my G-spot around in the most wonderful way. I had 3 blended orgasms in under 5 minutes.
What kind of toy could accomplish such a feat for a previously anorgasmic1 gal? It's none other than the magnificent Fun Factory Stronic G!
See, I fell head over heels in love with the Stronic Eins. I likened it to a carnival ride for my vagina. When I saw the Stronic G, I knew I'd be on that same ride but with more focus on my G-spot. Yes, please!
The Stronic G is everything I thought it would be. I have not one single complaint. Seriously. Well, OK… I always bitch about this but I think with as much as these toys cost, Fun Factory could throw in a storage pouch or maybe even a case. But if that's the only negative thing I can say then you know Fun Factory has obviously done one hell of a good job.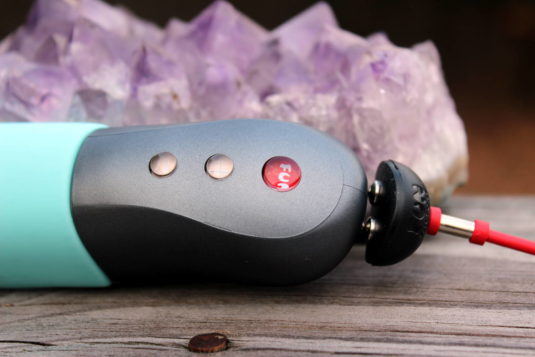 Why are the Stronic toys so special? Well, they pulsate rather than vibrate. Like, they automatically thrust around on their own. They've often been compared to the Shake Weight. They have a motion like that. So, I just insert the Stronic G, jam it up against my G-spot, hold it in place and let it bounce around in my vagina all by itself.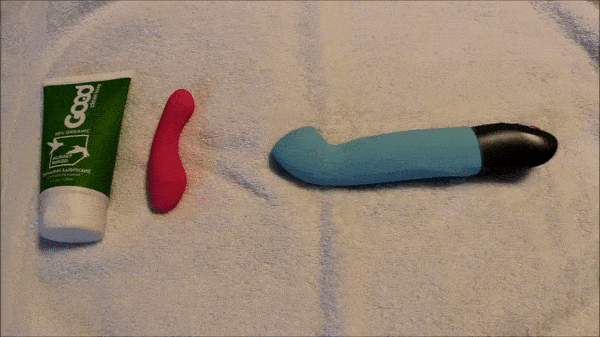 Another thing I love about the Stronic pulsation is that it doesn't drown out the vibration I'm applying to my clit. Quite often, if I have powerful vibrator in my vagina, it can lessen the sensation of the vibration on my clit. Since the Stronic G doesn't do this, it's absolutely perfect for dual stimulation.
OK, I think it's pretty clear that I love this thing like nothing else but… let's talk about the very expensive elephant in the room. The Stronic G ain't exactly cheap. It's a large chunk of cash to shell out for a sex toy that you might end up not liking. That makes it hard for me to tell everyone to run out and buy one. Do I think it's worth it? Absolutely! Will everyone love it? Of course not. I would suggest that if you have a brick and mortar shop nearby that has the Stronic toys, go check out what the pulsating motion is all about. That might give you a better idea of whether or not you'll love it.
The fact is, no other manufacturer has the Stronic technology. Fun Factory came up with something totally different and innovative. I'm sure these toys aren't cheap to make so, I can understand why they're priced the way they are. They aren't made in a sweatshop in China. They're manufactured in Germany by union workers.
The Stronic G has 7 speeds and 3 rhythms. They're hard as hell for me to describe but I can say that the slower the pulsation, the more intense it feels. That's kind of opposite of how vibrators usually feel. My G-spot seems to prefer what Fun Factory calls the "Constant Mode". All of the other functions are fun as fuck but I need something with consistent rhythm to get off.
Features? You know the Stronic G has 'em. It's waterproof, saves your favorite setting, has charge indicator lights and a travel lock. The controls are easy to use and Fun Factory says you can get 45 minutes of play time on the highest speed.
Of course you know that the Stronic G has to be made of body-safe materials. It wouldn't be on this blog otherwise. It has a silicone shaft and plastic handle. Fun Factory's silicone has felt quite draggy to me in the past but the Stronic G feels a lot softer and silkier.
Fun Factory recommends water-based lube and that's probably a good idea. I have mixed silicone-based lube with silicone toys before but it's risky2 so, play it safe. You can buy their Toy Fluid lube or any of the water-based lubes listed here. Fun Factory also sells their own cleaner but antibacterial soap seems to work well for me. It's your choice. And if you really want a storage/travel pouch, they sell those too.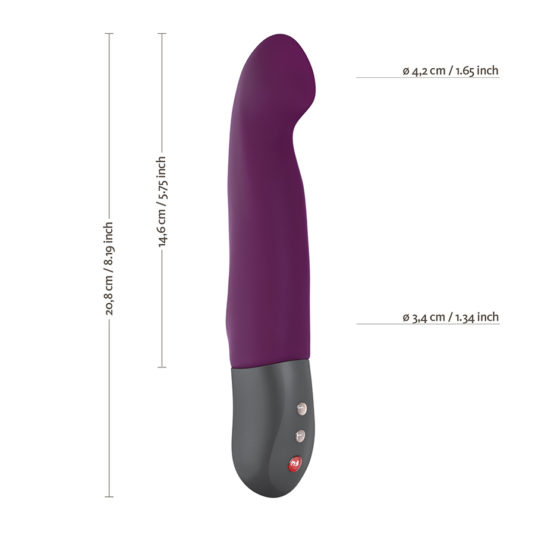 Another factor that may appeal to some is that the Stronic G is smaller than the Eins. The diameter is a little easier to handle and the toy weighs less than previous Stronic toys yet, it's just as powerful.
You get three color choices. The blue rules.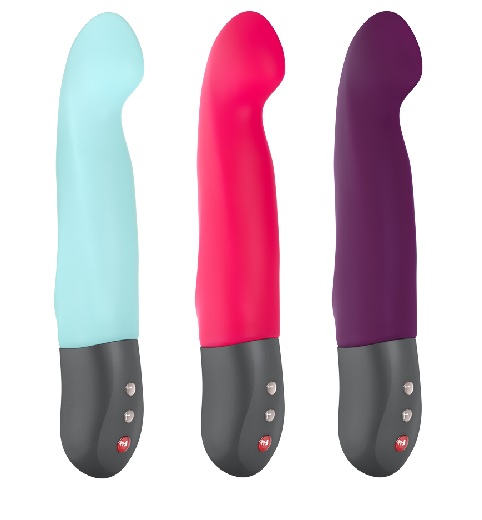 Every time I aim the Stronic G at my G-spot… it's like the angels are singing. I'm left thinking, where has this been all my life? I don't have a more eloquent way to say I love it, other than I LOVE IT.
Get your Stronic G from Fun Factory! I'll make a small commission at no cost to you and that helps me keep this blog online.

Fun Factory provided the Stronic G in exchange for an unbiased review.
Like this? Want more of it? Subscribe!
| | | |
| --- | --- | --- |
| Get new posts sent to your inbox! | | |
| Get my sporadic newsletter filled with exlclusive deals, the latest sales and secret bonus giveaway codes. | | |