Want to support my blog? Clear your cookies, click the banner and shop!

Don't miss these great sex toy sales.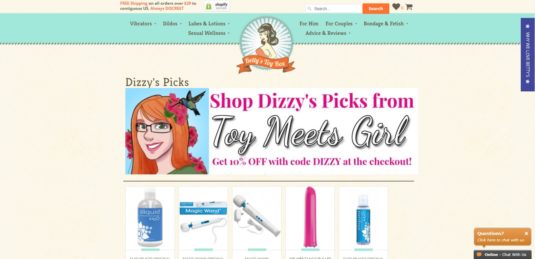 Readers, meet Betty. In the Fall of 2014, she decided that she needed to open an online sex toy shop founded on the idea that sex should be enjoyed without reservation, judgment, or guilt. So, Betty's Toy Box was born.
Six women share the joyful duties of selecting products and educating customers.
Betty's Toy Box carries products for everyone and every body. They have a pretty extensive collection of vibrators, dildos, strokers, anal toys and more.
I do have to say one thing. Betty's Toy Box does carry toys made of porous materials and I don't recommend those in anything other than strokers. They aren't the only shop I work with that sells those products but I want to be clear that I don't endorse porous dildos, vibrators or anal toys.
They do, however attempt to educate their customer on what material the toy is made of and how to care for it. It comes down to one thing for me; you can't sanitize a porous toy. Not by boiling (which you can't do anyway because the material can't stand up to the heat) and not by washing in a bleach solution. Porous materials always have the potential to harbor bacteria, viruses and mold.
So, just stick with me and the products I recommend and you'll be fine. I even have my own page over there with some of my favorite toys and lube. And just because you read my blog, you always get a 10% discount on your entire order. Just use code: DIZZY at checkout. Oh and, they offer free shipping on orders of $29+. That's the best deal I've seen.

Like this? Want more of it? Subscribe!
| | | |
| --- | --- | --- |
| Get new posts sent to your inbox! | | |
| Get my sporadic newsletter filled with exlclusive deals, the latest sales and secret bonus giveaway codes. | | |