Want to support my blog? Clear your cookies, click the banner and shop!

Don't miss these great sex toy sales.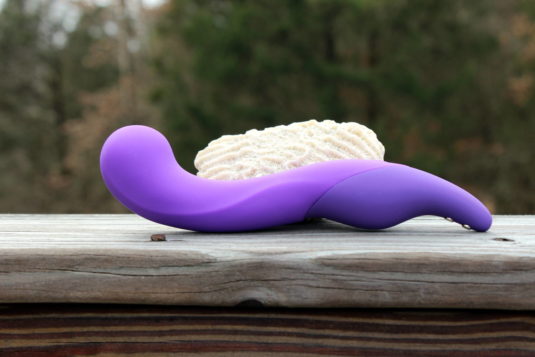 I'm trying to find y'all some more affordable sex toys. So, I requested the CalEx Silhouette S12 because it looked interesting and had some nice features. Not that $42 is chump change but in the world of rechargeable silicone vibrators, it's relatively inexpensive. Can you get cheaper sex toys? Absolutely. But as you go down in cost, you encounter more of the materials that I don't recommend. So at first glance, the Silhouette S12 looked like a contender.
How did the Silhouette S12 measure up? Well, in a literal sense, it's kind of petite. Size Royalty will look at this vibe and yawn. But then, the smaller size will be appreciated by some. The bulbous head, which is the fattest part, is about 1.5" in diameter. I actually measured 1.47". The insertable length is close to 5", depending on how you measure it, but the product description says 4.25". Most folks' G-spot is situated rather shallowly in the vagina so the length is probably sufficient for most.
What do I like? The silicone is so silky and has almost zero drag (more of this please). It's rechargeable through a magnetic connection and at the contacts, the charging cord is the same color as the toy so, I didn't lose it in a rat's nest of charging cords. Also, I had this thing sitting dormant for almost a year and still, when I picked it up and pressed the button, it turned on. I was stunned by that. And it's waterproof… can't forget to mention that. It's important.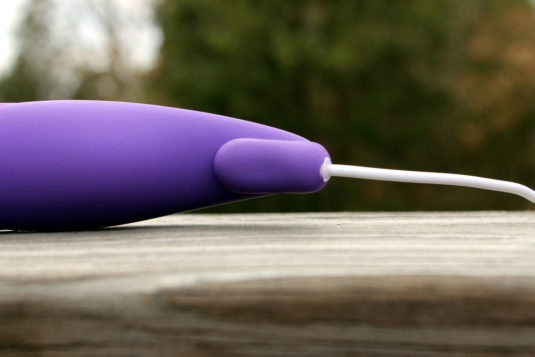 I wouldn't say that there's anything I absolutely hate about this vibrator. To me, it's kind of mediocre overall. A sex toy newb would probably feel like they didn't waste their money but an aficionado will likely not be impressed. And that's largely because of the vibration – both its tone and strength. It's a little on the buzzier side, with the first setting (lowest steady vibration) feeling the least buzzy. Most folks I talk to want rumblier vibration than this but not everyone – some prefer buzzy. And in terms of power, it ain't no Swan Wand, that's for sure. Not everyone needs that kind of power though.
So, those are just my initial observations. What did my vagina think? Let's just say, I didn't have a good jerk session, which is not entirely the S12's fault. I thought I'd go for some dual stimulation with my beloved L2 (if you follow my blog you're probably tired of me talking about that vibe).
I started out trying to get the feel for using the S12. Once inside my vag, my suspicion was confirmed that I wouldn't be able to stimulate my G-spot the way I like to. I prefer rigid toys that I can really jam up in there and apply a lot of pressure. The rigid curved ones like the Comet II are great for this and the rocking motion that I sometimes employ.
You can't really do that with the Silhouette S12. The bulbous head is rigid but the shaft is flexible so it's just not compatible with my way of jerking off. I think you need to use more of a subtle in and out movement with this vibe. By doing that, I was able to get some G-spot stimulation, just not as intense as I like. If you like more subtle G-spot stimulation and the Pure Wand terrifies you then the S12 should be a good fit.
So, things are moving along and starting to feel like I could have an orgasm and… the L2's battery dies (sad trombone), leaving me quite frustrated. Doing the only thing I could at the moment, I pulled the S12 from my vag and started using it on my clit. It wasn't easy but I was able to squeak out an orgasm. It just doesn't nuzzle my clit the way I like my clit vibrators to do and as I mentioned before, the tone of the vibration isn't right for me.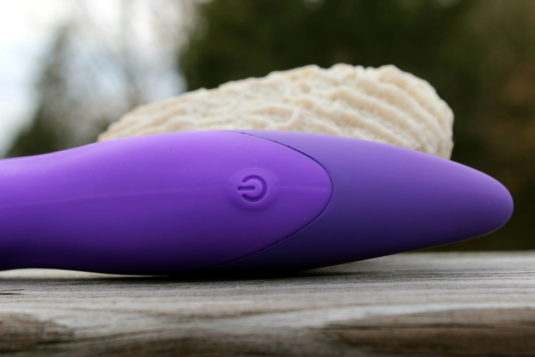 I think as reviewer, I have a certain amount of privilege. We do get to try the best of the best in sex toys but they're usually at a much higher price than the Silhouette S12. I don't know how much this privilege is affecting my overall evaluation of this vibe.
I'm going to say that this toy might be good for a beginner and I hate using that phrase. However, I'm not recommending it to a newb because I think it sucks (which some people will do) but because I think they'd be more satisfied with it. They're not as jaded as I am. If you've used sex toys a long time and you've refined your taste, you probably won't be too impressed with the Silhouette S12.
In a nutshell… it ain't bad. I can't give it a glowing review but I do like it for the features you get at the price.
If you want the CalEx Silhouette S12, you can get it from PeepShow Toys and get a 10% discount with code DIZZY. If this vibe doesn't appeal to you, check out my picks page for some of my favorite toys. And don't forget the water-based lube to use with this or any other silicone sex toy.

PeepShow Toys provided the CalEx Silhouette S12 in exchange for an unbiased review.
Like this? Want more of it? Subscribe!
| | | |
| --- | --- | --- |
| Get new posts sent to your inbox! | | |
| Get my sporadic newsletter filled with exlclusive deals, the latest sales and secret bonus giveaway codes. | | |