Want to support my blog? Clear your cookies, click the banner and shop!

Don't miss these great sex toy sales.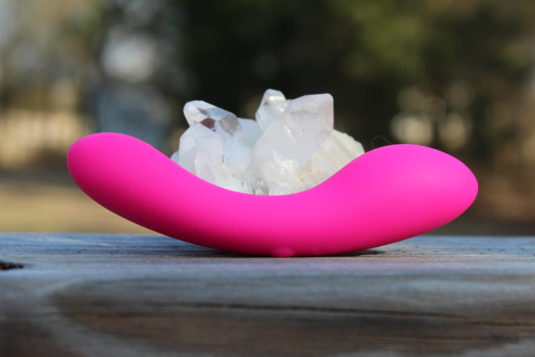 Look! It's like a Swan Wand only smaller. Why would they make a miniature version of the undeniable powerhouse that is the Swan Wand? I'm not entirely sure but really… why not?
The The Mini Swan Wand is a perfect little replica of one of my favorite vibes. However, the shape and color is pretty much where the similarities stop. It does have a nice rumbly vibration that is reminiscent of the full-sized Swan Wand, just on a much lesser scale, which one would expect because you can't quite fit the same size motor in the Mini as there is in the original.
I love that the The Mini Swan Wand doesn't have patterns. I loathe patterns, most of the time. The original Swan Wand has them and I do find it annoying. But hey, to each their own, right? The press and hold, incremental intensity is pretty awesome. I like vibes that work that way with one caveat, if you want to decrease intensity, you have to turn it off and start all over again.
I tend to try for 3 orgasms in a sesh1, which is very possible with the right vibrator. For whatever reason, no matter how perfect the The Mini Swan Wand is on paper, it can only give me the first orgasm. I have to switch to a different vibe to achieve the second and third. I'm not sure why that is except maybe… my clit is finicky? It likes things to be a certain way.
The motor is in the larger end of the Mini, it's not a dual vibrator like its bigger sibling, the Swan Wand. I think given its size, it's pretty obvious they couldn't cram another motor in the smaller end. I do wish the vibration was focused in the smaller end though. One thing I know for sure is that my clit likes more precise application of vibration. A smaller vibrating tip that can nuzzle up to the right side (yes, it's a righty) of my clit, in just the right way, is what usually produces multiple orgasms for me.
Just in case you're inclined to get the Mini for internal use, I wouldn't recommend it, unless you're looking for something really small. It wasn't even long enough to reach my G-spot. This vibe did nothing for my vagina and I don't think it was really meant for that anyway.
Alright, so now you know how my clit gets along with the The Mini Swan Wand, now for the deets. It's waterproof, rechargeable, silicone and the charging cable IS LABELED. I recommend that you use water-based lube with this vibe. You can clean it with soap and water or a toy cleaner. You get a nice box and a storage/travel pouch. It has a travel lock and comes with a 1 year warranty and 10 year guarantee. After the first year, the 10 year guarantee provides you with 50% off on your purchase of a new product of equal or lesser value.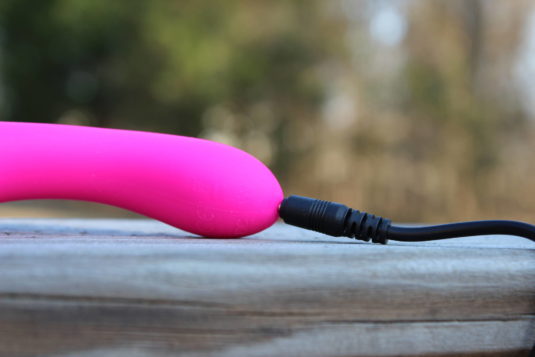 The Swan brand is made by a company (BMS Factory) that makes other awesome brands, like Leaf. They use their exclusive PowerBullet technology that gives their vibes a signature feel. Like, you can tell it's one of their vibrators by how it feels.
I want to love the The Mini Swan Wand in the worst damn way! Why don't I love it? Clitoris, what the hell is wrong with you? Ya know, it's funny… there was a time that I'd have tears of gratitude if a vibe could give me just one orgasm. I'm not sure why I expect more. I guess when you have your favorite vibe that never lets you down and satisfies you the way that you want it to, it colors your judgment of all other vibes. Maybe I'm biased and not giving the Mini a totally fair shake.
I like The Mini Swan Wand but I can't gush (no pun intended) about it, like I do its predecessor. I do think some people will love it tough. It is a nice little vibe and it can give me orgasms – at least the first one in a sesh. Folks who don't posses a clit as picky as mine would probably be quite happy with it.
Get The Mini Swan Wand at Betty's Toy Box and save 10% with code: DIZZY. Also, FREE shipping!

Betty's Toy Box provided The Mini Swan Wand in exchange for an unbiased review.
Why three? Hell if I know. I guess maybe that's the number of orgasms that resonate within my soul – or some shit. ↩
Like this? Want more of it? Subscribe!
| | | |
| --- | --- | --- |
| Get new posts sent to your inbox! | | |
| Get my sporadic newsletter filled with exlclusive deals, the latest sales and secret bonus giveaway codes. | | |