Want to support my blog? Clear your cookies, click the banner and shop!

Don't miss these great sex toy sales.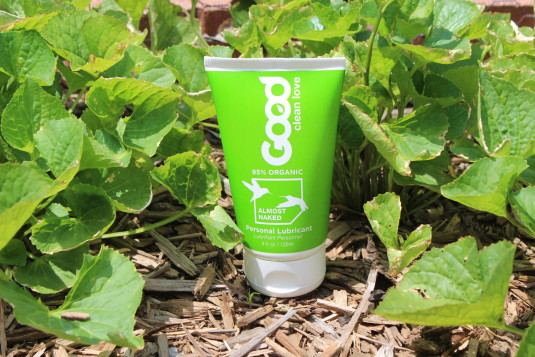 Good Clean Love's Almost Naked lube made a great first impression on me and it only got better from there. This is a lube I can feel good about recommending because not only does it perform really well but it's made from gentle, natural ingredients. There are no petrochemicals, parabens or glycerin in Almost Naked lube. It's certified organic, cruelty free and vegan friendly.
As if all that wasn't enough to make it an awesome lube, it actually works brilliantly with my sex toys. I absolutely love the consistency of this stuff. It's thicker, almost like a gel and stays where you put it. I can coat my vibe or dildo with it and it doesn't drip all over the place. The consistency also gives it more staying power than a thin, watery lube.
The first time I tried it with a clit vibe and I knew it was gonna be a great lube but I didn't test it for insertable toys until a bit later. Then I discovered that it works just as well for lubing up my dildos and thrusting with them. I wholeheartedly recommend this lube. Like seriously, get some! It's become my new favorite water-based lube. It has such a nice, almost creamy texture. It just feels wonderful on the skin.
Clean-up is incredibly easy. It's one of the few lubes that I can just wipe off and not feel like I immediately have to jump in the shower to wash it off. It cleans off of the sex toys just as easily. I can't say enough good things about Almost Naked lube. It's everything a lube should be.
But… I really wish I could get it in bigger bottles with a pump but that's a complaint that I have with most lubes that I like. Seriously, give me a vat of this stuff so I never run out!
I don't detect much of any kind of taste with this lube. So, it's just sort of neutral in terms of flavor. Though they do have a flavored lube that many seem to like.
I don't expect many people to have any kind of adverse reaction to Almost Naked, though it does have aloe in it and I've heard that aloe can be irritating to some people. So, if you know aloe is bad for you then obviously, you might not want to try this lube.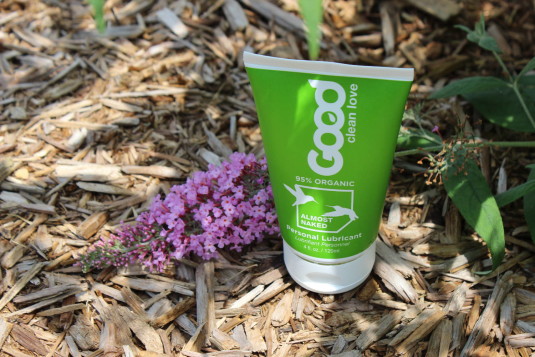 Good Clean Love Almost Naked lube is everything I could wish for in a water-based lube. It's just perfect, really. I wouldn't want them to change a thing. Ya know, besides selling it in bigger bottles. It is THE ideal lube to use with your toys. I don't use water-based lube for intercourse1 but if you do, I'd venture to guess that it would work great for that too.
Should you try some of this lube? Hell, yes. Don't wait, get it now. It is priced a bit higher than the comparable Sliquid H2O but I think it's worth it. I like Almost Naked's consistency much better. It's a lube that's kind to your body, the environment, and animals – and it actually works so much better than some of those other lubes that are full of harsh chemicals. Really though, how could I not love this lube, it has one of my favorite critters right on the tube.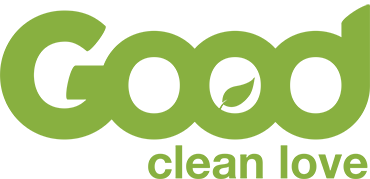 Good Clean Love provided the Almost Naked lube in exchange for an unbiased review.
Silicone-based lube has always worked best for us. ↩
Like this? Want more of it? Subscribe!
| | | |
| --- | --- | --- |
| Get new posts sent to your inbox! | | |
| Get my sporadic newsletter filled with exlclusive deals, the latest sales and secret bonus giveaway codes. | | |