Want to support my blog? Clear your cookies, click the banner and shop!

Don't miss these great sex toy sales.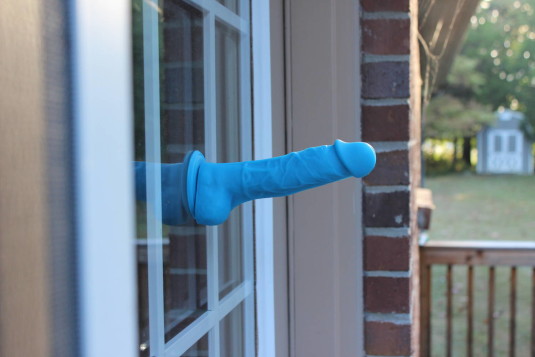 I like this dildo but my vagina doesn't agree with me. On my quest to find cheap sex toys that don't totally suck, this one looks like a winner on paper. It just doesn't do a whole lot for my vag. But it's inexpensive and made of body-safe silicone plus, it has a suction cup! And I do think it will be perfect for some folks.
It's hard for me to say exactly why the Colors Pleasures 5" doesn't do it for me. I guess it just doesn't give me enough of the stimulation I like and it gives me a little stimulation I don't like. It's a great thrusting dildo but it doesn't give me any kind of G-spot stimulation and I find that kind of boring. And while it's not extremely textured, my vag just doesn't like the feel of the veins but my vag is a bit fickle when it comes to texture.
It's a decent, average size1 although, it won't make girth fanatics happy. Luckily, there is a larger version for those folks. And if G-spot stimulation just isn't your jam but you enjoy thrusting with reckless abandon then I think you'll really like this dildo. And it has a suction cup (!), which is actually quite strong. I don't use my dildos suctioned to anything but I think someone who does will have great success with this one.
I really like the blue color. There just aren't enough sex toys in those shades. The balls look kind of funny to me and I don't really think that they were necessary but it does give you a little something to hold onto. The silicone has a matte finish that produces some drag but some water-based lube will easily fix that.  The silicone is quite firm.  You can bend it a little but not much.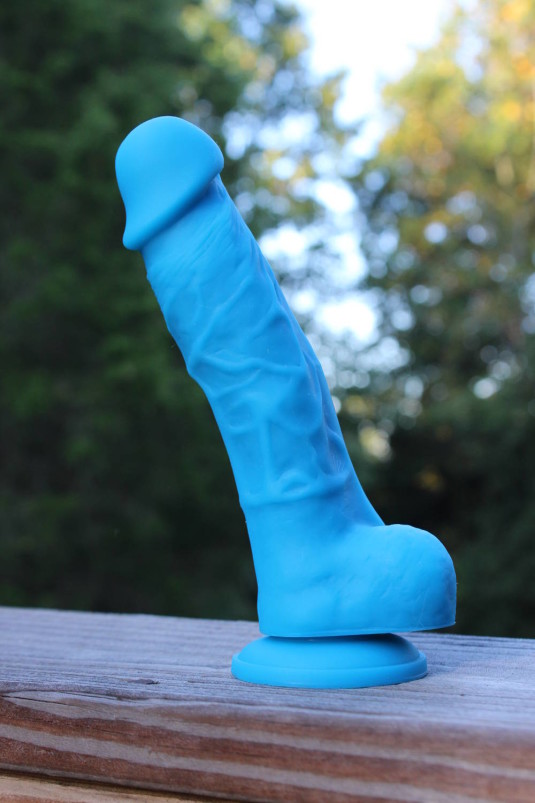 As mentioned, it's body-safe and free of phthalates 2. Do you think I'd recommend anything else? While I am looking for more affordable sex toys, compromising on this is just not an option for me and it shouldn't be for you either. And bonus… it has a suction cup.
You can easily wash this dildo with soap and water or you could use a toy-cleaner. You can sanitize it by boiling for a couple of minutes or, with a 10% bleach solution. And if you're sharing this dildo or using it vaginally and anally, you should be sanitizing it.
It comes in basic packaging and you don't get a storage pouch but at this price, I really didn't expect one. Ziplock bags might not be glamorous but they work just fine.  If however, you are just far too classy for that, you can purchase a storage pouch separately.
I think this is a great dildo, especially given the price (under $25!). I just wish my vagina felt the same way. But just because my vag doesn't like it, that doesn't necessarily mean yours won't either. And your ass might have an opinion of its own. If you're on a budget, desperately need a dildo now and you're not looking for much G-spot stimulation then I think you'll be pleased with the Colours Pleasures 5". Did I mention, it has a suction cup?
You can use code: DIZZY and get the Colours Pleasures 5″ for just $21.60
Get the Colours Pleasures 8″ for $44.10


PeepShow Toys provided the Colours Pleasures 5″ in exchange for an unbiased review.
Like this? Want more of it? Subscribe!
| | | |
| --- | --- | --- |
| Get new posts sent to your inbox! | | |
| Get my sporadic newsletter filled with exlclusive deals, the latest sales and secret bonus giveaway codes. | | |