Want to support my blog? Clear your cookies, click the banner and shop!

Don't miss these great sex toy sales.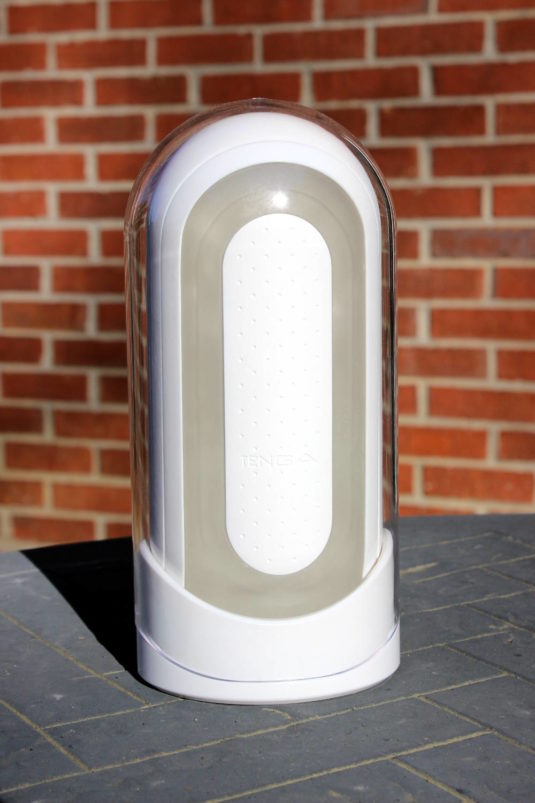 My previous experience with a stroker has been with the Fleshlight Pink Lady STU. Make no mistake about it, the Tenga Flip 0 (Zero) is a stroker to its core. There are no mock porn star vulvas, just a circular opening. I'm not doing a head to head battle with the Fleshlight, I'm just going to draw a few comparisons because men who use strokers, I'm willing to bet, have different varieties in their arsenal. I know I do!
There's no fancy decorative packaging, just a clear dome-shaped holder with a white base that puts the Flip 0 on full display. There are 2 packages of Hole Lotion Real1. This lubricant contains parabens so, this is not a one that I choose to use2. I recommend a water-based lubricant, like something from Sliquid or Good Clean Love. Be forewarned that the manufacturer recommends their lube and can't guarantee that other lubricants won't damage their product. But I don't think you'll have any problem with another water-based lube.
The insert sleeve is constructed of TPE (thermoplastic elastomer) that has different internal patterns that are way too crazy to describe so I'm going to take the lazy route and reference the picture in the manual.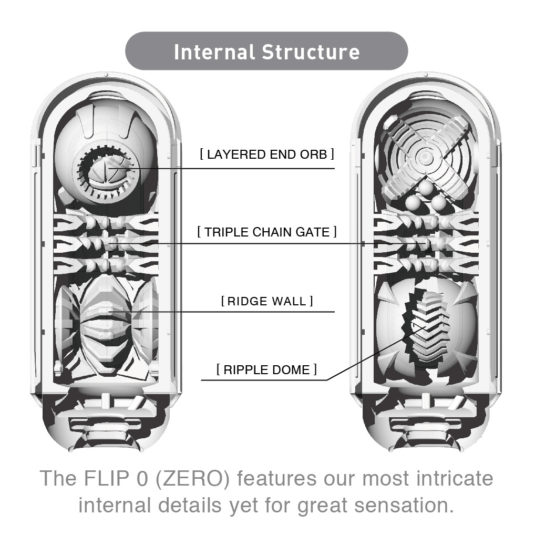 The coolest part of the sleeve is the fact that it can be opened due to the "integrated pivot" which is a hinge inside the product. This is what separates the Flip 0 from the competition.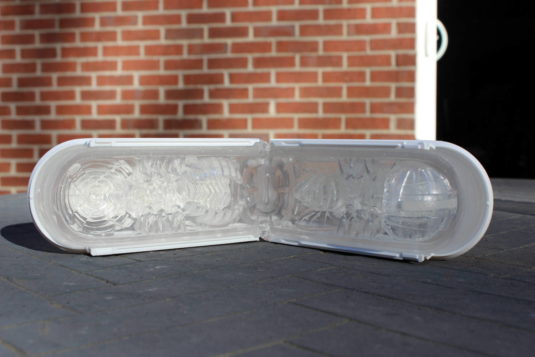 Cleaning and lube application are a breeze but more on that later. A slide arm holds the insert together and also doubles as a drying stand. The insertion point is seamless, which provides a vacuum effect, made possible by the addition of the one-way valve, and there's no lubricant leakage. There are two pressure pads on the outside that you can squeeze to provide stimulation and create an internal vacuum.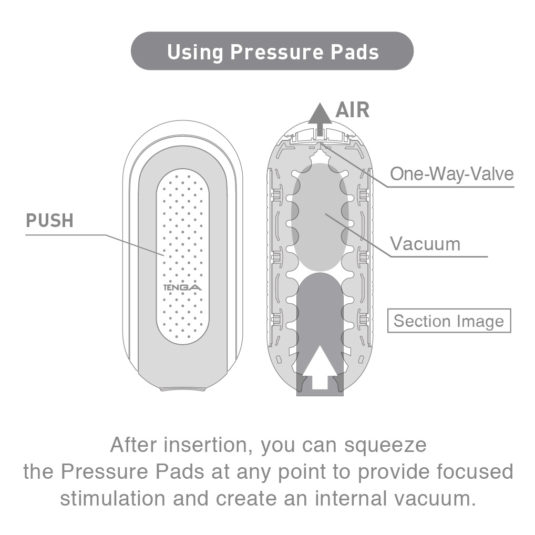 Application of lube is what makes the Flip 0 special. The split design allows for complete coverage before your dick even goes in. You can snap it back together, add some more lube to the opening and you're ready to roll. All of this can be done without getting any lube on your hands. I highly recommend using plenty of lube because, for the sake of science, I tested how it felt using very little lube and the material grabbed a hold of my dick like a piece of Velcro.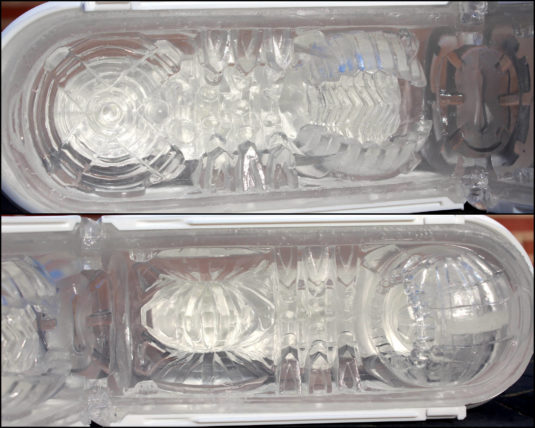 My first impression was that the Flip 0 isn't as soft as the Fleshlight STU but the textures are much more pronounced. The sensations are really intense as you slide in and out, which made me want to take it nice and slow for maximum enjoyment. Tenga was not kidding around with the vacuum effect. Squeezing the pressure pads will increase suction and focus stimulation. The combination of the suction and the textures make for some very interesting noises.
Because of the weight, this isn't really meant for a grab and go, quick jerk session. This is a like a fine wine that needs to be savored. I found that the Flip 0 can also double as a stamina unit. So, any guys that are a little quick on the draw, this will help you out in that department.
You can get pretty creative during your jerk-off sessions. This is designed to be a stroker but with some pillow architecture, you can create your own mount that could help with your overall thrusting techniques. I found that my bed is the perfect height for standing and thrusting. Also, the Liberator Wedge and Ramp can put you in different positions. The Flip 0 grabs a hold of the Liberator microfiber pretty well so, sliding around isn't too bad. I would like to see Tenga make a mount or some other manufacturer develop one (like those that are available for Fleshlight strokers). Hint Hint Liberator!
Now for the big finish… having an orgasm with the Flip 0 beats the hell out of just using your hand. If you take your time and enjoy the textures and suction your orgasm will be much more intense. You can also just let loose with your load because the Flip 0 keeps it contained with no leakage. Even when you remove your dick, there's no leakage!
Unfortunately the Flip 0 doesn't clean itself but have no fear, clean-up is a breeze. You remove the slide arm, open it, and rinse with warm water. You can get into all the nooks and crannies with your fingers which is another reason the Flip 0 sets itself apart from the competition. Just make sure everything is thoroughly dry before you reassemble for storage.
I give the Tenga Flip 0 high marks for its design and functionality. You can't go wrong owning this product. If you take care of it, it will take care of you! So, give your hand a break and pick one up.
Get your Tenga Flip 0 at SheVibe, Lovehoney, or GoodVibes
***
Hey ya'll, Dizzy here. I know what you're thinking. Since this blog was born, I swore to never endorse, review or recommend porous sex toys. Well, I thought it over and I'm making a small exception.
I've decided that porous strokers (and the TPE used in the Tenga Flip 0 is porous) have a place on this blog for a couple of reasons. One, it's extremely difficult to find strokers made of nonporous materials. Two, I think it's a little less critical if a penis toy is porous versus a toy made for insertion into the vagina or butt.
This does mean that porous strokers need to be thoroughly cleaned after every use and allowed to dry completely before they're stored away. It also means that they should never be shared. And just because I'm accepting porous strokers on the blog that doesn't mean I accept any that contain phthalates, which Tenga products do not.
So there, just thought I needed to explain myself. As for dildos, butt plugs, vibes, etc… I'm still staunchly for nonporous materials only.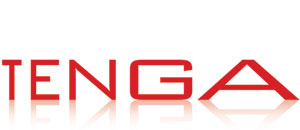 Tenga provided the Flip 0 in exchange for an unbiased review.
Like this? Want more of it? Subscribe!
| | | |
| --- | --- | --- |
| Get new posts sent to your inbox! | | |
| Get my sporadic newsletter filled with exlclusive deals, the latest sales and secret bonus giveaway codes. | | |