Want to support my blog? Clear your cookies, click the banner and shop!

Don't miss these great sex toy sales.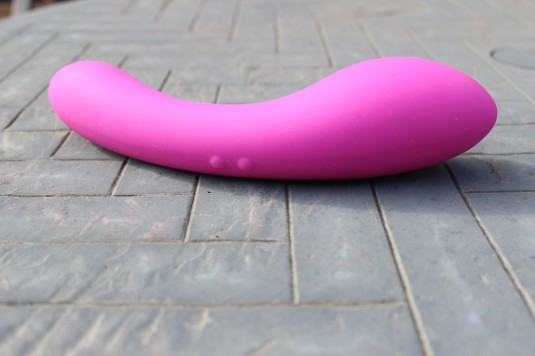 Update 10/20/14: This product still hasn't been released because the name of it will be changing to Swan Wand.  So, packaging and such needs to be redesigned.  It will be available in North America and is expected to be launched in February.  So forget "PalmPower Recharge" (because they're going to use that name for something else) and look out for the Swan Wand.  This is an awesome vibrator and I think it'll be worth the wait.
Update 4/27/15 The magnificent Swan Wand is now available and can be purchased here.
This vibrator feels like an earthquake – in my vagina. For a moment, I actually wondered if it was wise to rattle my innards with this much power. But that thought quickly faded away as my G-spot acclimated to the mighty power of the Swan Wand. BMS Factory has really outdone themselves with this vibrator. I thought the original PalmPower wand was pretty damn great but I don't see myself using it now that I have the Swan Wand. For those who crave industrial strength vibration, the Swan Wand is sure to please.
The Swan Wand has a few advantages over the original PalmPower wand. For one, it's rechargeable, obviously. It's also fully waterproof. It can be used for G-spot stimulation (without attachments) and there are motors in both ends… two insanely powerful motors.
I tend to get more use out of the smaller end. It fits between my labia better for clitoral stimulation and gives me more focused vibration. The shape and curve of the smaller end are ideal for stimulating my G-spot and it's easy for me to handle while gripping the larger end. The large end is so big it covers everything and would be great for those who like broad stimulation. It's just not the stimulation that I really prefer. And I can't use the large end internally because, well… it's just too damn big. There's just no way that thing is fitting into my vagina1. But that's OK because I really do enjoy the smaller end and the size of the large end will appeal to those who prefer larger toys. Both ends measure about 4.5" of insertable length from tips to the buttons. The smaller end is 1.63" in diameter and the large end is 2.15" in diameter at the widest point. I did say it was big.
Both motors are incredibly powerful. We're talking about plug-in wand massager type power here. The large end feels a bit stronger and rumblier than the small end but both motors are pleasantly rumbly throughout the entire range of intensity, getting just a slight bit buzzier toward maximum power.
Unlike most of my other vibrators, I don't use the Swan Wand on high. It's actually too much for me. When I use it at max power on my clit, I do start to get a little numb. And if I use it at max power internally, that gotta-pee-sensation of G-spot stimulation is just too strong and it overpowers any clitoral stimulation I might be applying. But I get plenty of enjoyment out of this vibrator when I use it through its mid-power range and it gives me some intense blended orgasms when I use it internally and in tandem with a clit vibe. If BMS Factory could make a vibe that feels like the large end of the Swan Wand but has a more narrow and tapered shape, I'd be in heaven.
How does the Swan Wand's vibration compare to the original PalmPower wand? To me, the PalmPower wand feels just a bit stronger than the Swan Wand but the Swan Wand feels rumblier. I definitely prefer the Swan Wand over the original wand in every way and I was raving about how good the original was. So, you know how much I must love the Swan Wand.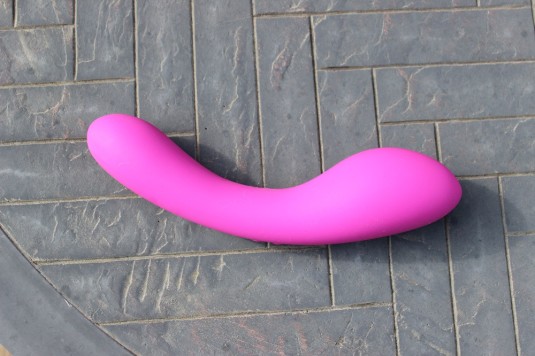 While I think the Swan Wand is nearly perfect, there are just a couple of minor annoyances. For starters, it's a bit loud. Those that require discretion might have a little trouble using this vibrator. It's not as loud as the Hitachi Magic Wand but the noise is significant. If you're like me, and can be as loud as you want, it's not really a big problem.
You do feel the vibration quite a bit in whichever end you're holding but it's not enough to bother me. I'm not sure they could make a vibrator this powerful and keep the vibration from being felt in the handle.
The only other little gripe I have, and this might just be my less than dexterous fingers, is how the buttons work. You press and hold one of the buttons to turn on that end's motor and increase intensity but if I try to increase the intensity just a little bit it goes into the functions mode because, it's designed to do so by briefly pressing the button. It's a small annoyance and that's the biggest complaint I have. Otherwise, I simply cannot find any serious flaws. Everything about the Swan Wand has been done exceedingly well.
There are 7 functions: Low, Medium, High, Pulse, Raise, Wave and Ripple. Pressing and holding the button at any time will put you into incremental speed mode. When you go from incremental speed mode back to the functions, it will start on the last one you used. You press both buttons at the same time to turn off one or both motors. It has a travel lock and it will come locked from the factory. To unlock it, press and hold both buttons for 5 seconds.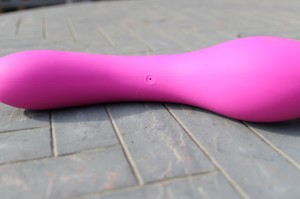 The Swan Wand is charged with a USB cable but a wall adapter is not included. It takes about 4 hours to fully charge and the user guide says this can supply up to 8.5 hours depending on the speeds and functions used. While it's charging a light near the charging port comes on and it goes off when it's fully charged.
Care and cleaning of the Swan Wand is the same as any other silicone vibrator. Soap and water are usually all you'll need to clean it but if you do need to sanitize it, you can wash it in a 10% bleach solution and rinse it well with water. You could also use a toy cleaner. Water-based lube is the safest choice because some silicone-based lube can damage some silicone sex toys.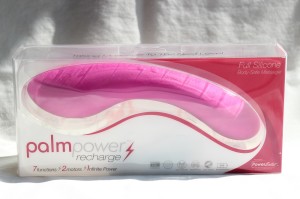 The packaging is your average clear plastic variety2 and it's not great for storage. You also don't get a storage pouch which, for the quality and MSRP3 of  this thing, is a little disappointing.
I described the original PalmPower wand as "fucking amazing" and I don't know how you top that but BMS Factory4  has done so with the Swan Wand. I think that the two functional ends of this vibrator make it versatile enough to satisfy a wide range of preferences. It has all the power I need and then some. It's a must have if you're searching for a vibrator that can create some epic seismic activity in your vagina.
So, does the Swan Wand sound like something you just have to have? Well, you're going to have to wait because it hasn't been released yet. I've heard rumors that retailers might have them in October (see update above). I'll update this post as soon as one of my affiliates has them.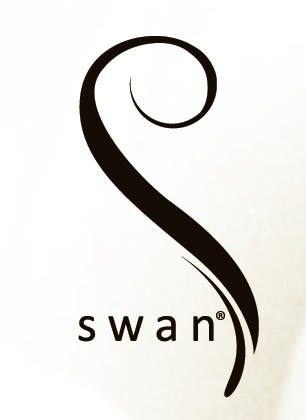 BMS Factory provided the Swan Wand in exchange for an unbiased review.
Like this? Want more of it? Subscribe!
| | | |
| --- | --- | --- |
| Get new posts sent to your inbox! | | |
| Get my sporadic newsletter filled with exlclusive deals, the latest sales and secret bonus giveaway codes. | | |