Want to support my blog? Clear your cookies, click the banner and shop!

Don't miss these great sex toy sales.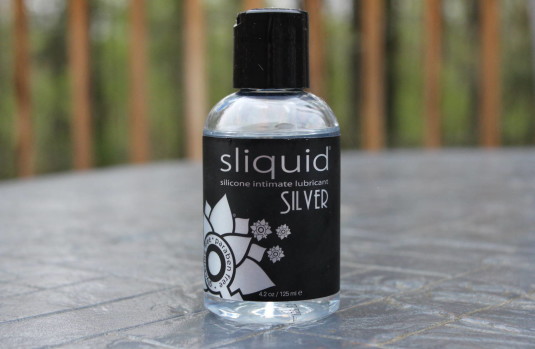 If you've read my blog long enough, you probably know that dizzyguy and I are obsessed with a certain brand of silicone-based lube. We've tried others and none of them have measured up to our favorite – Wet Platinum. But now, I've found one that comes really damn close. Like a gnat's whisker close to being as good as our favorite. In fact, if the unthinkable were to happen and they quit making Wet Platinum, we'd probably switch to this brand.
Sliquid Silver is a great silicone-based lube. But then everything Sliquid makes is pretty damn good. I have been in love with their hybrid lube, Silk but never tried the Silver. It feels a lot like our favorite lube in consistency and slickness. In use, it's very similar to our favorite, keeping everything gliding along nicely. It's only when we've been at it for a while that I feel like it starts to poop out on us. Our favorite silicone-based lube never lets us down like that. But for this to really be a problem, we're talking about longer sessions that would probably challenge most lubricants.
It does seem to clean up easier than the Wet Platinum. This is just my half-assed theory but I think the harder a silicone-based lube is to wash off, the longer it stays slick during sex. At least, that's how it seems to be with the various lubes I've tried. I know some folks despise how difficult it can be to wash off silicone-based lube so the fact that Sliquid Silver cleans up easier will probably appeal to them.
About the only thing I don't like about Sliquid Silver (and Sliquid lubes in general) is the packaging and amount of product available. We buy our Wet Platinum in 32oz bottles with a large pump for easy application. Sliquid's smaller squeeze bottles tend to get everything messy a lot easier. I do wish they'd make larger bottles with a pump. Maybe like, you only have to buy the pump once and it can go on all future bottles, something like that.
Here's the thing that surprised the shit out of me. I just naturally expected Sliquid Silver to be more expensive than our Wet Platinum but it's not. On the site where I normally buy our Wet Platinum, a 4.2oz bottle is $19.99, while at PeepShow Toys a 4.2oz bottle of Sliquid Silver is $15. So, there ya go… it's very close to being as good as our favorite and it costs less. When does that ever happen?
I don't use silicone-based lube with my sex toys very often but I'm sure the Silver would perform well. I have heard that the fewer ingredients that a silicone-based lube has, the better and Silver only has three. It's one of those silicone-based lubes that has a good chance of being compatible with silicone sex toys. I know right now you're probably questioning my sanity. Silicone-based lube with silicone sex toys? That's a no-no, right? Well, sometimes it's not.
The thing is, both the lube and the toy need to be made of high quality materials. What happens when silicone-based lube and a silicone sex toy are incompatible is that the surface of your toy will get permanently tacky. So, if you want to be completely safe, use water-based lube. But I and many other bloggers have successfully used silicone-based lube with our silicone sex toys. That said, I suggest that no matter what anyone says, if you're going to try it, always do a spot test on the base of the toy and look for the reaction where the surface becomes tacky. If it does, obviously, don't use that lube with that toy.
I'm not sure what else I can say – it's lube. It reduces friction. It does what it's made to do. But it does happen to do a much better job of it than other silicone-based lubes I've tested and it is the only one, so far, that's come close to being as good as our beloved brand so, that's saying something. We won't be switching any time soon but Sliquid Silver is a great lube and a solid choice. I have no reservations at all in recommending it.

PeepShow Toys provided the Sliquid Silver in exchange for an unbiased review.
Like this? Want more of it? Subscribe!
| | | |
| --- | --- | --- |
| Get new posts sent to your inbox! | | |
| Get my sporadic newsletter filled with exlclusive deals, the latest sales and secret bonus giveaway codes. | | |