Want to support my blog? Clear your cookies, click the banner and shop!

Don't miss these great sex toy sales.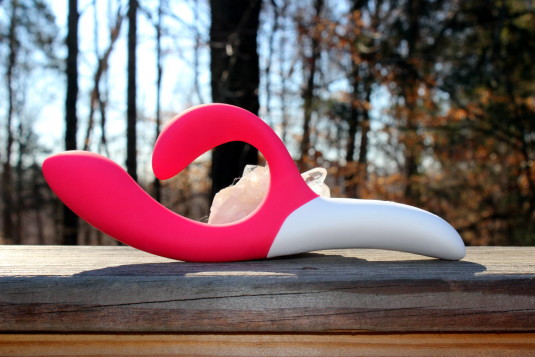 Cue up the sad -and I mean sorrowful- trombone. The We-Vibe Nova looked like no other dual stimulating vibe that I'd seen. It also looked like it could solve a lot of common problems with dual stimulators. I was all but certain that, with its unique design, it would romance my vulva like no other before it. And I was damn near devastated when it turned out to be totally incompatible with my anatomy.
What the hell is up with my vulva, anyway? Quirky damn thing doesn't often get along with rabbit vibes. Actually, it's not that uncommon that dual stimulators don't fit people right, since our vulvae are all a bit different. I'll probably always prefer using two separate toys for dual stim because then there's not the fit problem and I can also move each toy around any way I want.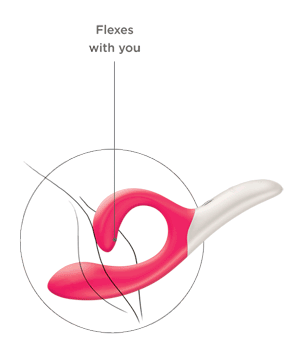 The design of the Nova appeared to remedy one common problem with rabbit vibes. The way the clit arm is constructed, it maintains constant contact with the clit. And that part does work. With most rabbit vibes, if you want to thrust then the clit arm is constantly coming off the clit. I don't know about you but I can't get off like that.
Unfortunately, the thing about the clit arm's, constant contact design is that it puts an uncomfortable amount of pressure against my clit, especially when I inserted the shaft as deeply as I wanted to. Now, some folks adore pressure and this might turn out to be a bonus for them but clearly, my clit was having none of it.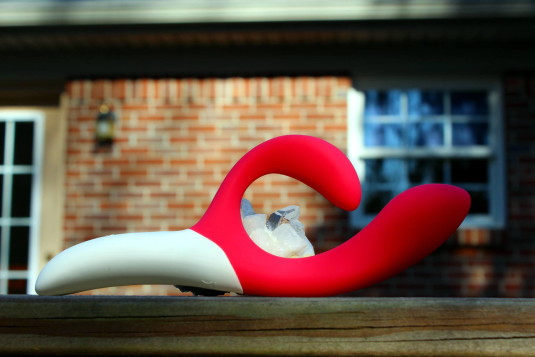 The Nova's clit arm also looked like it would solve another problem I find with most rabbit vibes – they usually don't reach up high enough. I have yet to break out the tape measure but I'm convinced that there's like a country mile between my clit and vagina. At least the part of my clit that likes to be stimulated must be sitting up really damn high… and the Nova couldn't reach up to meet it.
So, it's kind of hard for me to recommend a dual stimulator when it's just so completely wrong for me but I think I'd still recommend the Nova. Despite our incompatibility, I do believe it's a really cool vibe. It's the kind of quality you'd expect from We-Vibe and the vibration is very nice, deep and rumbly in both the shaft and the clit arm.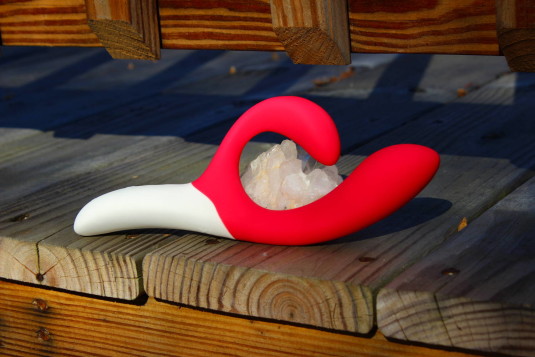 I think if someone bought it, lucked out and it fit them, they'd be pretty happy with it. In fact, I know another reviewer for which the Nova made her want to sing. Luckily all the smart engineering that We-Vibe put into the Nova worked out perfectly for her. But buying a rabbit vibe is always a gamble. You just never know if it's going to work until after you've tried it. And most of the time, that means you wasted your money – unless you purchase it from Lovehoney. They have a 365 day satisfaction guarantee return policy. That's right, you can send it back even if you've put it in your vag.
I do appreciate all the features they built into the Nova. It's waterproof, USB rechargeable through a sturdy magnetic connection and the silicone is silky soft with no real drag to speak of. I did have a little bit of difficulty finding the buttons with my thumb. They're not very prominent and I often had to kind of pull it out of my vag and look down to find the button I wanted. It also would have been nice if We-Vibe had included the ability to control each motor independently. It has 9 patterns but you probably already know I don't care about that… they just don't do anything for me.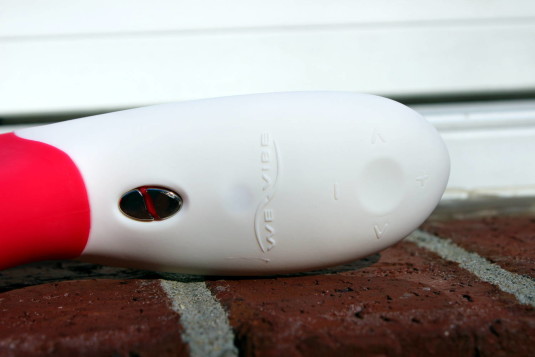 Another feature that the Nova has that's pretty cool but useless for me is that it's Bluetooth enabled and can be controlled via smart phone with the We-Connect app. It can be controlled remotely by smart phone or tablet in the same room or from across the country. I didn't test this feature because I don't have a smart phone so, I can't say how well the app works. If it's better than the OhMiBod BlueMotion app, which made me wanna throw things, then We-Vibe would be ahead of the game.
If you're curious about measurements, We-Vibe kindly provided these diagrams.
There's not much more I can say about the We-Vibe Nova. I think it's a great vibe with an innovative design. It just didn't work for me. And that's fine, not every toy is going to be perfect for every body. So I don't hold it against the Nova that it didn't fit my vulva like a glove. I have to be honest, I was disappointed and had I spent my own money to buy the Nova and then found out that it wasn't going to work for me… I'd probably be more than disappointed. But then that's why I prefer and often suggest using two toys for dual stimulation.
However, if you have your heart set on getting a rabbit vibe and you're willing to take the chance that it will fit you then I can say that the Nova is a solid, well-made vibe that's successfully designed to maintain constant contact with the clit while thrusting – and that fixes one major problem that most rabbit vibes have. It's obvious that a lot of thought went into the design of the Nova and that's one of the many things I appreciate about We-Vibe, even when one of their toys aren't perfect for me.
That said, they do make two of my favorite clit vibes, the Touch and Tango and I'm thrilled with their new asymmetrically shaped G-spot vibe, the Rave. I can't wait to see what they come out with next and hopefully I get to try it because it is always a treat to have the chance to evaluate such high-quality products.

We-Vibe provided the Nova in exchange for an unbiased review.
Like this? Want more of it? Subscribe!
| | | |
| --- | --- | --- |
| Get new posts sent to your inbox! | | |
| Get my sporadic newsletter filled with exlclusive deals, the latest sales and secret bonus giveaway codes. | | |