Want to support my blog? Clear your cookies, click the banner and shop!

Don't miss these great sex toy sales.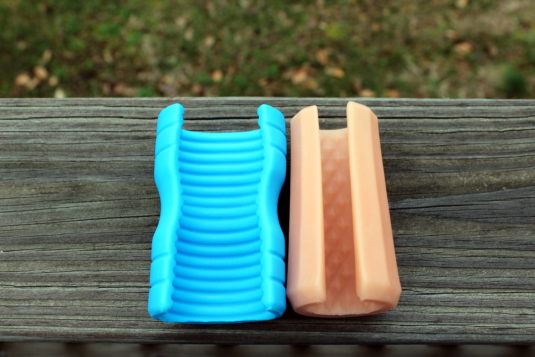 In this review I'll be covering both the beaded and ribbed Doc Johnson True Stroke strokers made of platinum premium silicone, that they call TRUSKYN. The reason for a two in one is not that I'm getting lazy, just that the two products are the same material, manufacturer and price.
When it comes to strokers there aren't many out there that are pure silicone. Most are porous materials like TPE, UR3 and Cyberskin. There are many places to buy strokers but there are some shops that refuse to carry porous toys. Peepshow Toys is one of them. So when they reached out to me to review these two silicone strokers, I gladly agreed.
Doc Johnson is a name that has been around forever and is probably one of the most recognizable in the sex toy industry. If you've ever been to a sex toy shop in person or seen one on TV, their products have been on display. But this doesn't mean that everything they make is worth buying, since they make a lot of toys out of materials that I wouldn't recommend. These silicone strokers are an exception.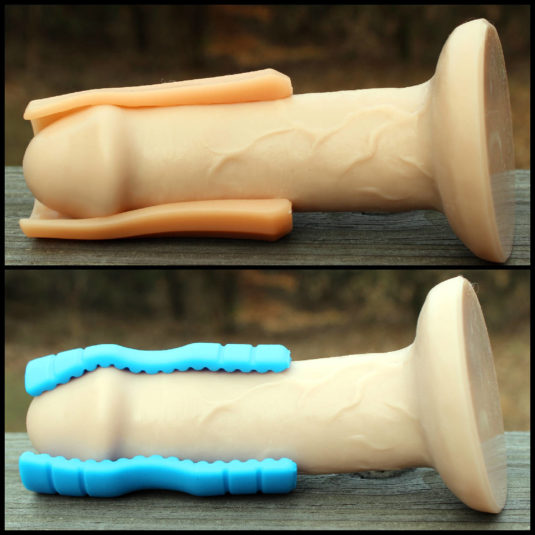 These strokers offer a split design that can accommodate any size cock, whether you're big or small. The amount of pressure is controlled entirely by you. The usable length is 4 inches. Since the material is silicone, water-based lube is your safest bet and it is definitely required!
Now onto the usage. First up is the beaded design. One of the first things that I noticed is that the material is a lot firmer than strokers that I've used in the past. Even with plenty of lube applied and light pressure there isn't any give or flex in the beads. This became a bit uncomfortable for me because it felt more like the beads where riding over my dick than gliding. Things became numb pretty quickly. Because of the split design it can get messy. You don't want to skimp on the lube but the downside is that it seeps out all over so, keep a towel handy!
Orgasm took a long time. I tried every grip and pressure but was unable to find the sweet spot. This felt more like manual labor than masturbation. When it was all said and done, it didn't feel like it was worth the clean-up. Although both of these strokers are very easy to clean, the real work came cleaning the lube off of me. Clean-up for both strokers is probably the easiest on the market. Just some soap and water and you're done. Getting into all the nooks and crannies is simple with the split design.
Now onto the ribbed stoker. The material is the same as the beaded stroker but it has a different feel all around. The ribs have a lot more give to them and the stroker seems more pliable. As with the beaded stroker, plenty of lube is required!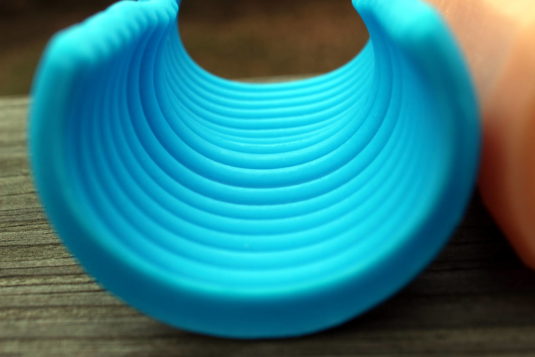 The feeling of the ribs is like night and day compared to the beads. They feel softer and it seems to glide and almost tickle the ridge of my cock. Of all the grips, I found that medium pressure worked best to truly enjoy the ribs. Once again, due to the split design, lube gets everywhere. Orgasm happened quicker with the ribbed stroker and was a lot more pleasurable than with the beaded stroker. After clean-up my dick didn't look like it just went through a war zone.
$19.00 each for these silicone strokers is definitely a good price but at the same time, you get what you pay for. I would recommend the ribbed design if you're looking to try out a stroker for the first time or if your budget just doesn't allow for the more expensive strokers. I'd pass on the beaded design and stick with the old hand until you can save enough money for a better model. My advice, if you just have to have something right now and can't wait to save up for a better stroker, like maybe the Tenga Flip 0, then the ribbed Doc Johnson True Stroke is the better of the two.
***
Hey, dizzy here. We do try to bring you lower cost sex toys and $19 isn't a bad price for a silicone toy. However, dizzyguy was not really impressed with them, even for the price. I don't think the silicone of the strokers is soft enough. I know companies that make silicone soft enough that it could compete with the TPE used in other strokers.
I'm not sure why we haven't been seeing strokers made of that type of silicone. In all, I was surprised that Doc Johnson, of all companies, was the one to put out a body-safe silicone stroker at a low price. But truth be told, I just don't know if they're worth it. Our advice is to always try to save your money to get the better quality toys.

Peepshow Toys provided the Doc Johnson True Stroke strokers in exchange for an unbiased review.
Like this? Want more of it? Subscribe!
| | | |
| --- | --- | --- |
| Get new posts sent to your inbox! | | |
| Get my sporadic newsletter filled with exlclusive deals, the latest sales and secret bonus giveaway codes. | | |