Want to support my blog? Clear your cookies, click the banner and shop!

Don't miss these great sex toy sales.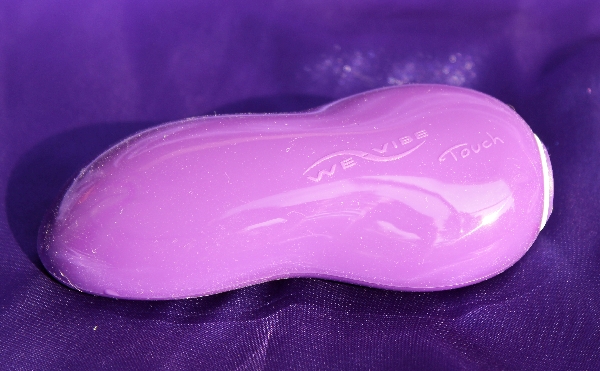 I was starting to feel like I needed to be rescued from mediocre sex toys. The last few I've reviewed ranged from "not my thing" to "just OK" and "meh". Then We-Vibe sent me the Touch and now I have something to get excited about. The Touch has a lot to live up to if it's going to impress me as much as the Salsa and so far, it's measuring up.
The Touch has that same incredible motor that's in the Salsa and Tango but it's housed in a chubbier silicone body. I was concerned that the silicone would dampen the vibration too much but it doesn't. There is a slight difference in the feeling of the intensity between the Salsa and the Touch but even on the lowest steady vibration, the Touch is leaving me breathless. I have been grabbing it over my Salsa and if you know how much I love that thing, that's saying something.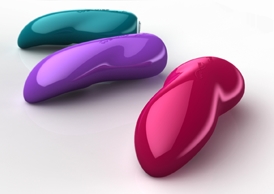 Touch's silicone (which is among the safest sex toy materials) has a glossy finish and comes in 3 colors, purple, ruby and teal. This is the first silicone toy I've tried that has a finish like this and if I thought some of my other toys had drag… they don't even come close to the drag produced by this shiny silicone. But with enough lube, everything glides along my clit just fine. The Touch, with its chunkier body is easier to hold than the Salsa and the draggy silicone makes less likely to slip from my fingers.
There is just something about the rounded tip of this vibe that I absolutely adore against my clit. It feels amazing when I stroke it up and down the length of it. On the underside of the tip there is a scoop that hugs the clit just right if you need broad vibration. I prefer more pin pointed, directed vibration and I hold it more vertically so just the tip touches. Most of the time, the first two (lowest) steady vibration speeds are all I need to reach orgasm and they are intense. I give credit for that to the rumbly motor. Unlike buzzy vibrators, the Touch reaches down deep and shakes the internal part of the clitoris which just makes my body explode in ecstasy. I love this thing… I really do. Is it possible that I love it more than the Salsa? It comes dangerously close to trumping it. I'd say they share the top spot for my favorite clit vibe.
Since the Touch is built with the same motor as the Salsa and Tango, it's going to have the same features and operation. There are 8 modes consisting of four steady vibration speeds and four patterns.


The Tease pattern did just that. The Wave felt like a roller coaster. The Pulse kind of makes my clit throb (in a good way) but isn't something I could get off on. The Cha-cha feels sort of… all over the place. It has a rhythm but it made my clit crazy (not in a good way). Operation is simple, with one button that is held for 3 seconds to turn it off and it remembers which mode you were in.
The Touch requires 90 minutes of charging time when you first get it home. Since that initial charge, I use it, clean it and put it right back on the charger so, I never take the chance of it dying in the middle of a session. I can't speak directly to the run time per charge (since I never let it run down) but We-Vibe states that it runs for 2 hours on a single charge.
This vibe is completely waterproof and charges through a magnetic connection to the charging base (I've found that laying it upside down allows a better connection). This means it is both splash proof and submersible; making it ideal for use in the tub or shower. It's also a breeze to clean. Just wash well in antibacterial soap and water or you can use a toy cleaner. For total sanitizing, you can use a 10% bleach solution. This glossy silicone attracts dust, lint and everything else like crazy (as you can see in my picture). Seriously, it's the worst silicone toy I have for picking up lint. So don't towel dry this thing after you wash it. I like to just let it air dry atop a paper towel. Then, it stores away nicely in the included white satin pouch. I never put it in there though. After it's dry, I connect the charger and let it sit on the pouch so, it's always ready when I need it.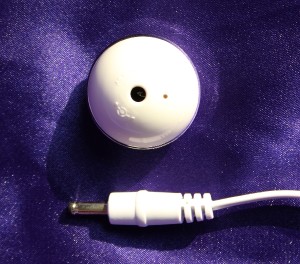 The cord can be unplugged from the charging base (I still can't figure out why they made it that way) and if lost or broken, a replacement can be ordered from We-Vibe. This vibe is very quiet. Under a thick blanket, I could barely hear it in the same room. Outside the closed door it could not be heard. The Touch is vaguely bean shaped with a pointed end and is 3 3/4" long and 4 3/4" around at the widest point. This vibe does not have a flared base and is therefore, not safe for anal insertion. The manual specifies the use of water based lube only. We-Vibe covers the Touch with a one year warranty.
I simply don't have any complaints about the Touch. If you pressed me really hard to come up with something, I'd say maybe the silicone could be less draggy but really with lube, this is not a problem. I don't even know if it would feel as good if the silicone had a matte finish. I think this vibe is just about perfect in every way. The only way I would not recommend this vibe is if you have the Salsa or Tango and they are not intense enough for you because the vibrations are ever so slightly dampened from the silicone construction of the Touch. But really, there isn't much of a difference in intensity and I do think that the size, shape and glossy silicone make the Touch unique enough that it's worth getting even if you already own the Salsa and/or Tango.
I am so thankful that We-Vibe sent me this awesome vibrator in exchange for my opinion. They make some incredible vibrators and the Touch is no exception. This is a toy that excites me and makes me feel blessed that I have a clitoris. This is a vibrator that I can feel good about recommending because I really do feel like it would be a good choice for just about anyone.

Like this? Want more of it? Subscribe!
| | | |
| --- | --- | --- |
| Get new posts sent to your inbox! | | |
| Get my sporadic newsletter filled with exlclusive deals, the latest sales and secret bonus giveaway codes. | | |