Want to support my blog? Clear your cookies, click the banner and shop!

Don't miss these great sex toy sales.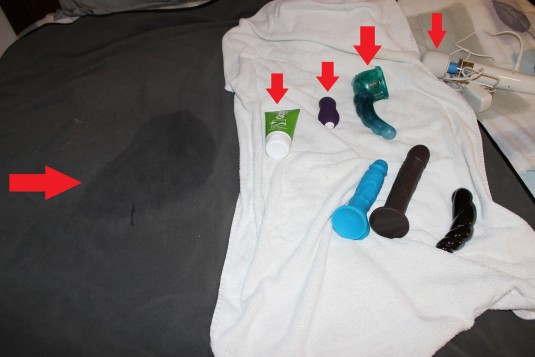 This picture is from my first sesh with the Vixen Gee Whizzard. I actually tested quite a few things that night1 because frankly, I'm falling behind on my reviews. But the items that made the magic happen this time?
Magic Wand Rechargeable – check
Vixen Gee Whizzard – check
We-Vibe Touch – check
Good Clean Love Almost Naked Lube – check
When these four items came together something extraordinary happened. My body involuntarily went into full-on squirting orgasm in mere moments – as evidenced by the wet spot in the photo with the red arrow pointing to it, in case you didn't believe me.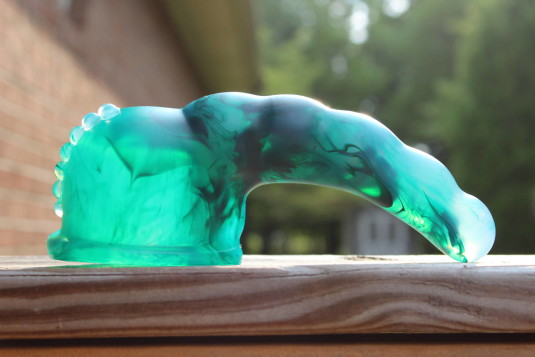 Holy shit, that's all I have to say. I mean, damn. I was totally not expecting it when it happened. I had the MWR on the lowest setting and the Touch on my clit on setting two I think (Does it really matter?) and with the leverage I could get from the huge MWR handle, I was able to push the Gee Whizzard deep into me, achieving a bit of my beloved AFE Zone2 (Some call this the a-spot. I do not.) stimulation3. I kinda rocked the MWR/Gee Whizzard conglomeration into me while stroking my clit with the Touch and BAM… the flood gates opened. Well, actually it wasn't until I pulled the Gee Whizzard out of my vag that I began squirting everywhere. I hadn't had a squirting orgasm in quite a while so, I was really caught off guard. But make no mistake, I was delighted at the same time (and thankful that I always use my waterproof blanket when masturbating).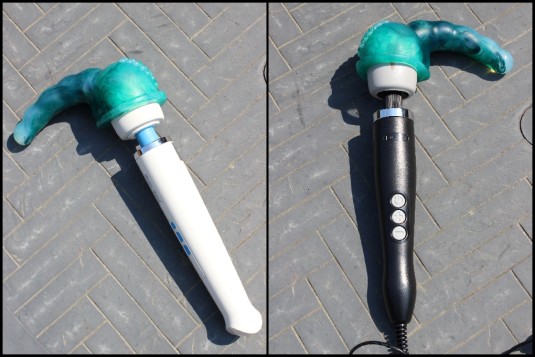 I think if you have the MWR, the Magic Wand Original or, Doxy Wand you really need to get yourself the Gee Whizzard, especially if you need industrial strength vibration for your G-spot. The MWR+Gee Whizzard was way too much for me on the highest two settings. I got more than enough stimulation on the lowest setting.
The Gee Whizzard is so comfortable inside me. It just fits – perfectly. It's flexible and a bit squishy. There is some drag but lube fixes everything and the way I use it, I don't need a lot because I don't really thrust with it, I just sort of rock it in place.
On the higher settings, the Gee Whizzard does make the MWR a lot noisier but I've noticed most of my wand attachments do that. It might not be as discreet as you need it to be but in my house, it doesn't matter.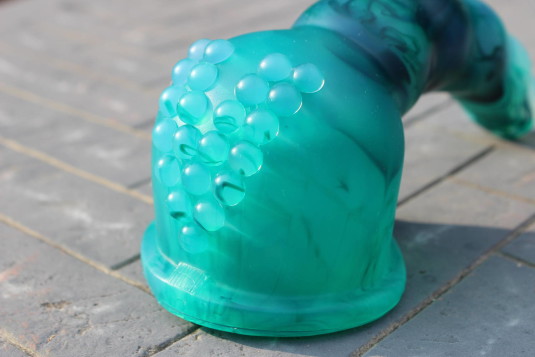 There are some little nubby bumps on the side opposite the dildo. I'm assuming it's to stimulate a partner that might be grinding on you while you have it inside you? Or maybe you can turn it around and use the nubs on yourself? Not really my thing but they're there. I'm also just guessing about this because I don't have the correct anatomy but I suspect the MWR+Gee Whizzard would provide some outstanding prostate stimulation.
The Gee Whizzard is easy to clean with soap and water or you could use a toy cleaner. If you need to sanitize it, which you should do if it's going in your butt, you can wash it in a 10% bleach solution. I recommend water-based lube4 because pairing silicone-based lube with silicone toys can sometimes result in damage to the toy.
As with most Vixen products, the Gee Whizzard comes in a nice transparent tube for storage. You only have one color choice and that's Green Marble, which looks really cool because it's translucent. The dildo measures 5" long and 1.5" in diameter. It's a nice average size but obviously, might not appeal to girth fanatics. Although, the powerful internal vibration might make you forget all about the lack of girth.
The Vixen Gee Whizzard is a must have accessory for your Magic Wand Rechargeable, Magic Wand Original or Doxy Wand. I don't really use my MWR much for clitoral stimulation because I need something more pin-point but with the Gee Whizzard, I'll definitely be getting a lot more use out of it. I have seen similar attachments that cost less but they're made of PVC and trust me, you don't want that. This body-safe wand attachment is totally worth the price and extends the functionality of your wand massager in a fabulous way.
Don't forget, when you shop at PeepShow Toys, you can always save 10% on your order with code: DIZZY.

PeepShow Toys provided the Vixen Gee Whizzard in exchange for an unbiased review.
There is also a NS Novelties silicone dildo, a Fucking Sculptures TwoCumber and a Tantus Gary. ↩
Or, anterior fornix. ↩
I normally don't get AFE Zone stim with toys but this one is an exception. ↩
One that is free from glycerin, parabens and propylene glycol because your mucous membranes are worth it. ↩
Like this? Want more of it? Subscribe!
| | | |
| --- | --- | --- |
| Get new posts sent to your inbox! | | |
| Get my sporadic newsletter filled with exlclusive deals, the latest sales and secret bonus giveaway codes. | | |