Want to support my blog? Clear your cookies, click the banner and shop!

Don't miss these great sex toy sales.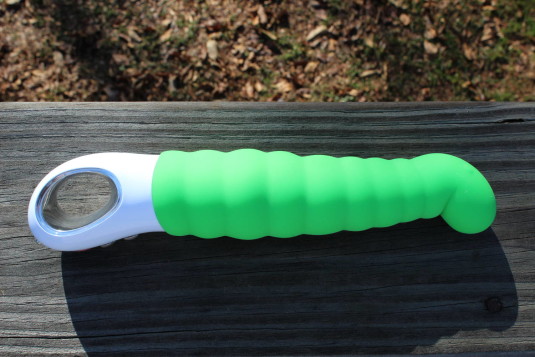 It's a vibrator that looks like a chubby happy caterpillar, especially in the green. Dizzyguy said it was creepy. I told him to bite his tongue. True to their name, everything Fun Factory makes is well… fun. Their designs and colors tend to be unique and whimsical. I think even their vibrators feel different from most other vibes. It's hard to explain but Fun Factory vibes have a signature vibration. You could blindfold me and put one of their vibrators in my hand and I could tell you that it's Fun Factory.
I've reviewed two other Fun Factory toys and my opinions on them fall on each end of the spectrum. I didn't much care for the Delight. It just didn't work for me in any way. However, I was head over heels for the Stronic Eins. The Patchy Paul G5 falls somewhere in the middle of those two extremes.
On paper, I love everything about the Patchy Paul G5 but I can't say I love it as much as the Stronic Eins (I don't even know if it's fair to compare a vibrator to a pulsator though). That said, I could easily see someone else being totally smitten with it. It has everything you expect from a luxury vibe:
Strong rumbly motor – check
Body safe silicone and plastic – check
Rechargeable – check
Waterproof – check
Travel lock – check
So, why don't I like it more than I do? I'm honestly not sure. I do actually like it but I'm not over the moon for it. It really is a fabulous vibrator though. I guess you'd have to ask my vagina why we're not a perfect match and unfortunately, I don't speak its language. I can tell you that I might like it more if it was rigid. It has a fair amount of flex which makes it difficult to put a lot of pressure on my G-spot. But then, my G-spot is kind of freaky about how much pressure it likes. In any case, the flexibility might be a bonus for someone who doesn't need the pressure that I do.
Then, there's the silicone. I don't know what's up with Fun Factory silicone but it feels different from everything else. It's matte but produces a shit load of drag. The other two Fun Factory toys I have feel the same way to me. Of course, that's why lube was invented. But I tend to need a lot of it if I want to thrust with the Patchy Paul G5.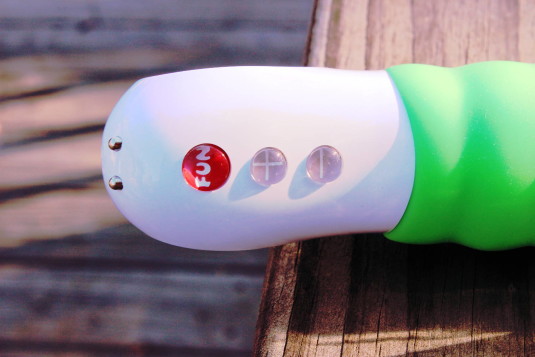 Everything else about this vibe is great. I love the deep rumbly vibration and the controls are top-notch. I couldn't care less about patterns but the Patchy Paul G5 has 6 of them and they are different from the same old tired patterns you find in other vibes. The steady vibration has 6 levels of intensity – way better than the obligatory 3 on cheaper vibes. Though I can't compare, I have heard that the G5 is significantly more powerful than the preceding G4.
The finger hole in the handle is ergonomic genius. It allows me to hold it in a much more comfortable position than with other vibes. This vibe gives you about 7.25" to insert and the head/nose is 1.27" in diameter. From there the shaft grows to about 1.67" near the handle.

There are three choices of color (Neon Orange, Fresh Green, Candy Rose) but if you ask me, green is where it's at. There are not nearly enough sex toys in green. It doesn't come with a storage pouch which is a beef I have with Fun Factory. I think for what these toys cost, they could throw in a pouch.
Care and feeding of this vibe is the same as for all silicone vibrators and for more on that go here. Copious amounts of water-based lube are recommend.
On the highest setting, this is not the quietest vibrator I have. You might have to keep the door closed and play some music or something. It's not even close to Hitachi Magic Wand loud. It's just not what I'd call discreet.
It is USB rechargeable and Fun Factory calls it Click 'N' Charge technology, which basically means that there are metal contacts where the magnetic charging cord connects. The stand-by charge seems to be lasting a very long time for me. I haven't run the battery down to determine run time and Fun Factory doesn't really specify.
With any Fun Factory toy, you're getting exceptional German engineering and manufacturing. Fun Factory is quite proud of the quality they can offer. Their products are designed, produced, and packaged under one roof, giving them one of the smallest carbon footprints in manufacturing.
Need more reasons to love Fun Factory?
Manufactured in Germany in our clean, safe factory – not in a sweatshop

Made from non-toxic materials – safe for our workers & safe for your body
Factory employees receive fair wages and benefits
State of the art facilities are fully accessible
The only unionized factory in the adult industry
If a strong and rumbly, flexible vibrator born of impeccable engineering and manufacturing sounds good then the Patchy Paul G5 would make you very happy. I can find no real faults with it. Just a couple of nit-picky personal preferences that aren't met with this vibe but they're pretty insignificant. Maybe I'm being too picky or, perhaps it's my fickle vagina being fickle. Seriously though, if you don't need strong pressure on your G-spot, I think you'll love the Patchy Paul G5.
If you're thinking of getting the Patchy Paul G5 or any Fun Factory toy please consider purchasing through my links. You'll get FREE shipping and I'll let you in on a little secret.   You might want to wait for Black Friday. Just sayin'.

Fun Factory provided the Patchy Paul G5 in exchange for an unbiased review.
Like this? Want more of it? Subscribe!
| | | |
| --- | --- | --- |
| Get new posts sent to your inbox! | | |
| Get my sporadic newsletter filled with exlclusive deals, the latest sales and secret bonus giveaway codes. | | |