Want to support my blog? Clear your cookies, click the banner and shop!

Don't miss these great sex toy sales.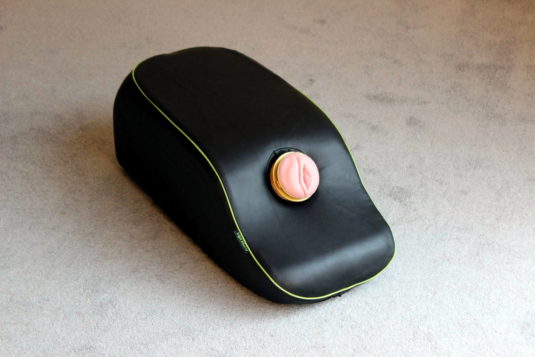 Having just reviewed the Tenga Flip 0 the one thing that I thought was missing while using a stroker was the ability to have it secured so that the hands were totally removed from the equation. I've owned the Fleshlight STU for a few years but as good as it is, it's still technically masturbation. All the different ways of trying to secure the Fleshlight with pillows never seemed to be able to handle full on thrusting. Liberator to the rescue!
I've had previous experience with Liberator products like the Wedge (our favorite), Ramp, and Flip Ramp. Dizzygirl and I were extremely satisfied with their products so, expectations where high for the Fleshlight on a Mission by Liberator.
If you're someone who is concerned about the environment Liberator has an eco-compressed packaging system that cuts down on their carbon foot print. Check it out if you're interested. I think it's cool.
Set up is simple! Remove from box, slide on the faux leather cover, zip and you're ready to roll. You'll definitely need to have a devoted storage space because it is not small (27"L x 9"W x 10"H).
Inserting the Fleshlight into the mount requires a bit of pressure so, I would recommend holding off on any lube handling until it's in place. Once inserted, everything is held tight so no worries about anything moving or slipping.
It's set up for missionary but that is by no means the only position that can be used. Together with other Liberator products or, some creative pillow architecture and some imagination, you can hit all those positions that you've seen in porn and wanted to try. The mount holds my weight with no problem so, whether I'm thrusting hard or slow, there's no sliding thanks to the microfiber bottom.
The Fleshlight sits at an angle in the mount and that takes a little bit of adjustment to become comfortable with, based on your body type. I've run this product through the paces and the only complaint I have is where the label is placed. In some positions, it will rub your inner thigh.
Removal of the Fleshlight requires just a turn and pull but be careful because there can be some leakage of lube and jizz from the bottom of your Fleshlight. Clean-up couldn't be easier – just a cloth or antibacterial wipe and you're ready for next time.
I've found that the Fleshlight on a Mission mount isn't just a holder for your Fleshlight to get off with but a piece of training equipment. Just like a boxer needs a punching bag to practice throwing punches, the Fleshlight on a Mission mount is a great piece to practice your technique and increase your sexual stamina. This is not masturbation. This is straight up FUCKING!!!
If you're looking to break the monotony of jerking off and turn yourself into a sex machine (And really, who isn't?) you can't go wrong with this product. The Fleshlight on a Mission by Liberator plus a Fleshlight stoker (sold separately) is a bit pricey but you get what you pay for. I highly recommend this product. So, do yourself and your partner a favor and check it out.
***
PeepShow Toys doesn't sell Fleshlight strokers because they are made of porous material and I respect that. I have recently made a decision to allow reviews of porous strokers on my blog because it is incredibly difficult to find silicone stokers and I believe that it might be safer to use porous material for strokers rather than butt plugs, dildos and vibrators. As always, you should not share a porous stroker.
I won't put a link to Fleshlight in this review because it was sponsored by PeepShow Toys but if you're interested, you can click on my banner in the left sidebar. Dizzyguy is very satisfied with the STU.
You can get your Fleshlight on a Mission by Liberator from PeepShow Toys and save 10% with code: DIZZY and FREE shipping on $70+

Peepshow Toys Provided the Fleshlight on A Mission by Liberator in exchange for an unbiased review.
Like this? Want more of it? Subscribe!
| | | |
| --- | --- | --- |
| Get new posts sent to your inbox! | | |
| Get my sporadic newsletter filled with exlclusive deals, the latest sales and secret bonus giveaway codes. | | |