Want to support my blog? Clear your cookies, click the banner and shop!

Don't miss these great sex toy sales.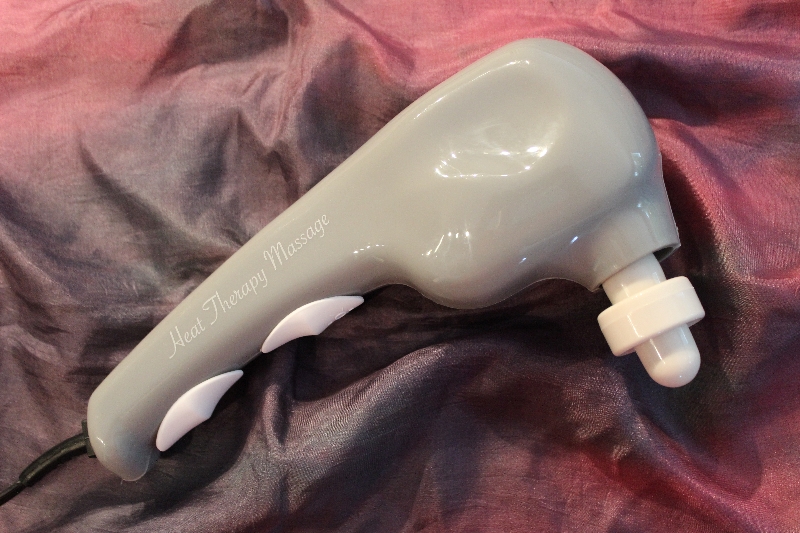 It looks kind of like a glue gun, sounds like a power tool and you'd never suspect that it's a sex toy and that's probably because it isn't. The Wahl is a body massager that's been defiled in much the same way as the legendary Hitachi Magic Wand. But the Wahl isn't nearly as well known as the Hitachi and that's really too bad because in my opinion, the Wahl beats the Hitachi, hands down. The first time I used the Wahl, I had my second squirting orgasm, ever… and that was from clitoral stimulation alone with no G spot involvement whatsoever.
I just have to say, the Wahl Massager absolutely blew my mind. This thing means business. It has the kind of deep rumbling vibration that reaches down and grabs hold of your internal clitoris and takes it on the ride of its life. This isn't hyperbole. My experience with it has been that good. The rumbling vibration is why I think the Wahl is better than the Hitachi. The Hitachi is buzzy compared to the Wahl and when I use it, if I don't come fast, I just get numb and then I can forget about having orgasms until the feeling comes back to my vulva. The Wahl didn't numb me, granted it didn't take long for it to give me an explosive, wet orgasm. Another thing I prefer about the Wahl, is that you can achieve more directed, somewhat pin-point stimulation. The Hitachi gives broad stimulation and it vibrates the entire vulva.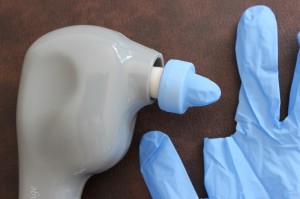 When I received the Wahl, I was kind of disappointed. I wasn't sure what the various attachments were made of until I had them in my hands and saw "PVC" stamped onto the backs of them. One of my goals for this blog is to only ever recommend sex toys made of nonporous, body safe materials. PVC meets neither of those requirements. It can sometimes be made without the use of phthalates but most commonly they are used as a plastic softening agent. So, I contacted Wahl to ask them if they were using phthalate free PVC and the engineer replied that he didn't know. That's comforting… they don't know what their products are being made of. Given that the attachments don't meet my body safe requirement, I wondered how I could review it. Then I had an idea. I asked dizzyguy to swipe some nitrile gloves from work. I cut the index finger off of the glove and stretched it over the Wahl's Spot Applicator and voilà! I had a safe way to use the Wahl and I could recommend it to my readers after all.
From the moment I touched the Wahl to my clitoris, I felt like I was coming. It's intense and I had to very lightly touch the Spot Applicator to my clit. My legs began to shake uncontrollably and I wasn't sure if I could handle it but I kept going. And that's when something amazing happened. The pressure that builds just prior to orgasm started much sooner and lasted longer than usual. It allowed me to stay in that state and really appreciate the feeling. It felt like the release was going to be powerful and amazing and when the dam finally broke, I had one of the strongest orgasms I've ever had and I squirted all over my bed for only the second time in my life.
I laid there in astonishment. I couldn't believe that this thing made me squirt with no internal stimulation at all. That had only happened to me once before with the We-Vibe Salsa but that orgasm wasn't even close to as powerful and only a small amount was expelled from me. After my session with the Wahl, I ended up with a large wet spot that soaked all the way down through my quilt and sheets, to the (thankfully) waterproof mattress protector. I got so excited over what had just happened that I wanted to share it with the world so I wrote a post about it. I felt like people needed to know about this thing. I would be doing my readers a disservice if I didn't educate them about the wonders of the Wahl Massager. Imagine my surprise when a reader commented that it makes her squirt too.
This thing is loud and it's ugly but when it can produce such powerful, explosive orgasms, who cares? And since it's A/C powered, it will never leave you frustrated over mid-session dead batteries. It comes with 8 attachments but in my opinion only the Spot Applicator is suitable for clitoral stimulation. You are, of course, free to give the other attachments a try but I just can't see the nitrile glove trick working with them. Wahl really doesn't want you using their massager on your genitals and they warn against it in the operating instructions. But then, rules are made to be broken. There are a couple more interesting warnings like: Do not operate where oxygen is being administered. And, it shouldn't be used within six inches of an implantable cardiac device.
The Wahl is about 7 1/2 inches from the top of the unit to the bottom of its handle and it has a  9ft cord.  It'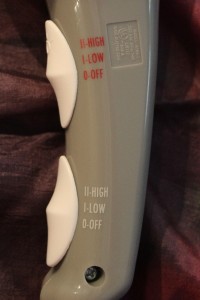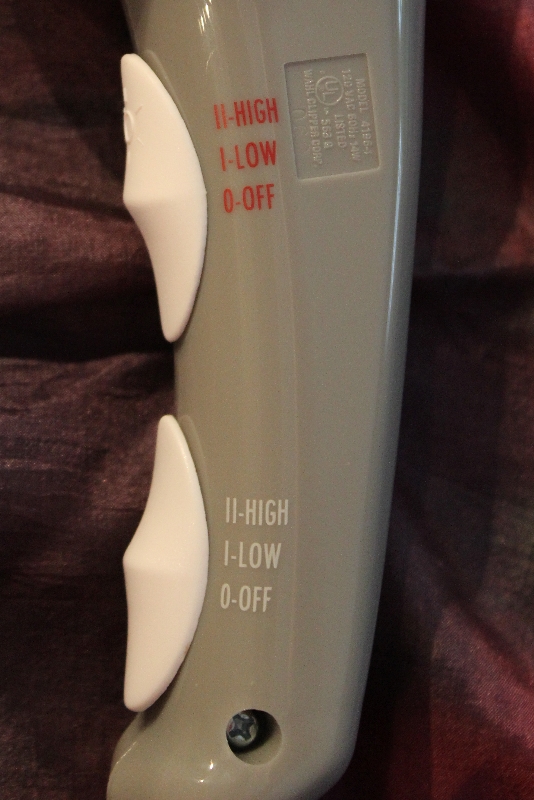 s kind of awkward and a little heavy. I felt more comfortable holding it at the top rather than the handle. Holding it that way quieted it down a little too. This isn't something you're going to be able to use without anyone knowing but you could always just say you were using it on sore muscles. As for the heat attachment, I don't know that it's necessary unless you really do want to use it on sore muscles. It's made of some kind of metal. I'm guessing aluminum. It's a big round flat shape so it really wouldn't provide the pin point stimulation that I prefer. The heat function and the vibration both have two settings, high and low. Low vibrates at 120 Hz and high at 60 Hz, which seems counter intuitive but it really feels like the intensity increases at the lower frequency.
The Wahl is a real bargain and it's because of the price plus the immense pleasure it provides, I can enthusiastically recommend it. I'd even go so far as to call it a toy box must have. No other sex toy on the market is going to feel like this thing feels. Even if it turns out that it's not your thing (which I personally can't imagine but we are all different), you haven't wasted a lot of money and you can still use it on aching muscles. For its potential to induce powerful, squirting orgasms I think it's definitely worth checking out.
Update:  The company that sent me the Wahl for review no longer carries it and none of my other affiliates do either.  You can find the Wahl at Walgreens and on Amazon.  Unfortunately, I won't make a commission from purchases at those places.  So, if you get the Wahl based on my review and you love it, please consider coming back and shopping with one of my affiliates for your next sex toy.  Thanks.
Like this? Want more of it? Subscribe!
| | | |
| --- | --- | --- |
| Get new posts sent to your inbox! | | |
| Get my sporadic newsletter filled with exlclusive deals, the latest sales and secret bonus giveaway codes. | | |