Want to support my blog? Clear your cookies, click the banner and shop!

Don't miss these great sex toy sales.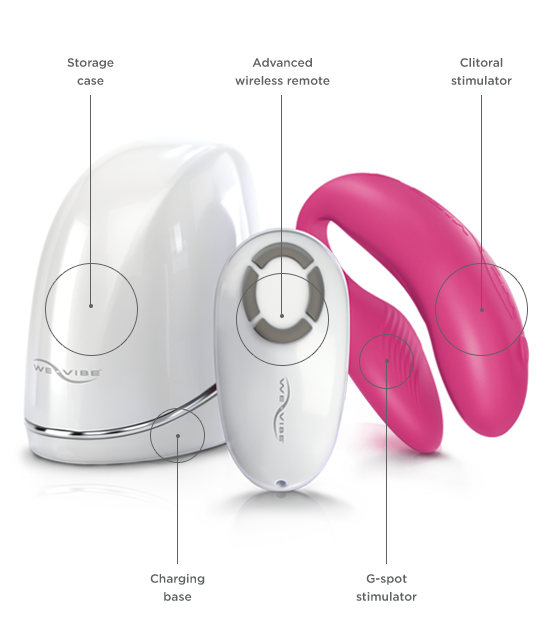 "There's just no way that can work," dizzyguy said incredulously as he held it, looking puzzled.
"No, really," I said, "I wear it and you put your penis in there along with it." He looked at me like I'd lost my mind.  "We'll just have to try it… for science. OK?"  He was skeptical but always willing to try something new in the bedroom, he agreed.
Dizzyguy and I had a lot of fun testing the We-Vibe 4. We both felt like it added a playful element to our shenanigans. The newest version of We-Vibe's quintessential couple's vibrator made even doubtful dizzyguy a believer.
When it arrived, I was so excited to try it but I wouldn't have my chance to share it with dizzyguy until the evening and I didn't want to wait. So, I decided to familiarize myself with it beforehand using a dildo. I lubed the whole vibrator with water-based lube and inserted it, adjusting the clitoral arm into position. It felt like it was grabbing on tight to my body but not in an uncomfortable way. I was just surprised at how securely in place it felt. I played around with the remote, going through all the modes. The vibration felt really good but I was pretty sure that the We-Vibe 4 wouldn't be able to bring me to orgasm. This is mainly because my clit seems to need to be stroked with a vibrator. Just holding a vibrator against it won't do it. And of course, that's what the 4 does… it kind of just sits there, hugging against my clit.
Even still, I enjoyed the sensation and felt like it was time to see if I could fit a dildo in there too. I had mostly thicker dildos available at the time and really didn't want to try to use one of those so, I was relieved when I found my Tantus Revolve. The girth on that one isn't challenging for me and I figured if I could squeeze that in there, dizzyguy would probably fit, especially since it's made of rigid aluminum. I pushed the bulbous head of the Revolve against my vagina and right away, I could tell just how much tighter it was going to be with the 4 in there. With plenty of lube and some gentle pushing, it popped right in. It was a tight squeeze but nothing about it was painful or uncomfortable in any way. I proceeded to thrust a bit with the Revolve and I could really feel it pushing the 4 into my G spot. I was enjoying it but just as I suspected, try as I might, I couldn't have an orgasm. Regardless, I couldn't wait to try it with dizzyguy.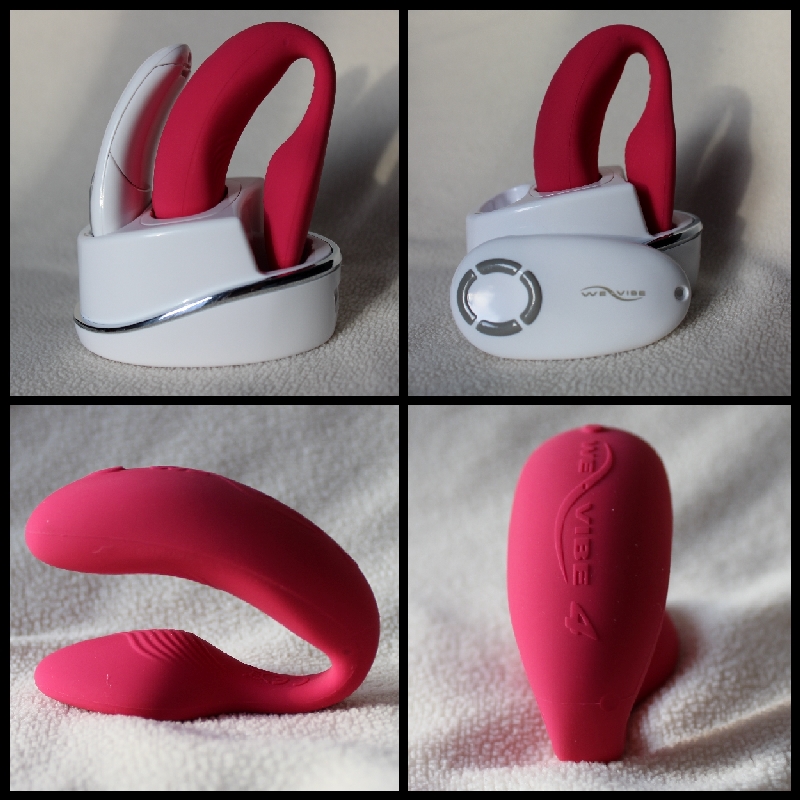 That evening we got down to business. I felt totally at ease because I'd already taken the 4 for a test drive but he still seemed a bit apprehensive. Again, I lubed it all up really well and inserted it then lubed up dizzyguy's penis and told him to go for it. He tentatively pushed the head of his penis against the opening for a moment, commenting on the resistance he felt. I said I was fine and that it wouldn't hurt me and told him to just go ahead and push it in, as long as it felt comfortable to him. He pushed a little harder and his penis comfortably slipped in and he said it felt really tight but pleasant.
Before we tried it, we'd initially thought that the only way the 4 could possibly stay in place was if dizzyguy just did a little gentle bump and grind motion. I didn't think he would be able to thrust with a lot of force and speed but to our surprise it stayed put, even when he began to thrust more aggressively. Granted, we didn't get as rough as I usually like but I think we were both a little hesitant to go really crazy with it, especially on our first try.
The dual vibration felt great and we had fun going through the various modes. I was particularly interested in the Echo mode (vibration alternates between internal and external) because it felt so cool in my hands. It wasn't quite as spectacular as I'd hoped but it was enjoyable. All the modes were pleasurable but I think we both got the most stimulation from the steady vibration. So after playing around with it for a bit, I set it on steady as he continued thrusting.

Now dizzyguy is not a man of many words and never really describes anything with much enthusiasm or conviction but when I asked him if it he liked it, he said that it did feel good.  I watched him as he came and based on his reaction, it seemed as though the vibration and increased constriction enhanced his orgasm. We both came away from the experience surprised by how well it all went and how much we liked it. Lying there in post coital bliss, we discussed the experience and both agreed that there was absolutely nothing about it we didn't like and we could see ourselves using the 4 from time to time in the future.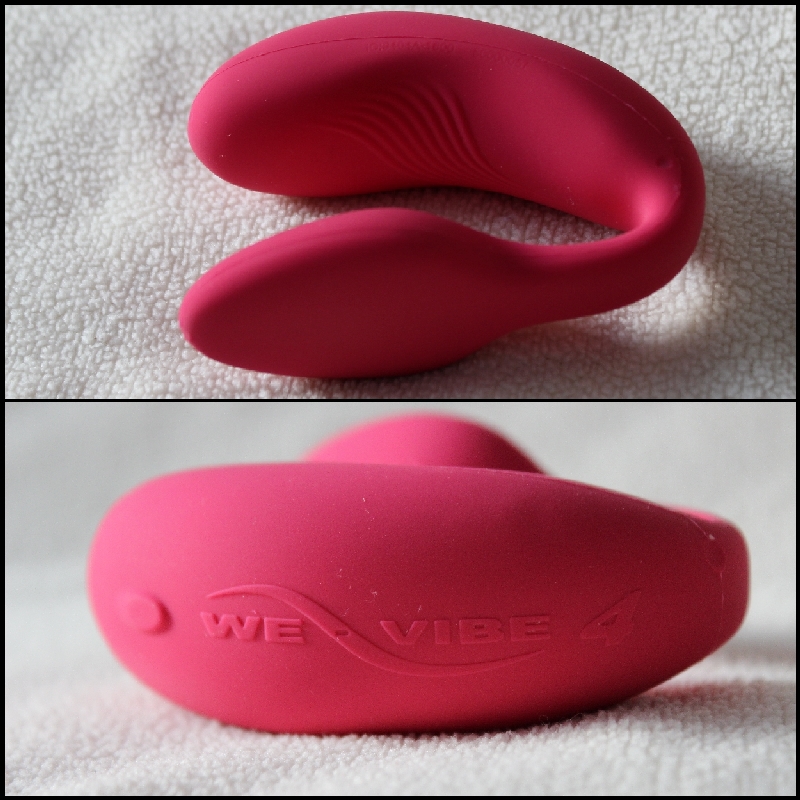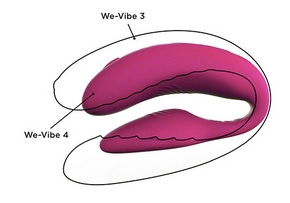 I haven't tried any of the previous versions of the We-Vibe but there are a couple of changes that were made to the 4 that are obvious improvements. The previous We-Vibes were made of a glossy silicone like that of the Touch and that silicone has quite a bit of drag and attracts lint worse than any other toy I own. The 4 has been made of a matte silicone that feels velvety soft and there is far less drag. Thankfully, it's not a lint magnet either. We-Vibe, if you're listening, make a Touch II using the new matte silicone and keep everything else about it the same.1  I'll go on record to say that would make the perfect clit vibe (at least for me). Another change that has been made is the insertable arm is flattened whereas, the previous versions had a more rounded arm and the 4 is 30% smaller than the We-Vibe 3.  I can only imagine this makes everything more comfortable for all involved.
When the 4 first arrived, my initial assessment was that the vibration was pretty strong. At least it felt that way in my hands. But in use, it didn't feel as powerful as I expected. It doesn't feel as intense as the Salsa/Tango, for example. The vibration is nice and rumbly though and it would be strong enough to get me off, if it weren't for my finicky clit that demands stroking.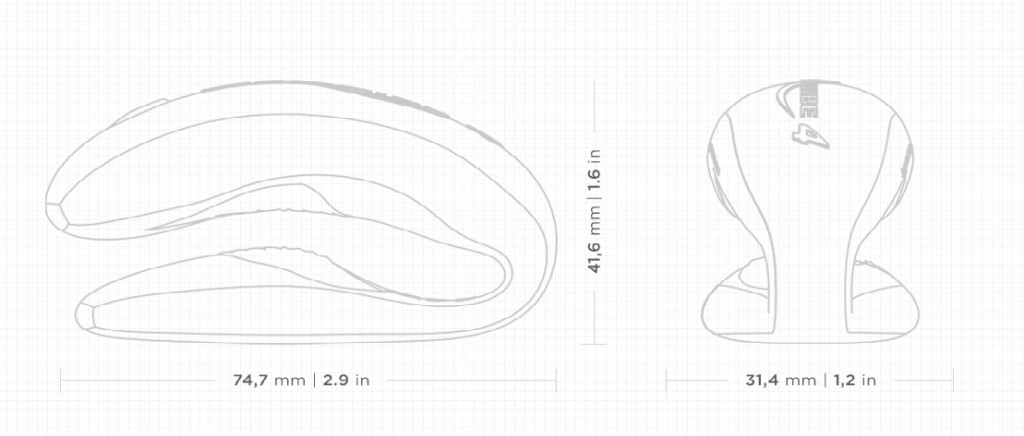 The 4 has 6 modes that consist of 3 levels of steady vibration and 3 patterns. With the remote you can fine tune the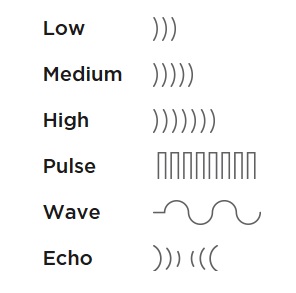 steady vibration and the patterns by stepping through 10 levels of intensity.  The modes can be changed via the button located on the clitoral arm or with the remote. I don't think I would have enjoyed it quite as much if it weren't remote controlled.  There is a motor in both arms but they can't be independently controlled (hey, there's an idea).  To turn it off you can either press and hold the button on the clitoral arm for a few seconds or press and hold the bottom button on the remote.
I love the little storage case/charging base and how the 4 sits in there along with the remote. There are no charging contacts on the 4 or the charging base.  Instead, it charges through inductive technology.  This is how I wish all rechargeable toys were made. The charging base comes with a USB cable but a USB to A/C adapter is not included so, you'll have to pick one up if you're like me and you don't like using your laptop to recharge your sex toys. It takes 6 hours (yes, 6) to fully charge and will maintain a charge for several months, continuously diminishing over time. We-Vibe states that a full charge should provide 3 hours of run time. You don't have to wait until it's fully drained to put it back on the charger though.  So theoretically, it should always be ready when you are. The remote is water resistant not waterproof so, avoid submerging it (the 4 itself is completely waterproof). It requires a CR2032 battery and one is included. The remote has a range of about 10 feet.
The We-Vibe 4 is non-porous, phthalates free and body safe. You can clean it with antibacterial soap and water or a toy cleaner. A 10% bleach solution can be used to sanitize it. It's probably best to use water-based lube since some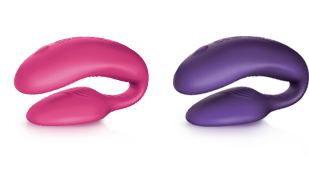 silicone lubes can damage some silicone toys.  For those of you who are sick to death of pink and purple sex toys (I know you're out there), you're out of luck. The 4 only comes in those two tired, over used colors but I don't mind. Color is one of the last things I think about when choosing a sex toy.
I think We-Vibe got everything right with the 4. Admittedly, it could stand to have a bit more power for my liking but it was still stimulating enough for me to enjoy using it.  The biggest surprise to me was how much dizzyguy liked it, especially since he was so skeptical.  We both agree that it's something we'll keep in our arsenal. If you can have orgasms by holding a vibrator in place against your clit then I think you'll really enjoy the We-Vibe 4. It also enhances G-spot stimulation both through the vibration and from the physical pressure applied against it when thrusting and I was impressed by how well it stayed in place. I'm definitely happy with the We-Vibe 4 and I think it's a great way to add a little something new to your repertoire that both of you can enjoy.

We-Vibe provided the 4 in exchange for my unbiased opinion.
In a perfect world, I would like to see the Touch and Tango redesigned with inductive charging technology. ↩
Like this? Want more of it? Subscribe!
| | | |
| --- | --- | --- |
| Get new posts sent to your inbox! | | |
| Get my sporadic newsletter filled with exlclusive deals, the latest sales and secret bonus giveaway codes. | | |