Want to support my blog? Clear your cookies, click the banner and shop!

Don't miss these great sex toy sales.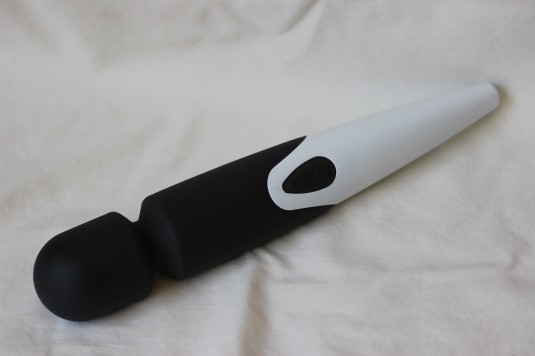 My first vibrator was a Hitachi Magic Wand. Why did I start out with such a powerhouse? I was struggling with anorgasmia as a side effect of medication and dizzyguy wanted desperately to help me. He had heard a woman on a popular radio show say that it was the best vibrator ever. I didn't know anything about sex toys back then but I really wanted to try something… anything that could help me have orgasms again. It did work, sometimes. The problem with the Hitachi (now known as the Original Magic Wand) is that it's really quite buzzy and crazy powerful with only two speeds to choose from. If, on the rare occasion, I could get off quickly then it worked just fine. But if it took me awhile to reach orgasm, I would just get numb and that terrible itchy feeling would set in and I could just forget about getting off at that point.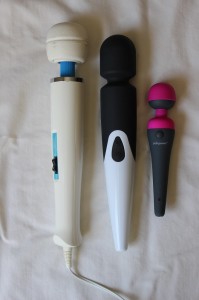 The Magic Wand might be a classic but it has so many shortcomings, including the rather unhygienic vinyl head. And that's probably why so many companies have made their own versions of this classic wand massager with improvements like variable speeds, patterns, silicone heads and some are even now rechargeable and waterproof. One of these "new and improved" wand massagers is the Shibari HALO. It has almost all of the features a lot of people look for in a wand massager. The reason I say "almost" is because like the Hitachi, it only has 2 speeds, though the vibration is far less buzzy.
Some descriptions (even right on the box) say that the Shibari HALO has 10 speeds but that's inaccurate. There are two speeds of steady vibration and 8 patterns of pulsating vibrations. But the HALO is still a big improvement over the Hitachi for a couple of other reasons. First, it's made entirely of nonporous, phthalates free materials. The head is silicone and the handle is plastic. The next thing that many would consider an advantage is that it's rechargeable and waterproof. Now, I think corded massagers have their place but I do concede that being waterproof makes the HALO much easier to clean and if you are so inclined, you can use it in the bath or shower. However, I do think you can get more power out of corded massagers like the PalmPower and of course, you never have to worry about the battery dying.
So, now that I have three wand massagers in my possession, they compare like this:
The Shibari HALO isn't exactly the perfect vibrator for me but then I doubt that wand massagers in general are going to be perfect, even though I love the PalmPower. The Shibari HALO, like many wand massagers, has a rather large head so, it covers nearly the entire upper half of my vulva. This creates very broad stimulation and for some folks, that's exactly what they need. I just think that I need something that can fit down in between my labia and concentrate the vibration more directly onto my clitoris. And that's probably why I like the PalmPower so much. Its head is much smaller than that of the HALO or Hitachi.
So, since the HALO doesn't create the exact kind of stimulation I prefer, it seems to take a lot longer for me to reach orgasm but here's the good part… once I finally do get there, the orgasms are very intense. I'm not sure if it's because of the long build up or what but the HALO does make me come hard, even if it takes longer than I'd really like. I also have to masturbate with it a bit differently than I do with other vibes. Normally, I like a light touch with a powerful vibrator. That doesn't really work with the HALO so, I've found that with it, I have to use a lot of pressure and here's the good news – the vibration doesn't seem to dampen under pressure at all. So, that's going to be perfect for those who are looking for broad stimulation and like to apply pressure.
The HALO's vibrations aren't exactly rumbly but I wouldn't call them buzzy either. They don't numb me too much. Only if I've been using it for quite a long time. I do think the patterns are pretty awful. The rhythm and cadence are totally wrong on all of them. The pauses in between pulses are too long and the pulsations aren't consistent enough to do anything for me. This might just be a personal thing. If you like patterns, you might like these. I'm not much of a pattern gal so maybe that's why I think they suck. There is this one fluttering-like vibration that's in a couple of the patterns that I wish was a setting all by itself… just that steady flutter. But trying to use the patterns just so I can intermittently feel that flutter is frustrating. So for me, the HALO really is just a 2 speed wand massager.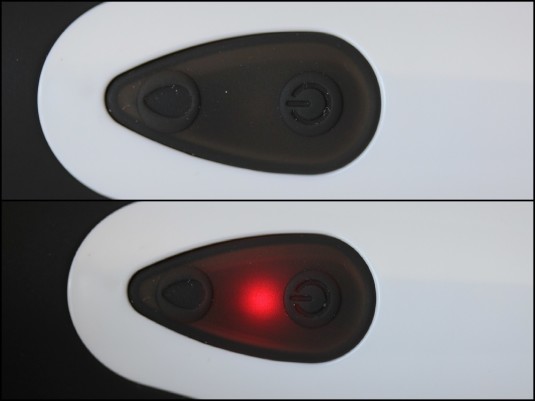 The Shibari HALO has two buttons. One turns it on and off and the other steps through the functions. The button is very sensitive and I'm always turning it on by accident, especially when I'm cleaning it. This could be a problem for some who need discretion. It definitely isn't as loud as the Hitachi or the PalmPower but it's not as quiet as my little clit vibes either. I was pleasantly surprised that you don't feel the vibration excessively in the handle. I mean, it's there but it doesn't numb my hand.
The colored portion of the HALO is made of silicone and the white handle is plastic. The silicone has a matte finish with hardly any drag and gets fairly slippery with lube. One thing I really like about the head of this wand is that it's totally smooth. There are no ridges or grooves like you often find on other wands that makes cleaning a pain. Since it's made of body-safe, nonporous materials and it's waterproof, it's easy to clean. Soap and water works, as does a toy cleaner. If you need to sanitize it, you can wash it in a 10% bleach solution and rinse well with water. Water-based lube is probably the best choice since some silicone-based lube can damage some silicone sex toys. But this isn't always the case and I have successfully mixed the two. If you feel like experimenting with silicone-based or hybrid lube, do a spot test in an out of the way area.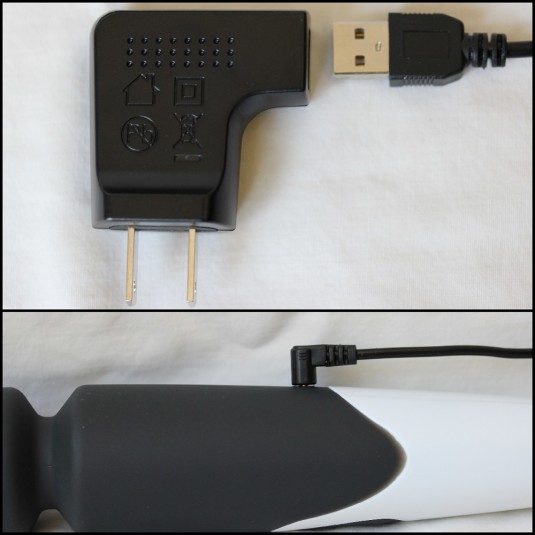 The charging port is on the opposite side of the buttons. It comes with a USB cable and I applaud Shibari for including an A/C adapter so you can charge it from a wall outlet. While charging, the buttons will light up and the light will go out when charging is complete, which takes about 3 hours. Run time is supposed to be up to 3 hours depending on the power setting.
There are four attachments available from Shibari but I don't think they're meant to fit the HALO. They are all made of PVC anyway and who wants that? PVC is a porous material and likely contains phthalates. Attachments made to fit the Hitachi are too big for the HALO.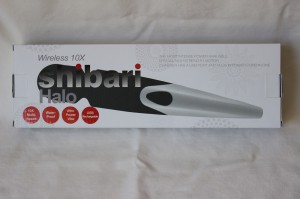 The Shibari HALO comes in 3 colors – pink, purple and black. The packaging is basic and you don't get a storage pouch. The HALO is covered by a one year warranty.
Of the three wands I now own, I still like the PalmPower the most but I do wish it was built more like the HALO which has a complete one piece silicone head rather than a removable cap like the PalmPower has. But when it comes to the best fit for my vulva and the ability to really vary the intensity, the PalmPower still comes out on top.
Then again, if you're looking for a waterproof1, rechargeable wand and you like broad stimulation and pressure, I think the Shibari HALO could be a good choice. It's not as powerful as the Hitachi or PalmPower but it's decent and I think most would be satisfied with the strength of the vibration. If you're thinking of picking one up, please consider purchasing it from PeepShow Toys. They sponsored this review and by making a purchase through my links, I make a small commission at no extra cost to you and that helps me to keep this blog going.

PeepShow Toys provided the Shibari HALO in exchange for an unbiased review.
Oddly the packaging says the HALO is waterproof but also on the box it says to "never submerge electrical components in water." Uhm, isn't the HALO an electrical component? ↩
Like this? Want more of it? Subscribe!
| | | |
| --- | --- | --- |
| Get new posts sent to your inbox! | | |
| Get my sporadic newsletter filled with exlclusive deals, the latest sales and secret bonus giveaway codes. | | |