Want to support my blog? Clear your cookies, click the banner and shop!

Don't miss these great sex toy sales.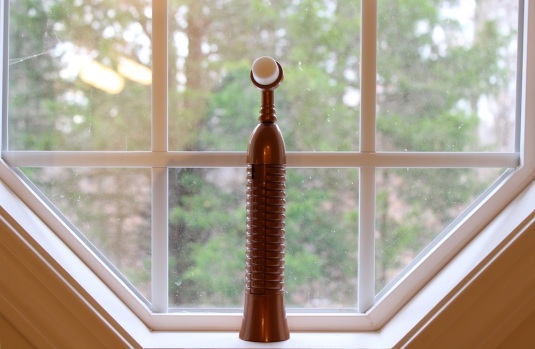 Here it is, the one, the only, world-renowned pleaser of clits everywhere… the Eroscillator Top Deluxe! Yes, it really does deserve the ostentatious introduction. I know it looks like a giant electric toothbrush from 19751 and it's easily the ugliest sex toy I own but I give not one fuck about how it looks. The extraordinary orgasms it gives me makes its looks totally insignificant. So, don't pass this one up just because it doesn't look sexy. If it does for you, what it does for me then you'll love it so much that it'll have to be pried from your cold dead hand.
Let's get one thing straight right away, the Eroscillator is not a vibrator – it oscillates. Which means, it moves whatever attachment is on it, back and forth really damn fast. The animated pics below kind of give you an idea of what I mean. Since it doesn't vibrate, it doesn't produce the numbing effect that vibrators often do. And the way it feels on the clit? Words fail me to describe the pleasure I receive from the Eroscillator. It's a deeply satisfying fluttering sensation that can be gentle or powerful, depending on the speed and attachment.
The Eroscillator has been around since 1996 and I doubt it's changed much since then. The fact that it has survived this long is testimony to its efficacy and durability. In fact, this is the only sex toy that was ever endorsed by Dr. Ruth Westheimer. If her endorsement isn't convincing enough for you, it is also clinically proven to be more effective than ordinary vibrators. Yes, they actually conducted a study. So, the Eroscillator isn't some kind of fly-by-night, Johnny-come-lately over-hyped sex toy – absolutely not. This thing delivers on its promises.
There are two models that are sold with various assortments of attachments. I have the Eroscillator Top Deluxe and it's supposed to be more powerful than the Eroscillator 2 Plus. I can't tell you if it is more powerful but this reviewer can. If you tend to be a power-queen when it comes to vibrators then you'll probably want to spring for the Top Deluxe model. And here is where I state the obvious. Both versions of the Eroscillator are incredibly expensive. I know it will be hard for many to justify paying that much for a sex toy.
Well let me tell you, as someone who sometimes struggles to reach orgasm, I would gladly pay the exorbitant price because, its ability to give me powerful, long-lasting orgasms is far beyond the ordinary vibrators I've tried. Since I take antidepressants and sometimes have difficulty reaching orgasm, I'm in the 5% that it doesn't always work for but it is working for me. I can't guarantee any sex toy will work for you but if you buy directly from Eroscillator's site, there is a 30 day refund policy, even if the device has been used. However, in that case a 20% sanitary disposal fee will be charged. So, you won't get all of your money back but it does take some of the risk out of purchasing such an expensive sex toy. You also get a one year warranty but I'm told that with proper care, an Eroscillator will last you many years. I certainly hope so because I never want to be without this incredible orgasm-inducing machine.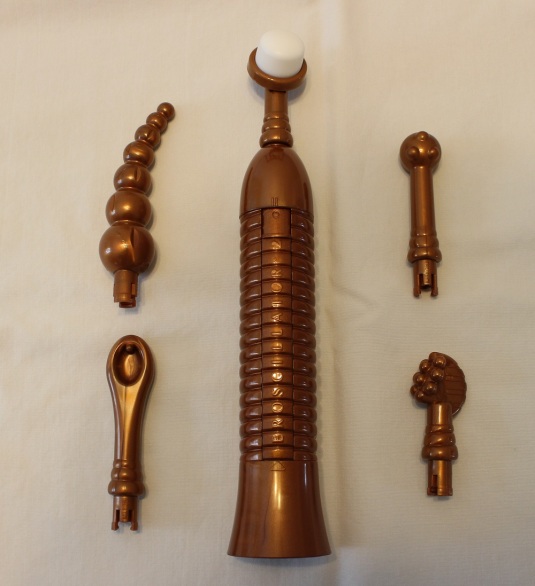 So, what about the attachments? That's going to be tricky and hard to explain. Everyone will have their preferences but for me all I need is just one… the one that I, and practically everyone else, calls "The Marshmallow." Eroscillator calls it the "Ultra Soft Finger Tip". It is completely different from all the other attachments as it's a soft, squishy pillow and the others are much firmer. Since the other attachments are firm, I think the stimulation is more intense with those. The Marshmallow sort of diffuses the oscillations a little and its surface is smoother and less grabby than the other attachments.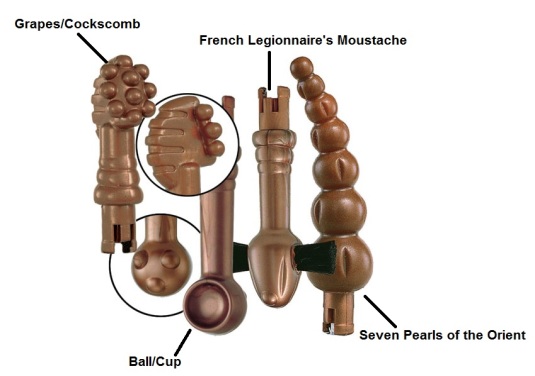 At first, I thought I didn't like any of the other attachments and only ever used the Marshmallow. Then one day, I decided to give them another try and two of them totally knocked my socks off! I really enjoy the Grapes/Cockscomb (on the Grapes side) and the Ball/Cup (on the Ball side). The Golden spoon and Seven Pearls of the Orient (How did they come up with these names?) don't do a lot for me and I am completely uninterested in trying the French Legionnaire's Moustache.  The cup side of the Ball/Cup and spoon side of the Golden Spoon also don't feel that great to me but again, preferences will vary widely from one person to the next.
According to my clit, this is the intensity from most to least:
Grapes/Cockscomb
Ball/Cup
The Golden Spoon
Seven Pearls of the Orient
Marshmallow
Eroscillator claims that the Pearls attachment is suited for anal play but I have to disagree. While you aren't likely to lose the entire Eroscillator up your ass, the attachment could pop off and get pulled into your rectum where you can't reach it. And that usually results in an embarrassing and costly visit to the ER. So please, don't try it.
There is just one thing about the Eroscillator that I'm not thrilled about and that's the material that the attachments are made of. All of them are made of TPR , except the Soft Finger, which Eroscillator says is "silicone elastomer"2. Eroscillator claims that they are phthalates free and that's great. What I am unclear about it the porosity of the TPR. My understanding is that most TPR is porous but Eroscillator has told me that their TPR is nonporous because it is "injected as a liquid and not foam".  Make of that what you will.  I would still avoid using any of the attachments anally for the reason mentioned above and just to make sure they're kept as sanitary as possible.
A lot of reviewers have wondered why they didn't use reliably body-safe, nonporous silicone for the attachments but Eroscillator claims that silicone isn't strong enough. Ordinarily, I would not recommend a TPR/TPE product to you but I'm going to have to make an exception just this once because the Eroscillator is so good, it breaks all the rules.
This isn't the easiest sex toy to clean. It is water-resistant but that isn't the issue. It's all the nooks and crannies in the attachments and the unit itself. This is one of those toys that I have to break out the old trusty toothbrush for. You're also supposed to leave the cord plugged in when you clean it to prevent water from getting into the port but you should avoid getting the transformer end of the cord wet. This can make it a little unwieldy when cleaning it.
Speaking of cord, you get a long one. It's 12′ long and I wouldn't mind if it was shorter because I have an outlet near my bed and all that cord can get unruly but if you don't have a convenient outlet then you'll probably appreciate the length. I love that this toy gives me power on demand since it's not a rechargeable so, it's ready whenever I am.
You don't get a nice storage solution for the unit and attachments. There is a very flimsy plastic pouch included but in my opinion, it's good for nothing. I do think for the price of this sex toy, it should come with something more substantial for storage.
It is pretty quiet overall but gets a little louder on the highest speed and some attachments make it a bit louder than others. If you can get away with using most vibrators then I don't think you'll have a problem discreetly using this.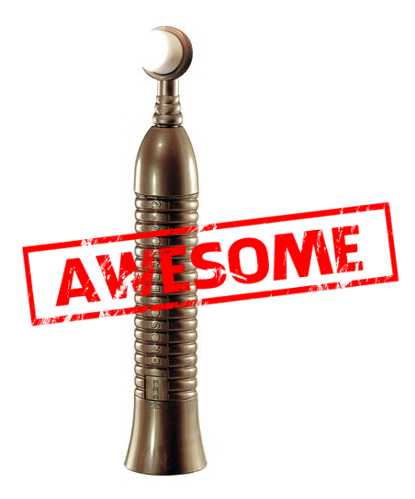 The Eroscillator Top Deluxe consistently gives me longer, stronger orgasms. I mean, just mind bending orgasms, the kind that make me squirt with no G-spot stimulation involved. I can often reach orgasm on the lowest speed. Sometimes I have to kick it up to the middle speed. Rarely do I use the highest speed. It can be a little overwhelming for my clit. The Eroscillator is certainly extraordinary all on its own but if I add in some G-spot stimulation then, look out. We're talking explosive orgasms that I swear I can feel from head to toe and leave my whole body buzzing. Sometimes, it's so ridiculously easy to reach orgasm with this toy (I really want to call it an appliance) and that makes it invaluable to me.
I know the cost is going to be prohibitive for some and hard to justify for others. I wish it was more affordable so it could be accessible to more people because it really is just an incredible sex toy. I can rely on the Eroscillator to deliver deeper, stronger more satisfying orgasms than ordinary vibrators and I think every clit deserves to feel the unique sensation that it provides. From where I stand, I think it is absolutely worth the price and I think it's a great choice for those who aren't satisfied with traditional vibrators. If you purchase it from Eroscillator, you somewhat minimize the risk with their return policy. Or, you can purchase it from SheVibe and support a great retailer and my blog at the same time.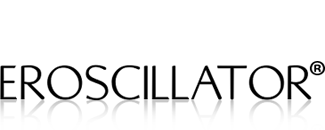 Eroscillator provided the Eroscillator Top Deluxe in exchange for an unbiased review.
Like this? Want more of it? Subscribe!
| | | |
| --- | --- | --- |
| Get new posts sent to your inbox! | | |
| Get my sporadic newsletter filled with exlclusive deals, the latest sales and secret bonus giveaway codes. | | |