Want to support my blog? Clear your cookies, click the banner and shop!

Don't miss these great sex toy sales.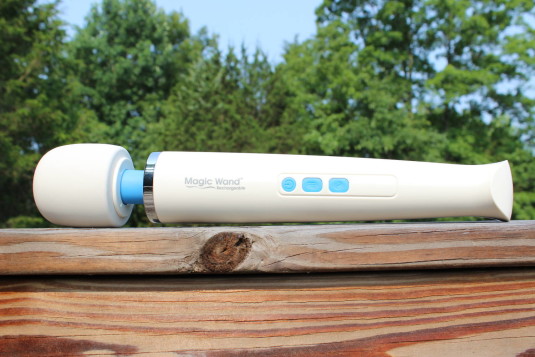 Back in 1973 a rather unassuming back massager became a cult classic when sex education pioneer, Betty (fucking) Dodson, started teaching women how to masturbate with it. It didn't take long for the Hitachi Magic Wand to become famous as an uber powerful sex toy and it gave many women their first orgasms. In fact, dizzyguy bought me one years ago when I was suffering from medication induced anorgasmia. He had heard Robin Quivers, on the Howard Stern show, say that it was the absolute best vibrator a woman could own. He wanted desperately to try to help me have orgasms again so he got one.
The original Hitachi Magic Wand could give me orgasms sometimes but fighting against the anorgasmia, it would often just take too long and the incredible power of the Hitachi would make me numb before I even had a chance to think about getting off. It also has a few other short-comings. There are only two insanely powerful speeds, which can be fine because it's just what some people need, but it can be overwhelming for many others. It's so intense that one suggested method of using it is to put a layer of cloth between you and it, like leaving your panties or even pants on.
It is also a corded massager, which could be looked at as a pro or con. The pro is that you never have to worry about loss of power but it's a con because you're tethered to an electrical outlet. Plus it has an unhygienic vinyl head. I say it's unhygienic because vinyl is a porous material so it can't be sanitized and when you're using it on your nethers, that's kind of important.
Hitachi continued to make the Hitachi Magic Wand for many years until 2013 when they decided that they no longer wanted their name synonymous with the queen of all vibrators.  Vibratex encouraged Hitachi to continue making it but re-brand it without the Hitachi name.  So it became the Magic Wand Original1.  From what I can tell, the Magic Wand Original is still manufactured by Hitachi and it is distributed by Vibratex.  I can't say whether or not they made any changes to the original design of the Hitachi when they re-branded it but they have now created the next generation, which addresses many of the original's short-comings – enter, the Magic Wand Rechargeable.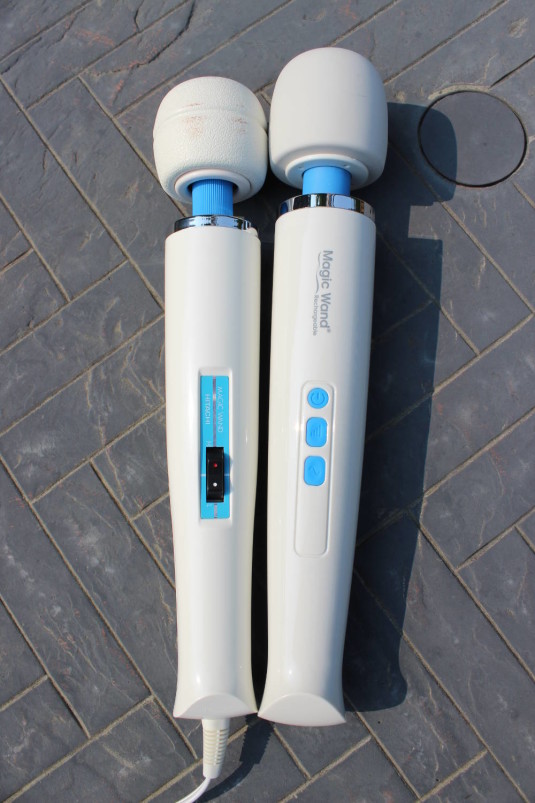 The Magic Wand Rechargeable (MWR) is so much better than my original Hitachi in so many ways. First, and most importantly for me, it has four speeds versus the Hitachi Magic Wand's two speeds. The MWR's first (lowest) speed is wonderful. It's powerful, yet deep and rumbly. Even the second speed agrees with me but beyond that, the third and fourth speeds are reminiscent of the Magic Wand's ultra powerful two speeds and it's just too much for me. But this means it will satisfy a wider range of people than the Magic Wand Original. The top two speeds will make the power-hungry happy and the two lower speeds can please those who need a little less.
They also added four patterns to the MWR. Patterns rarely do anything for me and the MWR's are no exception. The patterns run at full power and even if I wanted to use them, it's just too intense for me. It would have been nice if they added the ability to adjust the intensity of the patterns, which is a feature I've seen on other vibes so, it's not like it's impossible.
And what about the head of the MWR? They improved that too by making it out of body-safe nonporous silicone that can be sanitized. It also feels a lot nicer against the skin than the Magic Wand's vinyl head.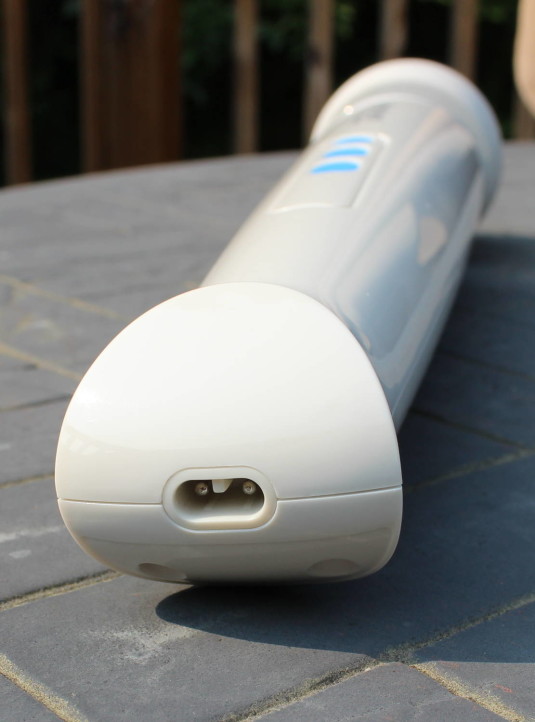 Of course, one of the biggest improvements over the Magic Wand Original is right in the name – the MWR is… rechargeable. You're no longer tethered to an electrical outlet, which makes it a lot easier to use wherever you please. But what if the battery dies and you need to have an orgasm right now? The MWR has you covered with a "plug and play" feature. You can use it plugged into the wall if it isn't charged. So really, the MWR makes it easy to get off just about anywhere, anytime.
I think they made some brilliant changes to the Magic Wand Original in creating the MWR but I would like to have had a couple more features. One, it's not waterproof, like at all. Not even splash-proof. So obviously the bath isn't a place you can use the MWR but beyond that, it makes it a little difficult to clean.
Secondly, I would like the ability to adjust the intensity back down. The way the MWR operates is that you have to cycle through all the settings to get back to a lower one and since the strongest two settings are too much for me, this is a little annoying. Actually, it would have been really cool if you could adjust the intensity incrementally, like you can on the Swan Wand and PalmPower. Maybe they will add these features to the next iteration of this classic massager (not so subtle hint).
So I gave you the history and the deets but does the thing get me off? Well, yes but… my clit really, really prefers pin-point stimulation, which is why I love vibes like the We-Vibe Touch and Lust L2 so much. Obviously, you're not going to get pin-point stimulation out of the MWR. Not without an attachment anyway. But broad stimulation is exactly what some people need and the MWR will deliver. I was actually able to achieve the lazy masturbator's dream and had an orgasm with the MWR without even taking my pants off. It took a little while but it happened.
Among the various attachments you can use with the MWR are the Vixen Gee Whiz and Gee Whizzard. They are made of body-safe silicone and I would love to try them out someday. Because, when you put an insertable attachment on a powerful wand like the MWR, some pretty incredible things can happen… like, insta-squirting. You pretty much shock the shit out of your G-spot and it doesn't know what to do. It happened to me with my Hitachi and a nasty ol' PVC insertable attachment. Please don't judge me, I bought it before I knew the evils of certain sex toy materials. The good news is that many attachments compatible with the MWR are made of silicone and those are the ones you want.
I have two silicone attachments that I bought to use with my Hitachi but I never got much use out of them because it was just too intense and that power transmitted into those attachments was more than my clit could handle. The Nuzzle Tip felt like it assaulted my clit when I tried it with the Hitachi and the Flutter tip wasn't much better. But now, using them on the MWR's lower two settings, they actually feel pretty good.
Just how do you clean the MWR? Well, it's tricky. According to the manual, it's not even safe to run water over just the head so, I use a spray-on toy cleaner and then wipe it off with a damp washcloth. I use a cleaning wipe on the body. So, no part of it ever gets really wet, just slightly damp. And of course let it dry thoroughly before you use it or plug it in.
You should probably stick with water-based lube when using the MWR because some silicone-based lube can damage some silicone sex toys. Hybrid lubes are likely OK but you might want to spot test a small area first.
You'd expect a vibrating beast like the MWR to be noisy as hell but it's really not too loud. It's not as discreet as a teensy clit vibe but it's a smidgen quieter than my original Hitachi. Although, it does sound like a power tool with my attachments on it.
Charging time is 3 hours and that's supposed to give you about 3 hours of run time BUT…
I hope you can get off in under 20 minutes because it automatically shuts off at that point to avoid overheating.
The manual is 15 pages of warnings and cautions. Make sure you read them all because, safety first.
And you can rest easy knowing that your shiny new MWR is covered by a one year warranty.
I definitely think if you're looking for a powerful wand massager the Magic Wand Rechargeable is a good choice. It costs quite a bit more than the Magic Wand Original but I think that all the improvements are worth it. The bonus is that when you're not masturbating with it, you can use it to massage other areas of the body. Dizzyguy wanted to make sure I mentioned that it made his hand feel better after he injured it at work. He also said it felt way too powerful to use anywhere near his genitals. To each their own.
If you want the Magic Wand Rechargeable, you can get it at PeepShow Toys and save 10% when you use the code: DIZZY at checkout.  You'll also get free shipping!

PeepShow Toys provided the Magic Wand Rechargeable in exchange for an unbiased review.
Like this? Want more of it? Subscribe!
| | | |
| --- | --- | --- |
| Get new posts sent to your inbox! | | |
| Get my sporadic newsletter filled with exlclusive deals, the latest sales and secret bonus giveaway codes. | | |