Want to support my blog? Clear your cookies, click the banner and shop!

Don't miss these great sex toy sales.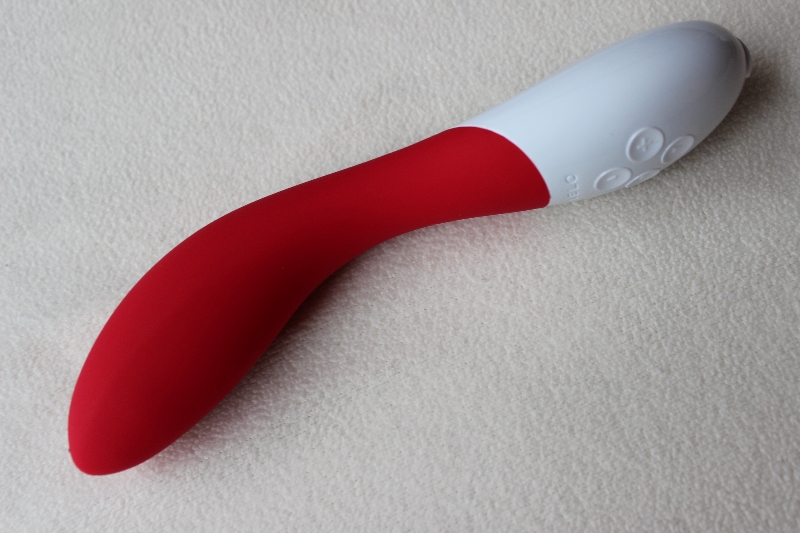 I've recently reviewed the LELO GIGI 2 and Liv 2 and I really like them both… then I tried the Mona 2 and wow, it's on a whole different level. Now that I have Mona 2, I really don't see myself reaching for either one of the others. All the good things you might have heard about the Mona 2 are true. This is one amazing G spot vibrator.
The Mona 2 is another one of LELO's redesigned second generation vibrators, like the GIGI 2 and Liv 2. They've made Mona 2 waterproof and LELO claims that it is 100% more powerful than the original Mona. I don't have the original Mona so, I can't tell you for certain that it's more powerful but I can say that the strength of Mona 2's vibration absolutely blows my mind. The first time I used it on the highest setting, it was almost too much for me. It vibrates my entire vulva from within.
That familiar feeling of needing to urinate from G spot stimulation was more intense than I've ever felt. I actually did stop and get up to use the bathroom, which is strange because I urinated right before I began my session with it and I thought I was empty. I think the Mona 2 is so powerful that it stimulated my bladder to empty again. Maybe I would have squirted if I hadn't stopped but the sensation was so strong that I had to. After I urinated I went back and continued using the Mona 2 and I started to really enjoy the powerful vibration.
This thing does stuff to me that no other vibrator I've tried can do. The shape is perfect for hitting my G spot and it has more girth than the GIGI 2 or Liv 2 so, it's more satisfying. And I think that the substantial girth easily channels the vibrations right into my G spot. It's like the vibration radiates out so much that it's impossible to miss it. I still can't have an orgasm from internal stimulation alone but using one of my favorite clit vibes with the Mona 2, I come so incredibly hard. I mean, they're the kind of orgasms where it's impossible for me to keep quiet. My body's response is completely involuntary… and awesome! And don't forget, just because it's a kick ass G spot vibe, that doesn't mean you can't use it on your clit, if you feel like it.
I just love the Mona 2. I really do. I am at a loss for words to tell you just how much I adore it. LELO has gotten everything right with this vibrator. I honestly could not tell you one thing I'd change. It's perfect just the way it is. If you get just one vibrator from LELO, get this one!
The Mona 2 operates the same as GIGI 2 and Liv2 except it has four individual buttons instead of a central dial. To turn it on you press and hold the plus (+)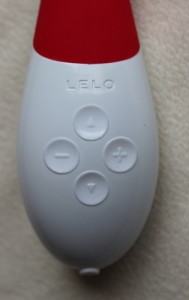 button. To increase the intensity you continue to hold the + button. To turn it off, press and hold the minus (-) button and as you continuously hold it, the intensity decreases. The button with the arrow pointing up cycles up through the 6 modes (consisting of steady vibration and five patterns of escalation and pulsation) and the arrow pointing down cycles back through to steady vibration. It is possible that the Mona 2 on high might be too much for very sensitive types so it's nice that you can adjust the intensity of the patterns as well.
I love LELO's silicone. It's so silky soft and has very little drag. This vibrator, along with everything else LELO makes, is safe for your body because it's nonporous, hypoallergenic and latex and phthalates free. It's a good idea to use water based lube with the Mona 2 since some silicone lubes can damage some silicone toys. If you want to experiment with a silicone lube, spot test a very small area as close to the handle as possible. Keep in mind that if the lube is incompatible, it will damage the silicone in that spot. The finish will become gummy and sticky. If that happens, scrape the area off and wash it really well with soap and water.

Speaking of washing it, cleaning the Mona 2 is simple. Usually, antibacterial soap and water are all you'll need but if you have to sanitize it, a 10% bleach solution can be used. Since it's fully waterproof you can use it in the tub or shower. It takes 2 hours to fully charge and that should get you around 2 hours of playtime. While it's charging the buttons flash and when it's finished, the buttons glow steady. The Mona 2 is quiet enough that it can't be heard outside a room with the door closed. You, on the other hand, might make a lot of noise. It comes in 3 colors: Cerise, Purple and Red. This vibrator is 8 ½ inches along the outside curve with 5 ¼ insertable  inches. It is about 1 3/8 inches at the thickest point and it tapers down to about an inch just before the handle. The Mona 2 comes with a storage pouch and is covered by a one year warranty.
The LELO Mona 2 is everything a G spot vibrator should be. The shape is perfect for targeting my G spot and I love the girth. The controls are easy to navigate and it's waterproof. The silicone is exceptionally soft and silky. Oh and did I mention, it's so damn powerful that it rocks my world? Well it is and it does. Of the vibrators I've tested so far from LELO, the Mona 2 is hands down the absolute best. Sure the GIGI 2 and Liv 2 are nice and I enjoy them but the Mona 2 is just light years beyond that. I can easily recommend all three of these vibrators but the Mona 2 is a must have!
I received the Mona 2 from LELO in exchange for my unbiased opinion.
Like this? Want more of it? Subscribe!
| | | |
| --- | --- | --- |
| Get new posts sent to your inbox! | | |
| Get my sporadic newsletter filled with exlclusive deals, the latest sales and secret bonus giveaway codes. | | |