Want to support my blog? Clear your cookies, click the banner and shop!

Don't miss these great sex toy sales.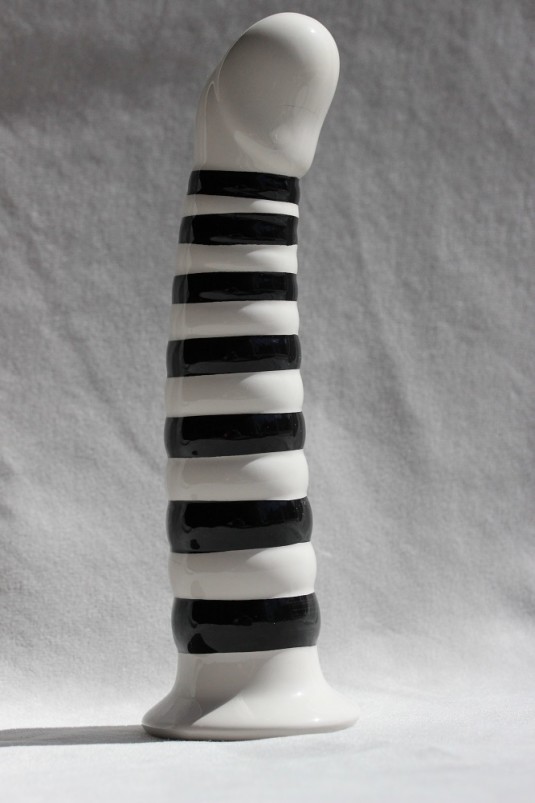 ** The Ceramix line has been discontinued but you can find SheVibe's selection of ceramic sex toys here. **
Do you like warm dildos? Then you'll love Pipedream's Ceramix dildos. They make great chilled dildos too, for that matter. As the name would imply, Ceramix toys are made of… ceramic. It's an uncommon material for sex toys but it's a great one because it's nonporous and phthalates free. The Ceramix line has vibrators and butt plugs as well as these really cool (or warm) dildos. The secret to the butt plugs and dildos is that they're hollow with a plug in the base. This lets you fill them with warm water from the tap or, chill them in the fridge, making for some outstanding temperature play. And even when you're not in the mood for warm or cold, they still make great plugs and dildos all on their own. You can use 'em with or without the water.
The first Ceramix toy I tried was the No. 5 and I LOVE it. Filling it with warm water creates such a sensuous and relaxing sensation. It really feels like you're getting some kind of therapeutic massage – in your vagina. I think the No. 5 is a wonderful dildo and I wholeheartedly recommend it.
The next Ceramix toy that I reviewed was the No. 9. This one is a vibrator and you can't fill those with water. You could soak them in warm water or chill them in the fridge but it's just not the same experience that you get from the dildos. The verdict? I didn't like it. At all. The shape of it offered me nothing and the vibration was too weak for my tastes so, I really can't recommend that one.
Now I have the No. 6 and how do I feel about it? I LOVE it. Probably just as much as the No. 5. They're really very similar. The biggest difference I notice is that the No. 6 doesn't give me quite as much G-spot stimulation as the No. 5 but I still think it's pretty awesome. Using it filled with warm water gives me that same therapeutic massage-like feeling that I get with the No. 5. It is so incredibly relaxing. I just feel all the tension melt away when I'm using these dildos. The material retains the temperature for a good long time too, just like your ceramic cup keeps your coffee warm, and I haven't had any problem with the water leaking out while I'm using them. I recommend the No. 6 every bit as much as the No. 5. I think which one you get largely depends on how much G-spot stimulation you'd like or, maybe since they're so affordable, you could get both. They look really cool sitting on your dresser or nightstand too – if you can get away will leaving dildos lying about.
Ceramic is a great sex toy material. It starts out porous but once it's glazed and fired, it becomes nonporous, which means it can be sanitized with a 10% bleach solution. Ceramic sex toys can also simply be washed with antibacterial soap and water or, you could use a toy cleaner. Just make sure the No. 6 is completely dry on the inside before you put the plug back in the base.
Another great thing about ceramic is that you can use any kind of lube you prefer. Water, silicone and oil-based lubes are all compatible and with the sleek finish that comes from the glaze, the Ceramix toys get nice and slippery for your thrusting pleasure.
There's really only one concern I have with the Ceramix toys, especially the dildos (and I presume the butt plugs). They feel a lot more delicate than a solid glass toy. I just get the feeling that they would chip or crack more easily if not handled with care. I'm not implying that these toys will break in your vagina (or ass), I just suggest that you handle them carefully while cleaning and store them in a way that protects them. It's a good idea to inspect them for damage prior to using them. Also, don't pour boiling hot water into them or, put them in the freezer.
The No. 6 is 8.88 inches long with about 7.75 inches of insertable length. It is 1.75 inches in diameter at the base, tapering to 1.5 inches in diameter at the head and gives me a modestly full sensation. Since it is a rigid material, it might feel a bit larger than a squishy silicone toy of the same size. This dildo is harness compatible (so you can share the warmth) and it should be safe to use anally since it has a flared base. The gentle ripples provide a very subtle texture that I mainly notice at my vaginal entrance as I thrust. And, in case I haven't already made it abundantly clear, I adore the warmth that radiates from this dildo when I fill it with water.
The Ceramix toys are very unique. I haven't seen anything else quite like them and in fact, you won't find very many ceramic sex toys out there at all. Maybe that will change once it catches on just how great these dildos really are. I wasn't very impressed by the Ceramix vibrator I tried but I think the No. 5 and No. 6 dildos create sensations that are not to be missed and the price point makes them virtually irresistible.
Update: Before you consider buying Pipedream products, please take a moment to read this.

Pipedream provided the Ceramix No. 6 in exchange for an unbiased review.
Like this? Want more of it? Subscribe!
| | | |
| --- | --- | --- |
| Get new posts sent to your inbox! | | |
| Get my sporadic newsletter filled with exlclusive deals, the latest sales and secret bonus giveaway codes. | | |