Want to support my blog? Clear your cookies, click the banner and shop!

Don't miss these great sex toy sales.
Cheap sex toy alert. And by "cheap" I mean inexpensive… not shitty. Because, for less than $30, this is not a bad dildo. Not bad at all. In fact, I kind of like it. And some people think I'm a sex toy snob – not so. Well OK, maybe I am, just a little.
The Lovehoney Satisfy Me Curve Silicone Dildo is a very nice silicone dildo, with a ridiculously long name, at a very affordable price. I wasn't sure if I'd like it but I was pleasantly surprised. Pairing this dildo up with a clit vibe, I have some really satisfying blended orgasms. This dildo gives me moderate G-spot stimulation while thrusting with it, which is different from how I use most G-spot toys. Usually, I like to rock them up and down or just apply constant pressure. Rarely do I thrust with them. But the Satisfy Me Curve just seems like it was made for thrusting.
You can use either end of this dildo but I prefer the end that comes to a slight point, rather than the end with the double bulge. The girth is pretty average1. Of course, it's probably not going to satisfy girth fanatics and I would prefer a bit more myself. It does have some slight flexibility and if I had my way, it would be firmer, just so I could apply more pressure against my G-spot but for those looking for milder G-spot stimulation, this dildo is ideal. I would like it to be a bit longer, to make it easier to reach and thrust with but really, I'm nit-picking here.
The silicone has a bit of drag but that's easily fixed with some lube and water-based lube is recommended. It's easy to clean with just soap and water or a toy cleaner. It can be sanitized in a 10% bleach solution; making sure to rinse well.
It doesn't come with a storage pouch but at this price point, I can't really expect one. If you want something more dignified than a ziplock bag, Lovehoney has some inexpensive toy pouches.  This dildo only comes in one color but that's fine by me.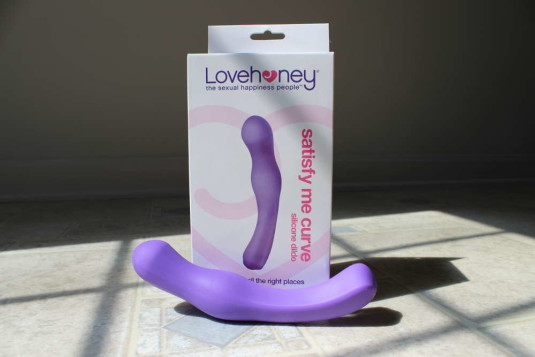 Bottom line? If you don't want to spend a lot but you definitely want something that's body-safe (and trust me, you do) and you're not looking for really intense G-spot stimulation, I think the Lovehoney Satisfy Me Curve Silicone Dildo will make you happy. It made me happy and some folks think that I'm really hard to please. I have no idea why.

Lovehoney provided the Lovehoney Satisfy Me Curve Silicone Dildo in exchange for an unbiased review.
1.27″ in diameter at the first bulge, 1.4″ in diameter at the second bulge, 1.19″ in diameter at the pointed end and about 7.75″ end to end. ↩
Like this? Want more of it? Subscribe!
| | | |
| --- | --- | --- |
| Get new posts sent to your inbox! | | |
| Get my sporadic newsletter filled with exlclusive deals, the latest sales and secret bonus giveaway codes. | | |