Want to support my blog? Clear your cookies, click the banner and shop!

Don't miss these great sex toy sales.
First, I just need to begin by sincerely thanking Peep for recommending this wonderful little vibe. I probably never would have noticed it if she hadn't mentioned how much she likes it. It's true, I'm smitten… with the vibe that is. Although, I do have some serious feels for Peep since she introduced me to this demure but mighty mini-vibe. The Jopen Lust L2 is nearly perfect. I say "nearly" because I have a hard time calling anything "perfect" but really, I have to try pretty damn hard to find fault with this vibe. It's become an instant favorite. Let me tell you why.
It has everything – all the things I look for in a clit vibe. It goes without saying that it's made of body-safe silicone because I wouldn't be reviewing it otherwise. It has the power of my beloved We-Vibe Touch but it's smaller and I might like the shape of the L2 even better.  It's dainty and has a low profile that makes it perfect for pairing up with a dildo or to use during sex.
It's rechargeable and also has a travel lock, which is one thing I always thought the Touch should have. I feel like I want to carry the L2 around with me always. It's a shame that Jopen didn't include a travel pouch but I love this vibe so much that I forgive them. Besides, you're getting all of this perfection for less than $50! You heard that right. I know, I can't believe it either. With that kind of deal, I suppose I can steal a pouch from one of my inferior vibes. The L2 is truly a hidden gem and I want to make sure it doesn't go unnoticed.
I always keep my We-Vibe Touch on hand when testing a new vibe, just in case it sucks and can't get me off. But I had absolutely no need for it when I tried the L2 for the first time. To my complete amazement, the L2 gave me three powerful and deeply satisfying orgasms in under 10 minutes. I should acknowledge the fact that my clit seems to have gotten its shit together lately but a lot of credit goes to this vibe as well.  It gives me the pin-point stimulation that I adore and it's heavenly when snuggled up against the right side of my clit (it's a righty).  I'd like to believe that the days of frustratingly masturbating for over 30 minutes with no results is a thing of the past with my trusty L2 by my side.
Did I mention that it's cute? I don't often feel that way about a vibe but there's just something about the L2 that makes me think, "awww". I didn't realize it until someone pointed out to me that it looks just like a mini version of the BMS Factory Swan Wand, which is a total coincidence.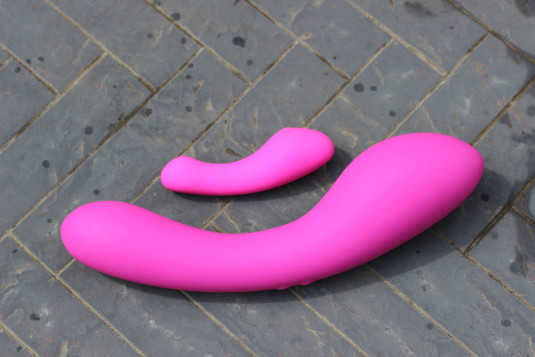 There is one button located on the underside, easily accessed by the thumb. There's nothing to get confused about when you're using it. You simply press the button briefly to turn it on and press and hold to incrementally increase the intensity. Press the button again briefly to turn it off. I love that it is incrementally adjustable, rather than just giving you 3 or so set speeds and I'm thrilled that there are no patterns. If you love patterns then I suppose you're out of luck on this one but I hardly ever enjoy them and they usually just get in my way.
The only small quibble I have about the L2 is that you can't adjust the intensity back down. If you want to set it to a lower speed than what you're on, you have to turn it off and start over. I guess you'd need two buttons to make that work but I can actually imagine having another button on the top side of this vibe. Maybe a top button to increase and the bottom one to decrease intensity? Oh, and one more thing, it only comes in pink and purple. See, I told you that I struggle to find fault with this vibe.
The L2 is fully waterproof. Add that to the long list of features that make it great. It's easy to clean with soap and water and water-based lube is recommended. This vibe's size and quiet operation make it very discreet.  It's USB rechargeable and you'll need an A/C adapter if you don't want to charge it with your computer. It takes 2.5 hours to charge and the manual states that it runs for 30 minutes on high speed. When it's finished charging, the travel lock will be engaged. To unlock it, press the button three times.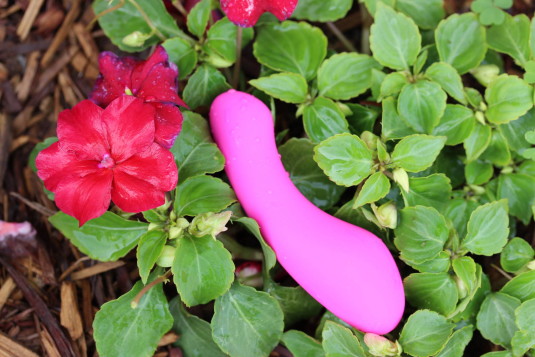 So, let's recap. It's strong and rumbly, discrete, body-safe, waterproof, affordable, has a travel lock and a one year warranty plus, it's cute. If all that doesn't make you happy then I just give up. I really can't recommend the Lust L2 enough. I mean it. I'm obsessed with this thing. With all that you get for the price, I think it's one of the best sex toy values I've seen.
If you want one, how about showing some love to PeepShow Toys since they made it possible for me to tell you about this awesome little vibe? There's free shipping if you spend $70+ so, why not add a bottle of lube and maybe a travel pouch? That way, you have everything you need for amazing orgasms when your package arrives.
Use code: DIZZY for 10% off your order!

PeepShow Toys provided the Lust L2 in exchange for an unbiased review.
Like this? Want more of it? Subscribe!
| | | |
| --- | --- | --- |
| Get new posts sent to your inbox! | | |
| Get my sporadic newsletter filled with exlclusive deals, the latest sales and secret bonus giveaway codes. | | |