Want to support my blog? Clear your cookies, click the banner and shop!

Don't miss these great sex toy sales.
Much like its royal counterpart The Duke, Tantus' The Duchess barges its way into my vagina like it owns the place. And once inside, it completely fills the room with its presence. The Duchess dominates my vagina and knows it.
It's a bit of a challenge to get The Duchess into my vagina, especially when I haven't warmed up with something smaller first. Once in there, I am full to overflowing with thick squishy silicone goodness. It is such a tight fit, however, that it's actually difficult for me to thrust with. All I can manage is a very short in-and-out stroke. But believe me, that's enough to get my juices flowing. When I pair this dildo with a clit vibe, the orgasms are intense. Clenching around it as I orgasm feels incredible.
That bulbous head is bulbous for a reason and to my delight, it does give me some great G-spot stimulation. It's not as intense a sensation as you would get with the Pure Wand but that's to be expected because it's solid stainless steel and the The Duchess is made of Tantus' wonderfully squishy O2 silicone.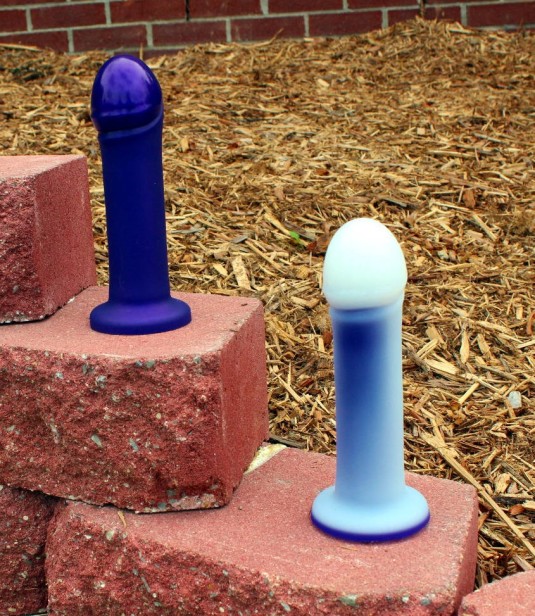 So, how does it compare to The Duke? Well the silicone is different for starters. The Duke is made of very firm silicone with hardly any squish at all whereas, The Duchess' dual density O2 silicone provides a bit of a softer feel. I think insertion might actually be a little easier than with The Duke because of the softer silicone. But The Duchess isn't a sad floppy dildo by any means. The dual density silicone means that there is an inner core of firm silicone surrounded by a layer of softer silicone. So despite its soft exterior, it still proudly stands at attention.
Right now, The Duchess is Tantus' only O2 vibrating dildo but that'll change very soon (teaser). It does come with a basic, battery operated bullet vibe that will do in a pinch but as I always say when I'm talking about Tantus' vibrating dildos… get yourself a We-Vibe Tango. It's much more powerful and rumbly than the included bullet vibe. It's like the Tango and Tantus' vibrating dildos were just meant to go together – like Ginger Rogers and Fred Astaire. The deep rumbly vibrations of the Tango travel through the O2 silicone fairly well and much better than the included bullet vibe.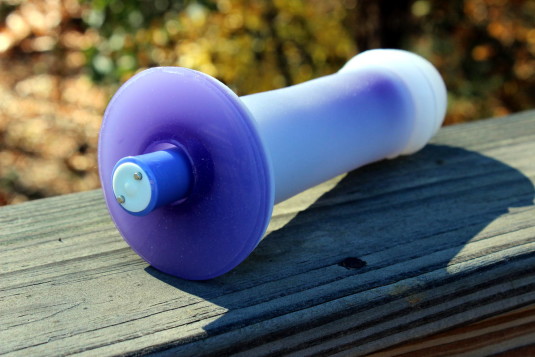 You care for The Duchess like any other silicone dildo and for more on that go here. Water-based lube is recommended.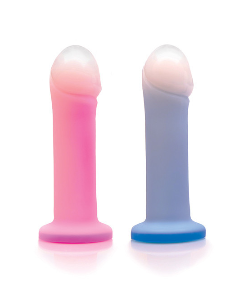 The Duchess comes in two color choices – Ice and Candy. It's 6.5″ long (insertable) and 1.8″ in diameter at the thickest point, which is that massive head. This dildo is harness compatible and safe for anal use. There is also a suction cup available that works with Tantus' vibrating dildos.
I really do love The Duchess… maybe a smidgen more than The Duke, just for the fact that it's a bit easier for me to manage with the softer silicone. Admittedly, it's not a dildo I'll reach for all the time because it's quite a stretch for me1 but when I am in that mood, The Duchess doesn't let me down. When I use it along with a clit vibe, the orgasms come on fast and strong and in that moment I can really appreciate that imposing girth.

Tantus provided The Duchess in exchange for an unbiased review.
I know girth fanatics are smirking at me right now. ↩
Like this? Want more of it? Subscribe!
| | | |
| --- | --- | --- |
| Get new posts sent to your inbox! | | |
| Get my sporadic newsletter filled with exlclusive deals, the latest sales and secret bonus giveaway codes. | | |